There's been a movement lately called "Meatless Monday" (it even has a website, http://www.meatlessmonday.com) where people are making the conscious decision to eat once a week without meat. This tradition goes back to World War I when the government urged people to go one day without meat to aid the war effort and it continued during WWII. Today, the goal is "to help reduce meat consumption 15% in order to improve personal health and the health of our planet." The website says, "going meatless once a week may reduce your risk of chronic preventable conditions like cancer, cardiovascular disease, diabetes and obesity. It can also help reduce your carbon footprint and save precious resources like fresh water and fossil fuel." For me, while I'm on the 21 day cleanse diet (click here), every day is Meatless Monday, at least for the next week.

Many people assume that with a plant-based diet they are not going to get enough protein. This is an easy assumption when you're used to eating dairy or meat protein with every meal. But a large percentage of the world's population counts on either soy or lentils as their staple protein. In India and Nepal, rice and lentils, called dal, is a staple part of the diet. Many Asian countries count on tofu for the bulk of their protein. These countries have some of the lowest rates of obesity, diabetes and heart disease in the world. Guess which ones have some of the highest?





Let's Talk Lentils


A great way to get protein into your diet without eating meat is to eat lentils. Lentils have 17.8 grams of protein, 15 grams of fiber, no fat and 229 calories in an 8 oz portion. They are very inexpensive, costing as little as .69 cents a pound. The fancier French Green lentils used in this recipe were $1.99 a pound but this soup will make at least 8 portions.

Brown lentils are what is typically seen on grocery store shelves. These are perfectly fine and can be used in this recipe, but they tend to cook down to a very soft mushy consistency. Yellow and red lentils, which can be found in many Middle Eastern groceries are similar, but just a different color. All of these lentils work very well if you want a pureed soup.

French green lentils are special because the seed coat of the legume is left on when it is dried. This gives the lentil it's pretty blue speckled slate green color and allows it to retain its shape and texture when cooked. They are perfect for soups and cold salads. I found these lentils in the bulk bin section of Whole Foods but many regular grocery stores carry them too. They may be a little more expensive, but they are worth it. French green lentils are thought to have a peppery flavor, which comes from the volcanic soil in the Puy region of France where they originated. Sometimes they are called Lentilles de Puy, but they are also now grown in Italy and North America.

I have no intentions of becoming vegan or vegetarian full time, but for me it's important to realize that it's possible to eat a healthy, delicious meal without meat as the main protein. Lentils are a great way to get a filling, nutritious and tasty protein.



French Green Lentil and Spinach Soup

(Printable Lentil Soup Recipe in PDF)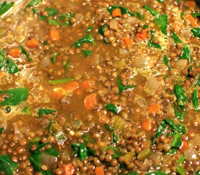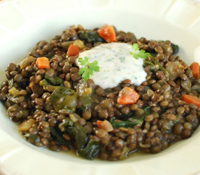 Ingredients:
1 lb French green lentils
1/2 cup carrots, diced
1/2 cup celery, diced
1 yellow onion, diced
3 cloves garlic, diced
32 oz vegetable stock plus 3 cups of water
1/2 tsp cumin
1 tsp paprika
1 bay leaf
8 oz fresh spinach
2 Tbsp olive oil
salt and pepper

Directions:
Rinse the lentils in cold water and remove anything which isn't a lentil. As with all dried beans and legumes, it's possible sometimes there might be a small stone or something in the mix.

Heat a large soup pot and add the olive oil. Saute the carrots, onions and celery until soft, 4-5 minutes. Add the garlic and the spices and saute one minute more. Add the lentils and the 32 oz of vegetable stock and bring to a simmer. Keep cooking the lentils at a simmer. As the stock gets absorbed, add the water one cup at a time as needed to keep a thick soup consistency.

The lentils are done when they are tender all the way through, but not mushy. Cooking time is 30-40 minutes. Before serving, stir in the fresh spinach until it wilts.

Season with salt and pepper to taste. Top with Cilantro Yogurt.



Cilantro Yogurt


Ingredients:
4 oz plain yogurt*
2 Tbsp chopped cilantro
1 tsp lime juice
salt and pepper

Directions:
Mix all ingredients together. *I used soy yogurt, but if I wasn't eating vegan right now I would use regular plain yogurt. Thick Greek yogurt would be excellent here as well.

Kristina Johnson's friends and family always introduce her saying, "This is Kristina, she's a chef." Inevitably, the next question is "Really? Where do you work?" to which Kristina replies, "Well, I'm a former chef who still works in the restaurant business…" It's complicated. Today, Kristina still loves to cook and share that passion with others and does so with her blog FormerChef (http://formerchef.com). Kristina is equally as passionate about travel and shares her experiences at www.wired2theworld.com. Kristina is equally as talented in photography and shoots all her own photos for both websites.