Business Renovation
David pours his sweat and vision into their new business AlteArte.
---
Some people can take an empty space, envision greatness and then make their vision a reality. They have a knack for interior decorating and they wow people with the final outcome. Well, Iím not one of those people. Iím the type, actually, who arrives to college and moves into a room thatís empty except for a bed and a dresser and it stays that way until I graduate.

Itís a good thing that I married someone quite my opposite in that regard. As David and I move from place to place, he has been the one who has always made our apartments feel like home. Itís thanks to him that we painted the living room in our spacious two-bedroom in East Harlem a cheery yellow so that our moods remained bright, even in the dead of winter. Heís the one who lugged the mirror in the shape of a window back from Paris to add a touch of style to our New York space. Heís also the one who can magically hide chaos and make work areas more efficient. I surely appreciated the beautiful workspace that he created for me in our midtown Manhattan duplex by building a beautiful corner desk to maximize our small space. For me, decorating apartment after apartment makes me exhausted just at the thought. For him, creating a home is his forte and he tackles each empty apartment with energy and inspiration.

So when Pepe gave us the keys to our new business, AlteArte, David had a thousand ideas of ways to improve the feel of the space and he immediately got to work, even though we hadnít yet signed any papers. He systematically tackled each area, and under his touch, things began to come to life. David single-handedly moved the hideously large cigarette machine to the bathroom upstairs to make downstairs feel less like a bar. He cleared out the area behind the bar and reorganized the appliances. By moving the ice machine to one side, it freed up the passageway so two people could move around easily. Since the business doesnít have a kitchen, he created a small workspace where he can prepare small tapas. He made and hung shelves, he added wooden palates that not only make us higher off the ground when standing behind the bar but also hides the tubing underneath that connects the appliances.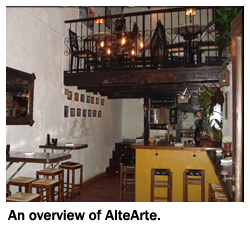 He transformed the stockroom, making it organized and much more efficient so that we can actually fit a full-sized fridge insideóan important factor since weíre going to be serving food. He hung our small lanterns that once decorated our New York City apartment and found the perfect place for our mirror-that-looks-like-a-window. And the lamp that we had found abandoned in Torrevieja turned out to be the perfect accessory to hang from the sloping high ceiling.

As David worked relentlessly day after day, AlteArte slowly transformed from a simple bar to a space with character and we fell in love with our little business more and moreóand I suddenly took notice of the small details. Once I was no longer distracted by sticky floors that needed to be mopped and the shelves of prominently-displayed alcohol, I admired the castle-like door knobs, the wooden-beamed ceilings, and the little windows with cute shutters that looked out onto a pedestrian street. And it hit me, this charming little business actually used to be a stable was just like Pacoís home. I realized that even though we had gotten kicked out of our castle-like home, we had stumbled upon a fantastic replacement. And this time, no one could tell us what to put on the walls or that we had to be careful of the antique chairs. The space was ours to mold as we pleased.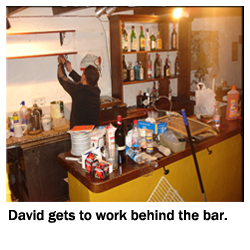 And so David molded. He hammered and sawed and painted and IÖtook pictures. He coordinated a team of Alteans to get the business up to par. The carpenters came to get the staircase up to code for the license and Pepe kept his promise and paid for this major alteration. David arranged for the delivery of the coffee machine, provided for free by the coffee supplier. He found a plumber to connect the ice machine and the coffee maker. He got Andreas, the furniture restorer that we had become friends with by hanging out at AlteArte, to fix the lamp that we had found so that we could actually put bulbs in it. And, much to my sisterís and my sheer dismay, he asked Paco, our old landlord, to install extra lights outside. Having seen the quality of work that he can do from the week living in his house, David even asked him to do the staircase, but Paco flaked on us after getting offered a better job, leaving David shocked at how he could have done that to him.

Meanwhile, I was surprised that David had ever expected better. As far as I was concerned, Paco had done exactly what I had come to expect of him. And while AlteArte started looking like a construction site and a layer of white dust softly covered every corner of the business, I set to work painting the toilets. However, the combination of cheap paint from the Chinese bazaar and the poorly ventilated bathroom left me feeling sick to my stomach. I was forced to take frequent breaks and, by working a little every day, finally finished my lone project days later.

In the very final stages the owner of the huge foosball table finally came to take it away and free up the space for sitting tables. A gypsy also came by with plants to sell. How odd that David had kept talking about plants and, now, here was a gypsy selling just that. His timing couldnít have been better and we added some color to our little business.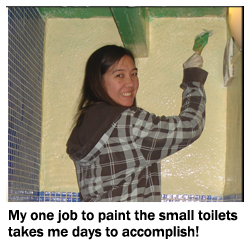 Throughout the process we gained a better understanding as to why Spain is in such an economic crisis. We assumed that anyone would be eager for some work, but quickly realized how wrong that assumption was when David asked a carpenter that he had gotten to know through AlteArte for a price quote for three foldable tables. The job was straightforward and simple, but the carpenter came to measure the space, asked for a beer and promised to call with a price quote later that day. Well, that was a couple of weeks ago and we still havenít heard from him. In the meantime, the carpenters who did the stairs also took care of the tables.

Weíve also gotten to know our neighbors and much to our delight they seem pleased that weíre moving in. One even offered to bring us food from his house when he saw us working one day during lunch time.

As I write this from the table at the edge of the mezzanine, I look down after nearly a month of nonstop work and AlteArte is nearly ready to goóand itís just as David envisioned it. Itís warm and inviting and, once again, David has created a space that feels just like home.

Sara Wilson is currently working as a freelance writer and lives in Torrevieja, Spain with her husband. She has kept a record of her adventures living abroad which you can find here or on her blog: http://sarawilson.wordpress.com. Contact her directly at wilson.sara@gmail.com.


---
---
---
Leave a Comment