I made this roast last year for Easter Sunday dinner. I had intended on cooking lamb, but at the butcher they would only sell me a minimum of half a leg, which was just too much for four people. So, seeing the pork loin, I decided to go with that.



Rolled and Roasted Herbed Pork Loin


Ingredients:
Fresh herbs; oregano, thyme, rosemary, sage (could also add basil, parsley, majoram, etc.) about 1/2 oz each
5 or 6 garlic cloves
3 tbsp. olive oil
salt and pepper
pork loin (2.5 lbs) cotton kitchen string

Equipment:
Roasting pan
pan rack
insta-read or meat thermometer

Directions:


Step 1 - Butterfly the loin


Pork loin can be relatively lean, which is why I decided to butterfly it open and spread it with fresh herbs, olive oil and garlic before rolling it back up to roast it. In the photos you can see how I cut it open on one side and then flipped it around to cut the other way, essentially creating a flat piece of meat.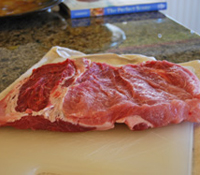 Step 2 - Herbs and garlic and roll it up


Next, I put some fresh herbs and garlic in a mortar and pestle and ground them together. If you don't have a mortar and pestle this is not necessary; you can finely chop the herbs and garlic together and then mix with the olive oil. Essentially, I made a paste of the herbs, garlic, oil and salt and pepper and spread it over the open pork loin. I then rolled it back up, tied it up with cotton kitchen string and voila! Rolled pork loin.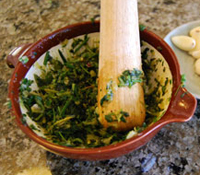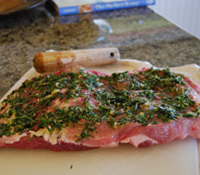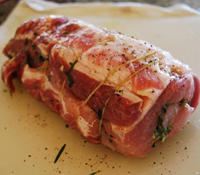 Note: There was a thin layer of fat on the outside of the loin. I left this there as a bit of protection to keep the loin from drying out. The bonus was that it crisped up nicely and added to the overall taste and texture of the pork when it was finished.



Step 3 – Roasting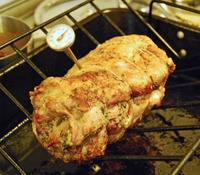 I put the loin on a roasting rack in a roasting pan. If you don't have a rack, that's ok, but elevating the loin keeps it out of the dripping fat and keeps it from sticking to the bottom of the pan. I think it also cooks more evenly because the heat surrounds it instead of searing it on the bottom of the pan. Put it in the oven at 375 degrees. It took about an hour to cook to reach 160 degrees inside, the temperature at which it's safe to eat pork. If you have a smaller or larger loin, the cooking time may vary.

After you remove the pork from the oven let it sit for a couple of minutes to set the juices. If you cut it right away, like most meats, the juices will run out all at once. Slice and serve. Four people ate the whole thing, no leftovers!



Port Wine Balsamic Butter Sauce


This sauce is a variation of the classic French sauce called Beurre Rouge, a butter sauce made with red wine. I made so many versions of this and Beurre Blanc (white butter sauce) when I was a chef that I usually make it without measuring. I measured for you.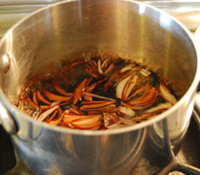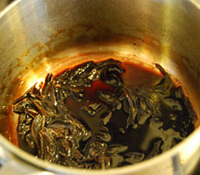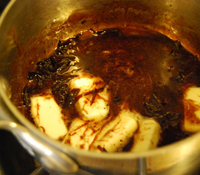 Ingredients:
1 cup port wine
3 tbsp. balsamic vinegar
1/2 large shallot sliced
1 tbsp. cream
4 oz cold butter
salt and pepper to taste

Directions:
In a small pot, reduce the port, balsamic and shallot to a glaze. It should look like a thick syrup. Be careful not to burn. Whisk in cream and then whisk in chunks of cold butter. Finish with salt and pepper.

I served the pork with creamy polenta and sauteed swiss chard with lemon and anchovies.

Kristina Johnson's friends and family always introduce her saying, "This is Kristina, she's a chef." Inevitably, the next question is "Really? Where do you work?" to which Kristina replies, "Well, I'm a former chef who still works in the restaurant business…" It's complicated. Today, Kristina still loves to cook and share that passion with others and does so with her blog FormerChef (http://formerchef.com). Kristina is equally as passionate about travel and shares her experiences at www.wired2theworld.com. Kristina is equally as talented in photography and shoots all her own photos for both websites.