When we were in Rome last year, we had some fantastic zucchini flowers stuffed with ricotta, batter dipped and fried. I want to make those at some point, but for my first attempt at cooking with them, I want to do something easier, so I decided to put them on a pizza.

First though, I had to figure out how and when to pick them. A quick Google search revealed that there are both male and female blossoms. There are more male ones, which are there strictly for pollination (of course), than there are female ones. The female ones create the vegetable (of course). Thus, it makes sense to only pick the male blossoms or you run the risk of losing out on growing the squash. You can tell them apart because the male blossom is at the end of a long thin stem and the female blossom usually has a bulb of squash forming at its base.



Pizza with Squash Blossoms, Fresh Mozzarella, Pesto and Prosciutto

(printable recipe)
Ingredients:
Basic Pizza Dough (see recipe below)
10 squash blossoms
4 oz. fresh mozzarella (1 ball, sliced into rounds)
2 oz. pesto sauce
1 oz. prosciutto
1 tsp. extra virgin olive oil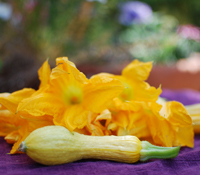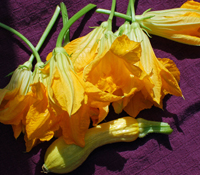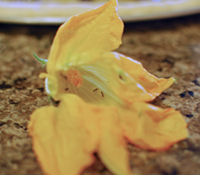 Equipment:
16" pizza pan or baking stone

Directions:
Roll out the dough. Spread a thin layer of pesto over the pizza and top with the squash blossoms, mozzarella slices and prosciutto. Place in oven at 425 for about 15 minutes or until done to your liking. Remove from oven and drizzle with extra virgin olive oil. I also brushed a little oil on the edges of the crust.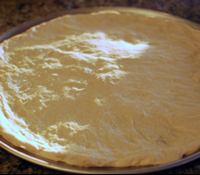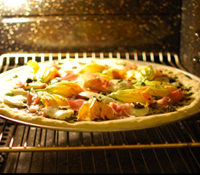 Note: You'll want to make sure there are no insects inside the blossoms (the ants and bees were loving mine) and remove the pollen-covered stamen from inside the flowers before using them for cooking. Once cooked, the blossoms added a very delicate squash flavor to the pizza.?As for the other toppings, I used the prosciutto because I had some left over in the fridge. This could certainly be a vegetarian pizza and I had been contemplating using eggplant instead of the prosciutto. I chose the pesto because I thought a tomato sauce would overwhelm the flavor of the blossoms. I like using fresh mozzarella because I think it tastes better and offers a better consistency than dry mozzarella, though you could certainly use it instead.



Basic Pizza Dough*


Ingredients:
8 oz. water
1 package dry yeast (2.25 tsp.)
1/2 tsp. salt
2 tsp. olive oil
3 cups flour

Directions:
Put 8 oz. warm water in a bowl and sprinkle yeast on top. Let it sit five minutes until it starts to bubble. Stir in salt and olive oil. Stir in 2 cups of the flour to combine and then another 1/2 cup until the dough comes together and becomes elastic. Put the other 1/2 cup of flour on a board and knead the ball of dough for about five min until it becomes smooth.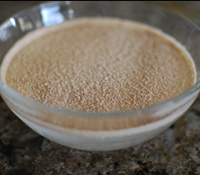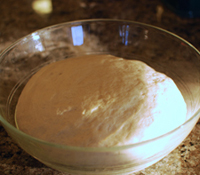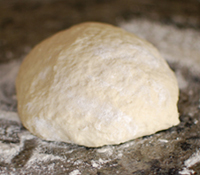 Put the ball of dough in an oiled bowl and cover with a kitchen towel. Leave in a warm place until it doubles in size, about one hour. When the dough has doubled, punch it down and knead it lightly on a floured board. Roll, or stretch and pull the dough to fit a pizza pan or baking stone.

Add your favorite toppings and bake at 425 for about 15 minutes or until done to your liking.

*I've been using this recipe over 20 years, since college, and it originally came from an old Sunset Magazine cookbook.

Kristina Johnson's friends and family always introduce her saying, "This is Kristina, she's a chef." Inevitably, the next question is "Really? Where do you work?" to which Kristina replies, "Well, I'm a former chef who still works in the restaurant business…" It's complicated. Today, Kristina still loves to cook and share that passion with others and does so with her blog FormerChef (http://formerchef.com). Kristina is equally as passionate about travel and shares her experiences at www.wired2theworld.com. Kristina is equally as talented in photography and shoots all her own photos for both websites.