7 Tips to Romance on the Road
Our romance specialist offers tips to create your own riding-off-into-the-sunset moment.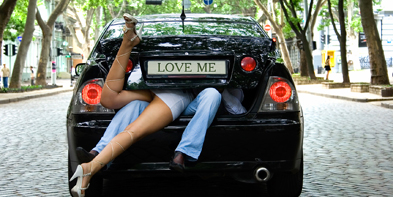 ---
"
Make up your mind to enjoy every moment. Having the right attitude can make all the difference while romancing the road together!"
Seeing a couple riding off into the sunset is so romantic. After a wedding, it is the perfect ending to the ceremony. There is just something special about watching a couple ride off into the dusk skyline with streamers, flowers and cans in tow—even for the least cupid-struck among us. So why not relive that moment?

Hitting the road together is a great time to create intimacy and ignite passion. It is just the two of you and the open road—so go ahead, get frisky and let the flirting begin. Hold on a minute…there is one thing to keep in mind; the road is the perfect breeding ground for arguments. It is not like being on a plane, bus, or a train, with people all around and opportunity to walk away. On the road, it's just the two of you divided by a center console. You don't want a simple decision like where to stop for a bathroom break, or where you are going to eat turn into a full-blown civil war. Road trips can create disharmony, add stress and tension to what is otherwise meant to be a good time.

To help ensure you spend time in an atmosphere of harmony, tranquility, passion, and lust (it's ok…you're married!), here are seven tips to help you romance the road:



1. Decide on a destination as a team.

Surprise trips are no fun if it is not something your beloved enjoys. Remember that anticipation is very important and should be a shared experience. Each time you plan a road trip together, you will get better at picking a location that you both will agree on. You may want to keep the first trip short and sweet and see how it goes. You can always increase the distance for your next road trip together.



2. What to pack.

Load up the CD player or iPod with your favorite songs. You know, the ones that made sparks fly. Fill a cooler with ice for your beverages and pack a picnic basket filled with all of your favorite goodies. Consider bringing along a card game such as a Table Topics Conversation Cards, which are perfect for the days you may end up stuck in the room or wish to laugh during the drive.



3. Don't rush.

Remember this is a fun, romantic ride into the sunset. You don't have to be in a hurry so make sure you have the time and are not rushing to get home before the trip even starts. Allow time for stopping by outlets, for example—you may just want to pick up a treasure to later remind you of the trip. Also, don't be afraid to pull over and watch a sunset together and smell the roses, just breathe. Romance thrives on time. Go ahead…pull over and have a make out session. Just a tease please, I don't want you to get a ticket for indecent exposure.



4. Keep the line of communication open.

Listen to your partner with an open heart and mind. Open up and share your own feelings too. Do not dictate to each other. Resist the temptation to nag and complain. Even if the navigator occasionally gets things wrong, it's better to bite your tongue and take a detour. Why? Because you will get things wrong once in a while, too! Patience and consideration are key and if you've followed tip two, you've got the time to enjoy the side trip instead of ranting about your spouse's inability to read a map.



5. Keep a journal and take pictures.

Recalling shared experiences is not only romantic, it strengthens relationships in the long term. You can even create a blog about your adventures. Who knows, it may inspire other couples to hit the road. Make up your mind to enjoy every moment. Having the right attitude can make all the difference while romancing the road together!



6. Book a spa treatment in advance.

Treat yourselves to a sexy his and her massage while you're away. There is an even greater excitement booking a relaxing massage away from your area. Check out spas before you leave for your road trip. Try to find a spa that has a sauna or private-area pool to enjoy prior to your massage.



7. Hide a love note or a small gift.

This little romantic gesture once discovered will have anyone smiling with glee.

Finally, be sure to eat meals on a regular schedule to avoid grouchiness. Once the bickering starts, it can easily lead to knockdown, drag out arguments that are hard to recover from during your time on the road. Proper meals and rest are the best defenses. Happy trails!

Mary Chatman is a romantic decorating specialist and founder of Love Life Designs, LLC, a romantic decorating and design firm facilitating Atlanta, Los Angeles and New York City. For more information or to add romance to your abode, visit www.lovelifedesignsllc.com.
---
Also recommended from Hitched
---
Leave a Comment