View Your Marriage From All Angles
Every once in a while, itís important to step back and take a positive look at your spouse for who they areófrom all angles.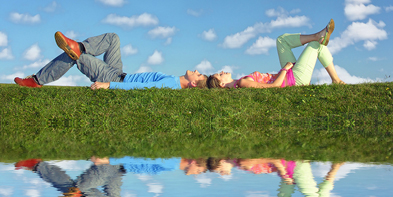 ---
"
There is a theory in learning that suggests that in order to really know something you must first understand it from multiple perspectives. I believe the same applies to everyone in marriage."
Several months ago I went to dinner with my husband and some friends. We were at a supper club and sharing a table with an older couple. Because we were late, our friends had started to tell the other couple about us and, as I settled into my seat, I overheard them talking about my husband.

Now, maybe because it had been a while since we saw each other and he wasnít sure of the exterior details we usually use to introduce peopleójob, education, hobbiesóor maybe he just knew that I needed to hear something else that evening so that I could right this article, but our friend didnít talk about the superficial things. He didnít mention my husbandís job or where he got his degree from or even that he had any kids. Instead, he talked about the kind of man that he is, not as a husband or a father but as a friend. He talked about how straightforward my husband can be and how funny he was and said that he was the kind of man you wanted to be around because he would make you a better man too. As he kept talking I couldnít help but think, "If I wasnít already married; I would really want to date this guy!"

Itís not that I donít know these things about my husband, but in the hustle and bustle of daily life as parents and spouses there is often little time set aside to appreciate the other aspects of who we are outside of those primary roles. As individuals we are a compilation of many different parts: parent, spouse, friend, worker, sister, brother, volunteer, boss, coachóthis list goes on and on and each of these facets is an important piece of who we are as a whole.

There is a theory in learning that suggests that in order to really know something you must first understand it from multiple perspectives. I believe the same applies to everyone in marriage.

In a blog post I recently read, Scott Young, an author and entrepreneur focused on holistic learning quoted cognitive scientist Marvin Minsky as saying:

If you understand something in only one way, then you donít really understand it at all. The secret of what anything means to us depends on how weíve connected it to all other things we know. Well-connected representations let you turn ideas around in your mind, to envision things from many perspectives until you find one that works for you.

To truly know and love our partners we must learn to honor all the nuances that make them who they are. Your wife may be an overachieving leader at work and a sensitive, even fragile, soul at home; or maybe you are a gentle father with your kids and a hardcore biker while out with friends. While these roles may seem like contradictions, they are all part of the same whole and each side needs to be recognized if you are to truly have the deep emotional connection that we all want in our relationships. It is the juxtaposition of these different personas that make each of us interesting and create the attraction that often brings couples together in the first place.

But as everyday life sets in, it is easy to ignore entire aspects of who your spouse really is. Couples settle into a routine of daily life in which they only interact with each other within certain roles. They parent together or they become comfortable in their role as husband and wife, leaving many of their other "parts" at the door. Whether intentional or not, ignoring certain parts of our partner creates vulnerabilities in a relationshipóopening the door for emotional disconnection, increased conflict, and sometimes even infidelity.

Often, spouses will say that they donít feel as though their partner really "sees" them or understands them anymore. What was once new and exciting seems boring and routine. As Scott points out in his article, when we are young we are excited by the possibilities of learning; in part because everything is new but also because we donít have any rules about how to learn or what to do with the things we learn. Kids donít put limits on how things might work or new ways to understand concepts. Those limits donít come until years later as outside messages and well-meaning educational systems begin to intervene. And the same is true in our relationships.

In the beginning, itís new and we donít place constraints on the ways in which we can show our love and understand our partners. Over time we stop trying to learn more about one another and rather than really see how we each have grown, we simply begin limiting in our perceptions of one another to whatever we already know.

Just like many middle and high school students, we stop trying and rely on the basics that we learned so long ago. But, as our friend Scott Young reminds us, finding new ways to see things gives us the power to also find new ways make it work for us. When conflict arises, try to see that old fight from a new vantage point, you may be amazed at how it can open up new doors for solutions you didnít know existed. And if your relationship with your spouse is feeling stagnant, maybe itís just time to get a refresher course on who they really are and start sharing more of who you are too. Because marriage, like learning, is always full of exciting possibilities, but only if you are willing to look for them.

Esther Boykin is a licensed marriage and family therapist in the Washington, DC area and is the co-owner of Group Therapy Associates, a private practice in Haymarket, VA. Her areas of clinical interest include working with couples and relationship dynamics, adolescent development, and understanding the impact of trauma on intimacy. In addition to her clinical work, Esther is a freelance writer and has published on a variety of relationship and mental health issues including teen marriage, the therapeutic process, and domestic violence. She currently writes a weekly column for "I Am Modern," a lifestyle magazine and website for mothers in the DC metro area. She is also a featured Health & Wellness contributor for AssociatedContent.com. You can find more of her writing on her blog at http://blog.grouptherapyassociates.org and learn about her clinical services or schedule an appointment at www.grouptherapyassociates.org.


---
---
---
Leave a Comment