How to Find the Best Flexible Jobs for Stay-at-Home Parents

Kick the office to the curb with these tips to make money from home.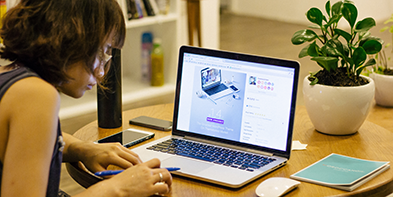 If you are dreaming of ditching your long commute, saying goodbye to endless hours inside an office building and having the chance to volunteer at your kids' school on a regular basis, you are in luck. With some research, determination and willingness to network, it is more than possible to find flexible jobs that you can do from home—and get paid for.

Since "work-at-home jobs" and "scams" often go hand in hand, let's start by looking at which jobs are not viable options, and then explore how you can find an at-home position that gives you the flexibility you crave.
---
MORE ARTICLES
The First Jobs of 3 Famous Couples

From a soda jerk and circus roadie to an ice cream scooper and secretary; three celebrity couples share their memorable first-job stories.
6 Ways to Take Your Power Up a Notch

Often, we allow our circumstances, routines, and self-imposed obligations to become barriers between ourselves and our dreams. Here are six ways on how you can reconnect with your power and create a more satisfying life.
Help! I Hate My Boss

Here are three ways to shift your perspective in the workplace to create opportunities at work and home.
6 Classic Proverbs to Improve Your Social Success

Six proverbs that can lead to greater success in your professional life, on- and offline.
7 Big Rules to Follow When Firing a Client
10 Ways to Connect With Other Women in Business
Women in Business: 11 Ways to Connect
9 Types of Clients You Should Cut Loose
What Your Business Attire Says About You
11 Signs Your Company's Mood Has Soured—and What to Do About It
5 Ways Admitting to Mistakes Can Help Your Business
Why Business Relationships Require More Than Texting, Friending and E-mail
17 Things You (Unknowingly) Do at Work That Say, 'I Don't Care'
12 More Pieces of Advice You'll Be Glad You Shared With Your Graduate [Part 2]
22 Pieces of Advice You'll Be Glad You Shared With Your Grad [pt. 1]
DJ Unk Offers 6 Tips to Help Your Family Cope with a Famous Parent
Tips To Help Women Identify & Reduce Workplace Stress
Knowing Your Rights For Time Off Due to a Pregnancy or New Born
7 Facebook Business Page Tips
Marriage and Grad School: Tips to Help Make it Through
Handling the Stress of a Job Loss
How to Handle a Job Loss
Rules for Working Together When Married
Job Interview Etiquette
Should Husband Quit Job to Save Marriage?
6 Ways To Make Working With Your Spouse…Work
Building A Business Together
Tips On How To Handle Someone Else's Job Loss
Things to Consider Before Becoming Co-Workers
Office Spouse
Scheduling Conflict
How to Balance Career and Family
How to Retire Richer
Career or Kids...