7 Secrets to a Great Date Night

Date nights arenít just about going out and doing something. Itís a time to look great, engage in positive conversation and reignite chemistry. Hereís how!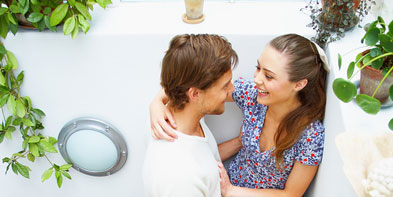 Being happily married means keeping things fresh. Dates are great opportunities to escape from the everyday, methodical routine of life. These special nights are reserved times to talk, laugh and remember the love that gets overlooked during the weekly schedule.

Time together is essential for connection. Going on a date is a great time to look your best, flirt with each other and have positive conversation. Dates are designed to reignite the chemistry, to remember you are man and woman (not just a dad or mom, a boss or an employee). Itís a night to add deposits to the marital company.
---
MORE ARTICLES
Take Yourself On a Date

Considering a night to yourself? Here are 6 reasons why you should.
Date Night Becoming a Drag? Don't Nag!

Things donít always go to plan, but that doesnít mean your date night needs to be scrapped. Lighten up and turn a downer date night something special!
5 Last-Minute (Affordable) Valentine's Day Date Ideas

Don't worry if you were too busy this year to make a plan, here are five great last-minute date ideas for Valentineís Day.
The Importance of a Date Night Plan for Parents

We all know the importance of date nights, but with kids at home it can be tricky. Here are some tips for to plan and execute a special time, alone.
Tips for Husbands to Make Your Anniversary Special
7 Cheap Strategies for Valentine's Day
13 Romantic Tips For the Fall Season
How to Plan a Romantic Backyard Picnic for Two
10 Ways to Celebrate St. Patrickís Day
Oktoberfest Date Night
Plan a Pub Crawl Date Night
Recreating Relationship Milestones
5 Fun Outdoor Winter Dates
5 Fun Indoor Winter Dates Ideas
Super Wife Sunday
10 High Culture Date Ideas
Kiss Me, Iím Irish
7 Rainy-Day Dates
Eat, Drink and Be Merry
Choosing the Right Halloween Party
Pumpkin Patch Romance
6 Surprise Date Ideas
A Pampering Date
7 Dates Under Summer Moonlight
Movie Under the Stars
The Six-Course Date
Summer Swimming Holes
6 Romantic 4th of July Ideas
20 Dates For Under $20
Heat of the Moment
Haunting Good Dates
Happy Hours
Welcome Home
Cache Reward
Fire and Spice
New Movie Magic
Going To The Fair