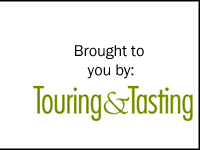 Murrieta's Well Overflowing With Delicious Small Lot Wines

A history dating back to the 1800s, Murrieta's Well continue to focus on quality and terroir.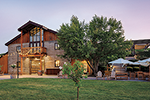 Named to honor Joaquin Murrieta, who first discovered the historic estate in the 1800s, Murrieta's Well specializes in terroir-driven, limited production wine blends. The estate was purchased in 1884 by Louis Mel, who built a gravity flow winery into the hillside and planted a vineyard with cuttings from the famed Chateau d'Yquem and Chateau Margaux. In 1930, Mel sold the estate to Ernest Wente and the property has been part of the Wente family's estate ever since.


The Steven Kent Winery: Highlighting Livermore Valley on the Wine Map

Steven Kent has a family history of winemaking and the amazing wines produced must be proof generations of knowledge must be in the DNA.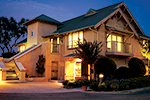 Founded by Steven Kent Mirassou from the fifth-generation of the famed Mirassou winemaking family, The Steven Kent Winery is a standard-bearer for the Livermore Valley wine region. Although he grew up in a family that has been making wine for six generations, it wasn't until 1996 that Steven Kent Mirassou brought his love of great Cabernet Sauvignon to the Livermore Valley and started The Steven Kent Winery, with the singular focus of crafting the very best possible Bordeaux wines.


Maryhill is a Booming Winery With the Medals to Back it Up

While you await the arrival of the new Spokane Tasting Room to open, be sure to visit the Maryhill Goldendale location.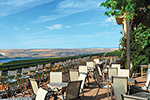 Since its founding in 2001, family-owned Maryhill Winery has won more than 2,500 awards including Wine Press Northwest's 2015 Pacific Northwest Winery of the Year, the San Francisco International Wine Competition's 2014 Winery of the Year, the Indy International Wine Competition's 2013 Winemaker of the Year, and Seattle Magazine's Best Destination Winery.

Maryhill Winery is the answer to an entrepreneurial dream shared by owners Craig and Vicki Leuthold who saw great potential for a winery in the Columbia River Gorge National Scenic Area, perched on the northern side of the Columbia River, in the southern tip of the Columbia Valley. Through the years, Maryhill has built a stunning portfolio of more than 50 wines of exceptional quality and surprisingly affordable price points. Under the direction of Winemaker Richard Batchelor, who has fostered relationships with some of Washington State's most highly regarded growers in eight separate AVAs, the portfolio features many rare and unusual varietals, as well as award-winning classics, including a standout Single Vineyard Series collection for wine club members.
Visit the Family Wineries At the Heart of Sonoma

Sonoma has a rich history of families cultivating the area to become one of the greatest wine regions on the planet.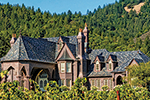 Sonoma is a shining jewel of the wine world that deserves your attention and a visit. Aside from the beauty of the region you'll find friendly families and wineries ready to serve you. Here are three you should add to your itenerary.
Ledson Winery & Vineyards
The Ledson family spans five generations of farming and winemaking in Sonoma County with more than 150 years of tradition.
The Hope Family Aspires a Region

Chuck Hope planted one of the first vineyards in Paso Robles and the family has been trailblazing ever since.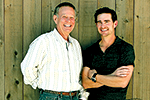 The name Treana symbolizes a trinity of the sun, soil, and ocean—the elements needed to produce premium wine grapes. Treana was introduced in 1996 when Austin Hope became the second generation Hope to lead the family business as they began producing their own wine. Austin's father, Chuck Hope, planted one of the first vineyards in Paso Robles in 1978 and was instrumental in establishing the region's solid reputation for high-quality grape growing.


Lodi: The Sleeping Giant in California Wine

Lodi produces a tremendous amount of fantastic wine in California. Here are a few wineries you should get to know better.
For more than 150 years, grapevines have flourished in Lodi on farms that have rarely changed hands. Instead, they have been proudly passed from grandfather, to father, to son and daughter.

Through the years, these multigenerational farming families have crossed paths in many ways, tightly weaving the legacy that stands behind Lodi wine. Lodi enjoys a classic Mediterranean climate. For decades, it has been quiet, but far from a sleeping giant, producing an astounding amount of grapes for countless wineries throughout California. Quality, not quantity, is what draws savvy wine tasters here.
Explore the Rich History of Livermore Wineries

Livermore has a wine history dating back to the 1800s. Here is an overview of wineries you'll want to explore.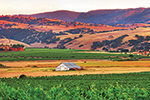 With a winemaking history that dates back to the time of Spanish missionaries, Livermore Valley is a living legend. It lies less than an hour east of the city of San Francisco and is home to some of California's most storied wineries. The first international Gold medal awarded to a California wine was a dry 1884 Sauvignon Blanc from Livermore at the 1889 Paris Exposition, and much of the Chardonnay we drink today originated from plantings by Wente Vineyards. Located just about 30 miles east of San Francisco in California's Tri-Valley region, Livermore Valley is an ideal region to explore.

Wines to Savor

These wineries produce exceptional wines you'll want to savor.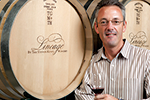 Some wines deserve a little more attention than others. These wineries are producing exceptional wines that deserve added attention and appreciation.
The Steven Kent Winery
Although he grew up in a family that has been making wine for six generations, it wasn't until 1996 that Steven Kent Mirassou brought his love of great Cabernet Sauvignon to the Livermore Valley and started The Steven Kent Winery, with the singular focus of crafting the very best possible Bordeaux wines.
SIMI Winery: The True Alchemy of a Sonoma Legend

Italian brothers came to California for gold and instead enriched Sonoma with their vision.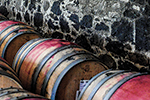 Unshaken by the great San Francisco earthquake and Prohibition, SIMI Winery is proudly celebrating 140 years. The winery was founded in 1876 by Italian brothers, Giuseppe and Pietro Simi, who immigrated to California from Tuscany during the Gold Rush. Instead of finding gold, they founded SIMI, making it one of the longest continually operating wineries in Sonoma County.


Do You Like Sangiovese? Check Out Vino Noceto

Married couple Suzy and Jim Gullett planted grapes in 1987 and now produce 10 different Sangiovese wines in California.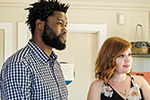 Suzy and Jim Gullett, the owners of Vino Noceto, purchased their first parcel of land in 1984. At the time Amador County's Shenandoah Valley was primarily known for Zinfandel, but the Gulletts wanted to do something different. After a year of trying various wines with dinner and a two-week trip to Tuscany, they decided to focus on Sangiovese. The Gulletts planted their first vineyard measuring less than one acre in 1987.


Masters of the Vine

These 3 wineries embrace the opportunity to produce special wines that everyone can enjoy.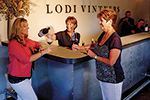 I
t's not the easiest thing in the world to produce great wine. In fact, it's as much art as it is science. These three California wineries have embraced the challenge and not only produce spectacular wines, but offer accessible environments for visitors to enjoy them in.
The Larsons Had Land, So They Made Wine… Delicious Wine

If you want to taste the Larson's delicious wines you'll have to visit their winery (and be thankful you did).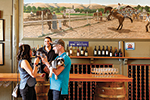 The vineyards of Larson Family Winery speak of a colorful history, but what matters most to Tom and Becky Larson is their commitment to family and making world-class wines.

In 1899, Tom's great-grandfather, Michael Millerick, bought 101 acres of land that had once been the last landing point of Sonoma Creek. Millerick Ranch saw many rodeos, racehorses, and polo ponies—but not a single grapevine until 1977, when Tom and his father, Bob, decided to plant Chardonnay. The 40-acre block provided the family with wine for their own consumption.

Wineries Honoring Art & Nature in Wine Making

These 5 wineries have a rich history with appreciation for the soil they tend and the culture is grows.
To produce truly great wine you need to appreciate the soil from which the grapes grow. You must also respect the culture of region and embrace the heritage that has enabled the fruit to ripen. These five wineries have done just that and are worth your time.
Benziger Family Winery
For more than 30 years Benziger Family Winery has farmed its 85-acre ranch on Sonoma Mountain. Only 35 of these acres are planted with vines. The rest of the estate is used for biodiversity to create a polyculture. Besides insectaries, gardens, sheep and cattle pastures, and more than 800 olive trees, there are two wetland areas used for water purification.
Martin Ray Offers a Unique Portfolio of Wines of Place

Amazing grapes, spectacular land, and a talented team with vision make Martin Ray wines special.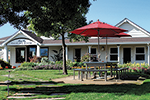 T
he name Martin Ray resonates deeply with those well-versed in the history of California wine. Winemaker Martin Ray was a pioneer in creating 100 percent varietals in the region and made wines under his namesake label from 1943 through 1972. Nearly 20 years later Courtney Benham made a life-altering discovery when he stumbled on 1,500 cases of Martin Ray wine in a San Jose warehouse. Recognizing his good fortune, Courtney purchased the brand and since 1990, he has been dedicated to the production of exceptional artisanal wines worthy of the Martin Ray name.
J. Lohr Rewards the Loyal

A pioneer in California, J. Lohr is focusing on offering benefits to their most loyal customers.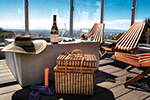 It's no coincidence that the timeline of the emergence of California's Central Coast as a world-class winegrowing region runs parallel with the establishment of J. Lohr Vineyards & Wines. Founder and Proprietor Jerry Lohr is one of the region's pioneers.

Jerry grew up in a close-knit farming community in South Dakota and had always been knowledgeable and intuitive about optimal crop-growing conditions. In the mid-1970s, when he decided to grow winegrapes in California, Jerry's instincts led him to two regions located about 75 miles apart along the Central Coast. He chose Monterey County's Arroyo Seco for its cool, windy climate and rocky soils as ideal for Chardonnay and Paso Robles with its diurnal temperature spreads of nearly 50 degrees and rich soils for Bordeaux varieties.
Family & History Inspires Monticello Vineyards

Come for the west coast interpretation of Jefferson's Monticello and stay for the wine.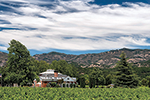 Thomas Jefferson said, "Good wine is a necessity of life for me," and Jay Corley, founder of Monticello Vineyards, wholeheartedly agrees. Jay made his foray into the industry by selling grapes to wineries, eventually making the move from grape grower to winery owner and vintner. Adamant about keeping Monticello Vineyards a family-owned and -operated venture, Jay's sons—Kevin, Chris, Stephen, and Kent Corley—are at the helm. Kevin is winegrower and president, Chris is the winemaker, Stephen is responsible for sales and hospitality, and Kent handles administration.
Young Energy Flows Through Nottingham Cellars

Nottingham Cellars is a rising star in wine as it helps lift the reputation of a rising region, Livermore Valley.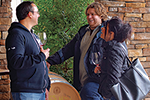 Founded by Diane and Jeff Cranor in 2009, the name Nottingham Cellars has fast become synonymous with premier quality Livermore Valley wine. They established Nottingham Cellars because Jeff saw tremendous untapped potential in Livermore Valley fruit. He also saw potential in his son, Collin, who naturally gravitated toward the cellar as a gifted winemaker. Vintage upon vintage, Collin's wines receive top awards, high acclaim, and many 90-plus scores from the world's top critics. Although he is one of the valley's youngest winemakers, he is one of its most respected; invited to serve on advisory boards and tasting panels to help promote the quality of Livermore Valley wine.
Bow to the Godfather of Zin

If you love California Zinfandel, you should know who Joel Peterson is.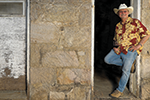 F
or the past 40 years, Ravenswood Winery has held an enduring presence in Sonoma and the world of California Zinfandel. The winery was founded in 1976 by Joel Peterson, who has earned the moniker "the Godfather of Zinfandel" for his tenacity in championing the grape—once an overlooked underdog—into a runaway phenomenon.
A Tasty Northern California Itinerary

Shop, sip and stay at these amazing Northern California gems.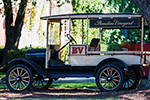 Northern California has so many wonderful wineries and locations to visit you'll want to tour the entire region. Here are six spots you'll want to add to your itinerary.
Beaulieu Vineyard (BV)
Beaulieu Vineyard is the home of Cabernet Sauvignon in the Napa Valley with the Georges de Latour Private Reserve Cabernet, first made in 1936. BV is one of the only wineries in the valley where you can go without an appointment and taste a selection of vintage wines from the extensive library.
4 Fantastic Wineries to Try This Holiday Season

When trying to find a wine to pair with your holiday meals, give one of these four a try.
Grabbing a bottle of wine that will go with your holiday meal can escalate anxiety—and who needs that? We've compiled these four wineries that might be the first gift you open this year.
The Four Graces
When Paul and Steve Black purchased their first vineyard in the Red Hills of Dundee in 2003, they set out to make rich, complex wines that elegantly expressed their unique terroir. They named their winery The Four Graces in honor of their four daughters.
Trio of Terroir

The magnificent thing about wine is that you can taste where it came from. Here are three amazing examples.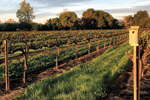 Terroir is a word closely associated with wine. Terroir represents the environment in which a particular wine is produced, including the climate, soil and topography. Each of these elements shapes the final product and are all considered when discussing a wine's terroir. Here are three wineries worth a visit representing three different unique terroirs.

Lodi Vintners: Crushing It

With a rich history and recent past as a dedicated crushing facility, Lodi Vintners has expanded to release their own delicious brands.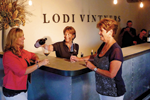 A
s one of Lodi's newest tasting rooms, located on the site of Lodi's oldest operating winery, Lodi Vintners has a history that dates back to 1900 when the historic Urgon Winery was founded on the site.
Today's winery was founded as a custom crush facility in 1991 by the Rippey family, fourth generation Napa natives who have seen first-hand the remarkable transformation of the Lodi wine region over the past quarter century. After more than 25 years of making wines alongside some of Northern California's best wineries and winemakers for customers both large and small, they decided it was time to launch their own wine brands: Rippey Family Vineyards, Reign, and Concrete Wine Company. When the Rippeys acquired the property, they also took possession of 24 giant concrete fermentation tanks dating back to the early 1940s.
White Oak Vineyards and Winery is Quite a Catch

An Alaskan salmon fisherman and contractor is now reeling in great wines in Sonoma County.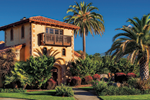 At the end of a narrow lane lined with Italian olive trees, White Oak Vineyards & Winery welcomes guests to join in the celebration of its unique 35-year heritage of producing distinctive varietals.

The winery was founded in 1981 by Bill Myers, who worked as a building contractor and salmon fisherman in Alaska before moving to Healdsburg and buying his first vineyard. With the help of the renowned MaryAnn Graf, he learned winemaking and began winning awards. Not long after his 1990 Sonoma County Chardonnay won the Sweepstakes Award at the prestigious Sonoma County Harvest Fair, Bill partnered with Don Groth and Burdell Properties and gained access to 750 acres of prime vineyards across Sonoma County's Alexander Valley and Russian River Valley, as well as the Napa Valley.
Hope Spreads Throughout Paso Robles Wine Country

Treana was first label for Hope Family Wines and it set the tone of quality and innovation.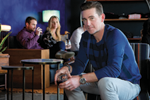 The name Hope appears in every chapter of the 30-plus year wine industry history of Paso Robles. Chuck Hope planted one of the first vineyards just east of the Salinas River in 1978, and was instrumental in establishing the region's solid reputation for high quality grape growing. He helped other vineyards get their start and was a founding member of what is now the Paso Robles Wine Country Alliance.


Wine Runs Through the Vines of These 7 Families

For many families, planting roots somewhere is the dream, these seven families planted vines and have been making great wine ever since.
These couples and families have decades of experience producing amazing wines and having guests come to visit and taste. In one instance, the family roots in winemaking date back to the 1770s! In a world where family-owned businesses seem harder to identify, here are seven to patronize.
ROCO Winery
ROCO Winery is named after Rollin and Corby Soles for a very good reason—it represents the combined energy of a tireless married couple who dreamed for decades of starting their own wine label in the Chehalem Mountain range of Oregon's fertile Willamette Valley.
5 California Wineries With Unique Stories to Tell

Each bottle of wine is a story ready to be consumed. Visit these places to get a peak at the "writer's room."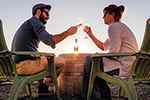 There are so many reasons why guests visit various wineries and tasting rooms across the country. Sometimes it's convenience, sometimes it's reputation, sometimes it's for adventure. Whatever the reason these five California wineries each offer their own unique reason ready for your exploration, from architecture to wine history and culture.
Andis Wines
The stunning, fresh architecture of Andis Wines, located in the heart of the Shenandoah Valley, was designed as homage to the beauty of modern winemaking and the joys of gracious hospitality.
7 West Coast Wineries to Taste

California, Oregon and Washington each offer a unique style and taste that all wine lovers should enjoy. Here are 7 wineries to check out.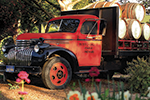 There are amazing wineries around the world producing fantastic wines, from France and Italy to Chile and Spain. Along the West Coast of America is no different. Wine enthusiasts can travel up the Pacific from California to Washington tasting exquisite wines. Here are seven wineries to visit and taste.
Elizabeth Chambers Cellar
On every Elizabeth Chambers Cellar wine label, one finds a blue butterfly—a tribute to Elizabeth's mother, who inspired her daughter's role as a pioneer in Oregon wine. Today, Elizabeth Chambers Cellar is dedicated to the small-lot production of high-quality handcrafted Pinot Noir.
A Sustainable, Exceptional Experience Awaits at St. Francis Winery & Vineyards

Feel good about the wine you drink knowing the winery cares as much about the process as they do the product.
This year, St. Francis Winery & Vineyards celebrates its 45th anniversary as a producer of luscious, fruit-driven wines that demonstrate the unique and diverse characteristics of Sonoma County terroir. Since the founding of the vineyards and winery in 1971, St. Francis has enjoyed an enviable reputation for its distinctive wines and commitment to the land where the winegrapes are grown.

3 Great Wineries from 3 California Counties

California has an embarrassingly large number of great wine regions. Here are three to check out.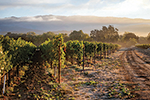 When most think of California wine, they immediately think of Napa Valley. Napa wines are amazing, sure, but so are the wines throughout the rest of the state. Here's one Napa winery and two from other parts of the Golden State.
Las Positas Vineyards
5 Spots for Your Next Tasting Trip

From picnic tables, olive oil tasting to a wine-themed casino, put these spots on your next tasting trip.
Sometimes you just want to try something new. Along the West Coast are innumerable places to stop and stay, but these five stand out. Make your must-stop list and start checking these off. Here's why:
ArborBrook Vineyards
More than a century ago, the stunning red barn that is now home to ArborBrook Vineyards was built into the southern flank of Yamhill County's Chehalem Mountain range. When Dave and Mary Hansen discovered it in 1999, it was part of a 30-acre farm with the characteristics Dave, who was intent on making wine, sought for a vineyard.
Wente Family Continues Pioneering Ways

The family that brought Chardonnay, Sauvignon Blanc and Semillon to the States now has a Studio to educate and inspire visitors.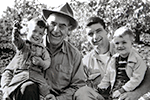 For five generations the Wente family has been dedicated to the art of winemaking and the philosophy that the quality of wine originates in the vineyards. The journey began in 1883 when German immigrant and aspiring winemaker, C. H. Wente, moved with his bride Barbara to the Livermore Valley. Since then, through significant contributions made by each generation, Wente Vineyards has thrived and remains the nation's oldest continuously family-owned and -operated winery.


Domaine Drouhin Provides French Soul in Oregon Soil

The Drouhin family has a rich history of winemaking, which they've expanded from Burgundy to Oregon.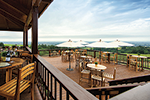 The Domaine Drouhin Oregon story began in Burgundy in 1880, with the founding of Maison Joseph Drouhin in Beaune. Joseph's son, Maurice Drouhin, expanded the Drouhin estate including the purchase of the family's signature vineyards in the Clos des Mouches. Maurice's son, Robert Drouhin, continued the family practice of buying exceptional vineyards, and in 1987, purchased land in the Dundee Hills of Oregon. At the time of this extraordinary leap, there were only 65 wineries in the state, but Robert was inspired by the potential of the region, and by the close community of winemakers.
Huge Bear Wines: A Perfect Expression of California Independence

At just 10 years old, Huge Bear Wines has already earned a reputation as being a terrific wine for all occasions.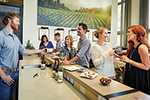 The historic Calistoga National Bank building in downtown Calistoga is now a charming tasting room and an ideal setting for Huge Bear Wines. Founded in 2006 by family members with a heritage in agriculture and love of wine, Huge Bear Wines embodies the spirit and history of California.

Beyond the fact that bears have always been an important symbol in California's heritage, the winery's name was inspired by an article uncovered in local historical archives. According to written lore, a huge bear repeatedly descended from the mountains in search of food and raided the home of the local justice of the peace.
Eleven Eleven Wines: Have Found Great Balance at a Young Age

Just a few years into their venture and three partners are already producing well-received wines.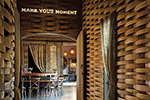 With the deepest respect for the synchronicity of coincidence and the series of events that brought their winery to life, three partners founded Eleven Eleven Wines in 2013. Ellie Anest, Aurelien Roulin, and Carol Vassiliadis can literally trace the origin of their business back to the air, where Ellie and Aurelien met on an international flight. When it came time to name their enterprise, Eleven Eleven was the perfect name, because it symbolizes every surprising, awe-inspiring, or fated moment that awaits everyone.

Grey Wolf Cellars Effortlessly Blends Tradition, Family & Wine

Grey Wolf Cellars and Barton Family Wines are celebrating their 20-year anniversary by blending past success with a vision for the future.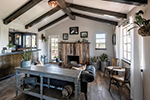 Blending is an art that's practiced at every turn at Grey Wolf Cellars and Barton Family Wines. The winery was founded in 1994 by Joe and Shirlene Barton, whose son Joe has since taken the reins and modernized the brand. This year, the winery is celebrating its 20-year milestone year at the Highway 46 West property with a new, updated label design and recent remodel of its tasting room, now known as the Barton House.

Joe is a master blender. He personally handcrafts an impressive portfolio for the winery's two labels by adhering to Old World winemaking techniques to craft wines that epitomize the uniqueness of Paso Robles as a wine region.
Of Land and Architecture

These 4 wineries heighten the visitor experience through their build and appreciation for the terroir.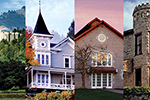 Visiting a winery for the first time can be and exciting and intimidating experience all at the same time. You're not sure where you should go, what you should see or what you should taste. These four wineries offer several conversation starters through beautiful architecture and the products they produce.


How to Make the Perfect Summer Fruit-Infused Cocktail

Sweet, tart, succulent summer fruit is bountiful this time of year; here's how to infuse it into an amazing, refreshing beverage.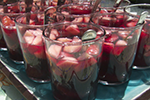 Walk the farmers markets and enjoy a grand show of summer's bountiful harvest. Leafy greens have reappeared along with all manner of beans and peas. Stone fruit, including peaches, nectarines, cherries, plums and pluots, are available in abundance. They are perfect to make fruit salad cocktails, a delicious way to celebrate summer's bounty.

Sun-loving Spaniards created sangria, probably the best-known alcoholic-fruit beverage. The inspired combination of wine (tart), fruit (sweet and acidic) and spirit (sharp) creates an umami of flavors that delivers a satisfying punch.
Andis Wines: Mindfully Creating Great California Wines

While Andis Wines don't have a long history, they have been very distinguished winning many awards.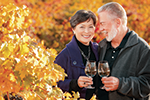 The stunning architecture of Andis Wines' 17,000-square-foot winery in the Shenandoah Valley serves as a beacon to wine lovers who appreciate the beauty of winemaking. Crafted from prefabricated metal with massive canopies, the design pays homage to the craft of modern wine production. Guests often stop near the tasting room entrance to admire the Barrel Stave Wall, engraved with the names of many wine club members. Inside, they learn that this fascinating wall, fabricated from old barrel staves, shades the north side of the building, keeping the winery cool all day.
Madrone Vineyards: Sonoma Valley Tradition Rooted in Time and Place

In 2012 Madrone Vineyards Estate had a new family move in. They've revitalized the property and are ready for guest to drop by.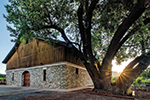 With a history that dates back more than 150 years, Madrone Vineyards Estate is one of Sonoma Valley's most historic wineries. The first vineyards were planted on the property in 1863, and a stone barrel cellar, built in 1887, still stands there today. Over the years, the property has changed hands through a few illustrious owners including Senator George Hearst, Italian sausage makers Enrico Parducci and Peter Domenici (who renamed the winery Valley of the Moon), and F. Korbel Brothers.

Lincourt Vineyards Offers Delicious Diversity in the Santa Ynez Valley

An idyllic setting and world-class Burgundian and Bordeaux varietals make Lincourt a must visit vineyard.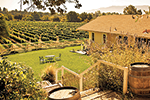 Nestled under California pepper trees on a property that was once a dairy farm, Lincourt Vineyards retains the rural charm and simplicity of an earlier era. The winery was founded in 1996 by Bill Foley who was inspired by the winegrowing potential of the Santa Ynez Valley and the Sta. Rita Hills in particular, which has since become one of California's premier cool-climate viticultural regions. Sta. Rita Hills is also one of the state's smaller AVAs, with 99 percent of its territory falling within the larger Santa Ynez Valley.


Klinker Brick Winery: Master of Old Vine Zin

While Old Vine Zinfandel is what's Klinker Brick is known for, they just released new wines you should try.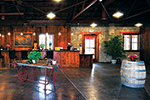 Fifth generation grape growers Steve and Lori Felten are often asked why they gave their winery the unusual name of Klinker Brick. Klinker bricks (named for the unusual sound they make when banged together) grace many of Lodi's historical buildings. These highly regarded bricks were chosen by 1920s craftsmen architects for their distinctive qualities, including unique shapes and dark, rich color. They are denser and heavier in weight than regular bricks. A rich, deep color, enormous density, and other unique characteristics also help describe the winery's exceptional lineup of red wines, like the Old Vine Zinfandel and Farrah Syrah.

An Elevated Experience Awaits at Sterling Vineyards

Any trip to Napa is incomplete without the raised view and experience provided by Sterling Vineyards.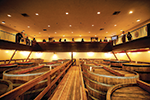 Perched 300 feet above the town of Calistoga, Sterling Vineyards offers panoramic views of Napa Valley. The winery's architecture was modeled after that of the Greek island of Mykonos, where Sterling founder Peter Newton often vacationed. The brilliant white bell towers stand out dramatically against the rugged Mayacamas and Vaca Mountains, flanking the Napa Valley. Mount Saint Helena makes a lovely distant backdrop.


The Legacy of Trione Vineyards & Winery Grows

After three generations helped build Trione to its current status, they're about to launch a new product in the spring.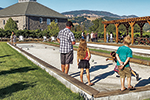 Last year when the 2015 Sonoma County Harvest Fair honored the Trione family with the esteemed Methuselah Award for their lifetime contribution to the Sonoma County Wine Industry, the timing couldn't have been better. The year 2015 also marked the 10th year making wine under their own label. Through the decades, three generations—Henry Trione, sons Mark and Vic, and Mark's daughter Denise—have developed an outstanding reputation for producing premium grapes and outstanding wines. Their portfolio now includes a Bordeaux blend that pays homage to Henry, the family's patriarch, fittingly called Henry's Blend.

Carneros' First Sparkling Wine House

Gloria Ferrer Caves & Vineyards is celebrating their 30th anniversary of the area's first Sparkling wine house.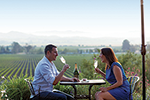 In the early 1980s, when José and Gloria Ferrer first laid eyes on the Carneros land that would become Gloria Ferrer Caves & Vineyards, there was not a single Sparkling wine house in the region. But the low rolling hills, swept by breezes from San Pablo Bay spoke to José, who had longed to fulfill his father's dream of expanding the Spanish family's tradition of producing exceptional Sparkling wine to the United States. Dating back to the 1500s, the Ferrers are the family behind Freixenet, the world's largest producer of méthode champenoise Sparkling wines.

You'll Find Art in the Winemaking at Artesa Vineyards & Winery

A deep history and an eye on creating exceptional, small-lot wine make Artesa special.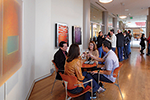 Aside from excellent wine, an epic family history, dramatic views, and stunning architecture make Artesa Vineyards & Winery a destination-worthy experience. The fascinating Artesa legacy began near Barcelona in 1551, when Jaume Codorníu bequeathed winemaking equipment to his family. A key marriage and several hundred years later, Cava—the first méthode champenoise Sparkling wine made outside of France—was created by Josep Raventós. The ripple effect of this groundbreaking claim to fame has been felt across continents since then, arriving at Artesa in the present day, which is still owned by the Raventós family.
Wines Reflecting Mother Earth

Materra | Cunat Family Vineyards harnesses their families' history of exquisite taste and quality.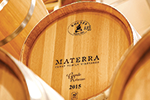 In Latin, the name Materra is a rough translation for Mother Earth. It's quite a fitting name for wines from the 50-acre vineyard purchased by Brian and his brother, John Cunat, along with their family in 2007. Their commitment to agriculture and farming reaches back years earlier to the Midwest, where Brian worked on a farm as a boy. Their passion for wine was inspired by Brian's wife Miki's father, Yasuo Obata, founder and chef of the renowned Restaurant Edelheim in Shiogama, Japan. His expertise at pairing the cuisine and wines of France and Germany earned the restaurant international acclaim.

Windwalker Offers A Laundry List of Awards and Wines

A tremendous amount of recognition has been blowing toward Windwalker Vineyard and Winery in recent years, with lots to sample.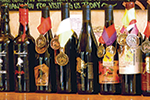 When Jim and Alanna Taff became the owners of Windwalker Vineyard and Winery in 2007, it was the culmination of a longtime love affair. For more than a dozen years, the couple had frequented the winery as loyal volunteer workers. In fact, they were even married on the tasting-room deck. As award-winning home winemakers, Jim and Alanna recognized the premium quality of the grapes coming from Windwalker Vineyards, one of the oldest vineyards in El Dorado County. As owners, they could craft wines to demonstrate its full potential.
Patz & Hall Squeezes the Best Out of Each Vineyard

An exceptional winery that sources only with family-owned vineyards to guarantee the knowledge and passion come through each bottle..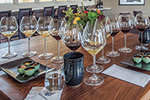 Hailed as "one of the country's most sought-after names in Chardonnay and Pinot Noir" by Food & Wine and honored six times by Wine & Spirits as one of the "Top 100 Wineries in the World," Patz & Hall is most certainly a highly revered and innovative winery. Patz & Hall was one of the first wineries to recognize America's emerging appreciation for great site-specific wines and played a pivotal role in bringing acclaimed vineyard-designate Chardonnays and Pinot Noirs to a wider audience of enthusiasts.
Heitz Wine Cellars: A Celebration of Family Cooperation

The May and Heitz family shook hands 50 years ago, which has resulted in amazing wine ever since.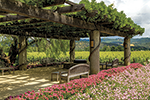 In 1961, Joe and Alice Heitz purchased their first vineyard of eight acres just south of St. Helena, with the belief that a lot of hard work would make their American dream of owning a successful family business come true. This year, Heitz Wine Cellars celebrates its 55th anniversary as a family-owned winery that is now three generations strong. The Heitz family's vineyards now encompass more than 400 acres throughout Napa Valley, located in six appellations.

Indulge in the Ultimate Tasting Experience at Robert Mondavi Winery

From the cellar to the bottle, guests get to partake in the full California wine experience.
With his belief that the Napa Valley could be the center of a gracious lifestyle embracing wine, food, and art, Robert Mondavi built the valley's first major winery since Prohibition in 1966. Since then, Robert Mondavi Winery has been the quintessential destination for Napa Valley visitors, who are drawn by the winery's history, legacy of fine winemaking, stunning mission-inspired architecture by Cliff May, and the robust menus of tours, tastings, and elevated wine programs.

Do You Like California Chardonnay? Thank Mike Grgich

Miljenko "Mike" Grgich's winemaking skills proved California wines could compete with the best in the world at the wine tasting event known as the Judgement of Paris in 1973.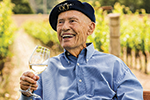 Forty years ago, on May 24, 1976, Steven Spurrier, a British expatriate operating a wine school and store in Paris, invited a panel of eminent French judges to swirl, sniff, and sip, and when their scores were tallied, the judges were shocked: the 1973 Chateau Montelena Chardonnay, crafted by Miljenko "Mike" Grgich, came out on top.

Time magazine writer George Taber was the only journalist present, and his brief article about The Paris Tasting generated a flood of publicity.
Oak Farm Vineyards: The Emergence of Lodi's Newest Premium Estate Winery

Just over a decade after the Panella family purchased the Oak Farm property they're taking it to the next level.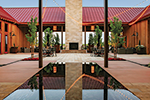 At the end of a quiet country road, just south of the Mokelumne River in northwest Lodi, Oak Farm Vineyards offers visitors to the region an unrivaled wine tasting destination. The historic 70-acre estate, replete with lush grapevines, majestic century-old oaks, and a plantation-style mansion and barn dating back to 1865, dedicates 10 acres to its guests' enjoyment.


Legendary Heritage Can Be Tasted at B Cellars

A new address and state-of-the-art facilities reinforces B Cellars commitment to excellence.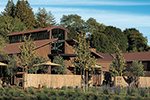 In 2003, B Cellars co-founding partners, Duffy Keys and Jim Borsack, designed a premium winery committed to handcrafted, complex, beautifully balanced, food-friendly wines. They decided upon the name B Cellars and the degree symbol depicted in its logo for the metric term BRIX, which indicates the optimal sugar content for the grape at harvest time.

In 2014, the winery was moved from Calistoga to its new Oakville address, an extraordinary property set among some of the world's most celebrated wineries, including Opus One, Silver Oak, and Plumpjack in the Oakville AVA.
Tertulia Cellars Offers the Perfect Wine for Friendly Gatherings

Tertulia harnesses the fruit of three vineyards because like an intimate gathering, each has something important to say.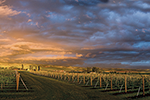 Named "tertulia" for the Spanish word meaning a social gathering of friends, Tertulia Cellars focuses on making terroir-driven wines from the finest vineyards in the region. The majority of the winery's fruit comes from its own three sustainably farmed estate vineyards: Whistling Hills, Riviere Galets, and Elevation.

Each of these three estate vineyards is situated in a different part of the Walla Walla Valley. Whistling Hills Vineyard was the first to be planted in 2007. Its eight acres of vines, wrapped around the winery building, are nestled in deep windblown loess soil.
A Neighborly Experience Awaits at the New Patz & Hall Winery

Experience the feeling of entering your friend's home when you step through the doors at Patz & Hall.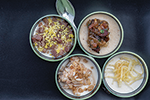 When the talented team of Donald Patz, James Hall, Anne Moses, and Heather Patz founded Patz & Hall in 1988, they were fueled by a shared passion for Chardonnay and Pinot Noir. That passion has never waned and, today, Patz & Hall is one of California's most highly regarded wineries with a portfolio of exceptional single-vineyard Chardonnays and Pinot Noirs.


Artistic Harmony Rules at Foundry Vineyards

The Andersons have patiently grown an artistic wine experience you won't want to miss.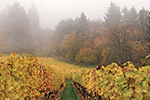 Located in the western reaches of the renowned Walla Walla Valley, Foundry Vineyards is a world-class winery that blends exceptional wine with fine art to create a unique and memorable wine tasting experience.

Although the winery itself is only a dozen years old, its roots go back to 1980 when its owners, Mark and Patty Anderson, started the Walla Walla Foundry. Mark set up in the back of an auto shop in Walla Walla and slowly grew the business. Today, Walla Walla Foundry works with many renowned artists, and its artwork can be found worldwide.
Great Karma Bubbling in Washington

Magnificent sparkling wines are produced in the French Champagne style at Karma Vineyards.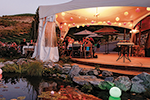 When Julie and Bret Pittsinger opened Karma Vineyards on the beautiful south shore of Lake Chelan in 2007, they had plenty to celebrate. Not only were they launching a business named in honor of their children, Karle and Matthew, they were introducing the first méthode champenoise house to Washington's eleventh American Viticultural Area, the Lake Chelan AVA.

Two years earlier, they had hired a winemaker who formerly had worked at Moët in France. From him they learned what they needed to know to begin to produce their Sparkling wines in the traditional method by which Champagne is made.
Cliff Creek Cellars Used Age to Perfection… But Not How You Think

Everyone knows that wine gets better with age, but so does a veteran entrepreneur.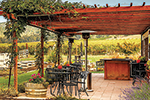 With each passing vintage, the wines of family-owned Cliff Creek Cellars attract national accolades that further confirm Vern Garvin's excellent decision to build one more business at the age of 70.

In the early 1990s, Vern took ownership of a 100-year-old Rogue Valley farm dedicated to growing grasses and grazing cattle. He selected 15 acres for his first grapevine planting and broke ground in 1999, founding Sam's Valley Vineyard, nestled in the foothills of the region's majestic Table Rocks.
Ledson Winery & Hotel: A Sonoma Treasure

At Ledson, you can get an entire experience from great food, tours, tasting and a romantic stay.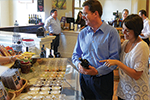 There is not one single reason why visitors to Sonoma County want to visit Ledson Winery & Vineyards—there are many. Founded by Sonoma County native and fifth-generation farmer and winemaker, Steve Ledson, the winery always puts its best foot forward, providing extraordinary hospitality, exquisite atmosphere, and impeccable wines. To get the full Ledson experience, visitors should plan to taste wine and picnic at the winery's iconic Normandy Castle; tour its exclusive mountainside vineyard retreat; and stay at Ledson's vintage-style boutique hotel on the historic Sonoma Plaza, where another new, exciting Ledson experience awaits.
Steven Kent Winery: Taste the Best of Livermore Valley Wine

With a quest to create the best Bordeaux wines in the area, Steven Kent has created a standard for the region.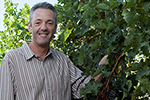 Although he grew up in a family that has been making wine for six generations, it wasn't until 1996 that Steven Kent Mirassou brought his love of great Cabernet Sauvignon to the Livermore Valley and started The Steven Kent Winery, with the singular focus of crafting the very best possible Bordeaux wines.

Actually, Cabernet was anything but new to the Livermore Valley; it had grown there successfully since the late 1800s. But, inspired by the climate and soils of Livermore Valley, Steven wanted to raise the bar. And he did.
The Zinfandel King Moves to Jack London Square

Rosenblum Cellars has recently moved its East Bay tasting room to Jack London Square, making it a convenient gathering place for Bay Area locals.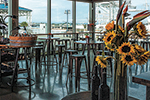 For more than 25 years, Rosenblum Cellars has been a hit with Zinfandel lovers. Founded by Kent Rosenblum, it is now one of California's top producers of Zinfandel and Rhône-style wines. Each year, the Rosenblum portfolio astounds wine enthusiasts with release upon release of more than 20 exciting types of Zinfandel. The wines are met with praise for their distinctive qualities and routinely rewarded by critics and judges with high praise, points, and medals.

A Family-run Winery & Olive Mill Squeezing Out Excellence

The Manuel family has burst onto the scene winning multiple awards for their wine and olive oil.
Founded by Paul and Kellye Manuel, Chacewater Winery & Olive Mill produces premium wine and olive oils. Working with their three sons and a small, dedicated staff, Paul and Kellye have marked steady success since they released their first wine in 2011. The very next summer, the winery won the prestigious 2012 California State Fair Golden Winery of the Year award, setting the tone for many subsequent awards for both wines and olive oils.


Gary Farrell Vineyards & Winery: Sitting On Top of the World

The winery with the namesake of the founder offers fantastic tasting tours that will take you through the winemaking process.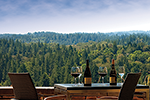 Active before the creation of the Russian River Valley AVA, Gary Farrell Winery produced its first wine in 1982, guided by the careful hands of the winery's namesake. In the 33 years that have followed, the winery has consistently produced Pinot Noir and Chardonnay, forging a legacy of collaboration between the winery and the appellation's top growers.

Although Gary Farrell sold his winery in 2004, his brand, the hilltop facility he built in 2000, and the relationships he established with local vineyards lie in able hands.
Sonoma Pioneer: Seghesio Family Vineyards Celebrates 120 Years

A history that's woven deeply into the fabric of the region, the Seghesio family continues to make their mark.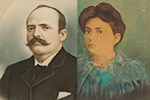 Very few wineries in the state of California have a history that dates back to the late 1800s. This year, as Seghesio Family Vineyards celebrates its 120th anniversary, we can't help but see the correlation between the story of this family winery and that of Sonoma County wine as a whole.
A FAMILY LEGACY
For the Seghesio family, 120 years spans five generations. The members of each generation have been dedicated to working in the family business, which was started by their ancestor, Italian immigrant and winemaker, Edoardo Seghesio and his wife Angela in 1895.
The Rebirth of Brooks' New Tasting Room

Upholding the legacy of the founder who passed away, Brooks welcomes wine lovers to their new tasting room.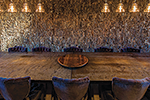 When Brooks opened its new tasting room in September 2014, the event was about much more than just brick and mortar. It was a celebration of the generosity and friendship of the Oregon wine community, who helped the winery get through devastating times when its founder passed away at an early age—only to carry on, rebuild, and uphold his legacy.

The stunning tasting room has fast become a destination for a number of reasons. Although it's far from the beaten path, it was built with wine lovers in mind.
Fantesca Embraces a Feminine Touch

A female heritage going back more than a century and a half, Fantesca continues the tradition with special wine from a special winemaker.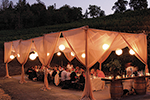 The southeastern side of Spring Mountain where Fantesca Estate & Winery stands has a rich and compelling female heritage dating back more than 150 years. In 1860, the land was the dowry of Caroline Bale when she married Charles Krug, founder of the oldest winery in the Napa Valley. In 1889, a Cabernet Sauvignon from this area, crafted by pioneering female Winemaker, Hannah Weinberger, won one of the first awards for a wine from the Napa Valley. The legacy lives on today in Fantesca's wines, crafted by world-renowned Winemaker Heidi Barrett.

Pence Ranch Cultivates Excellence From the Ground Up

A restored 1907 ranch building, farming without pesticides and wine grapes that are kissed by the Santa Barbara breeze.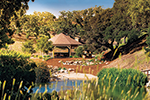 Tucked away in the hills of Santa Ynez Valley, Pence Ranch is a small artisanal winery dedicated to producing world-class wines that highlight the unique complexity of Santa Barbara terroir.

Proprietor Blair Pence founded the winery out of his longtime passion for Pinot Noir and Chardonnay, particularly those produced in Burgundy, France. He traveled there often to learn how the region's renowned wines are created, and then began searching for a suitable site to cultivate cool climate grapes of his own. In 2004, he finally found the perfect property: a 200-acre ranch on the western edge of Santa Barbara County.
An Artistic Touch From the Bottle to the Walls

The Thorn Hill Vineyard tasting room is adorned with a gallery of contemporary art that's as interesting and innovative as the wine getting poured.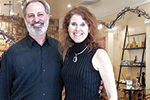 When Thorn Hill Vineyards Winemaker Amy Thorn opened a new tasting room in September 2014, she became the only female winemaker with a tasting room on St. Helena's bustling Main Street. Thorn Hill Vineyards is a family affair, owned by Winemaker Amy Thorn, her husband Jack, son Jonathan, and daughter Rachael. The family currently owns wine operations in Napa Valley, Sonoma County, and Lake County.


This Winery Is Green and Honored

It hasn't taken very long for Andis Wines to make an impact in the wine world.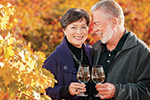 The stunning architecture of Andis Wines' 17,000-square-foot winery in the Shenandoah Valley serves as a beacon to wine lovers who appreciate the beauty of winemaking. Crafted from prefabricated metal with massive canopies, the design pays homage to the craft of modern wine production. Guests often stop near the tasting room entrance to admire the Barrel Stave Wall, engraved with the names of many wine club members.


Nottingham Cellars, A Family Winery Showcasing Livermore Valley

In just a few short years, the Cranor family has demonstrated it knows what to with the amazing fruit in Livermore Valley.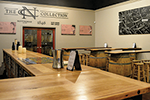 In the five short years that Diane and Jeff Cranor's Nottingham Cellars has been crafting wine, its name has become synonymous with premier quality Livermore Valley wine. Jeff first founded Nottingham Cellars because he saw tremendous untapped potential in Livermore Valley fruit. He also saw potential in his son, Collin, who naturally gravitated toward the cellar as a gifted winemaker. Vintage after vintage, Collin's wines receive top awards, high acclaim, and many 90-plus scores from the world's top critics. Once recognized as a rising star by this publication, Collin continues to receive high praise and, according to Wine Enthusiast, "remains one of Livermore's most promising young winemakers."
Get a Tastebud Education at the Walter Clore Wine and Culinary Center

In the name of a Washington wine pioneer, this center provides guests a safe place to get all their wine questions answered.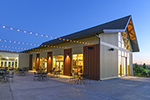 Named for the late Dr. Walter J. Clore, officially recognized as the Father of Washington Wine for his life's work studying vinifera grapes and their potential in Washington, the Walter Clore Wine and Culinary Center is an exciting wine tasting and education destination. It offers visitors a one-of-a-kind tasting experience with a selection of wines that changes each month. Each monthly selection presents the wines of a specific Washington AVA, to acquaint visitors with its unique growing characteristics. New wine and agriculture-themed exhibits will make their debut in the tasting room later this year.


Riverbench Sets the Benchmark

Known for Chardonnay and Pinot Noir, Riverbench Family Winery is paving the way for Sparkling wine in the region.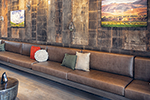 In Santa Barbara County, the name Riverbench is synonymous with premium quality Chardonnay and Pinot Noir. Riverbench Vineyard was first planted in fertile alluvial Santa Maria Bench soils on the southeastern edge of the Santa Maria Valley in 1973. It has long been a coveted source for some of the region's finest Burgundian varieties.

Through the years, Riverbench has retained a firm commitment to sustainable winegrowing practices. In 2010, the vineyard earned SIP (Sustainability in Practice) Certification, a third-party evaluation program that demonstrates the winery's dedication through its daily practice of a long list of standards that affect the workers, soil fertility, cover crops, wildlife, native plants, irrigation, and more.
Vigilance Winery & Vineyards Shepherd's Sustainable Experiences

Their roughly 1,850 acres are sustainable thanks to 1,500 sheep.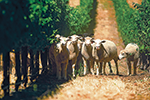 Overlooking Anderson Marsh State Park at the southern end of Clear Lake, Vigilance Vineyards is the home of the Shannon Ridge Family of Wines tasting room. Owners Clay and Margarita Shannon have created a special combination of lake country hospitality along with a stunning portfolio of wines to sample. They offer tasting flights from Shannon Ridge; Vigilance Vineyards; High Valley Vineyards; Hillgate; Dalliance; a brooding blend of Zinfandel, Syrah, Barbera, Tempranillo, Cabernet Sauvignon, and Grenache; and the newest wine, Playtime, an enticing blend of Zinfandel with small amounts of Grenache, Petit Verdot, and Barbera with a price that's equally attractive as its label depicting the Pinup Stars of World War II.
The Wedding Present That Turned Into a Vineyard

When the Sullivans got hitched, they received a gift that would change the course of their family's future.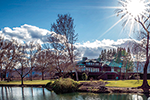 Tucked away within the tranquil confines of Rutherford on a gorgeous estate in the heart of the Napa Valley, Sullivan Vineyards is the realization of founder Jim Sullivan's dream to create high-quality, high-end wines.

It all started when Jim and his wife Joanna received an arbor of grape vine cuttings as a wedding present. Though a seemingly simple gift, the cuttings inspired Jim to try his hand at winemaking, and as his skills grew, so did his passion for producing superior wines.

C.R. Sandidge Wines Offer Pleasure With Every Sip

Meticulously crafted wines by Ray Sandidge are to be enjoyed and celebrated.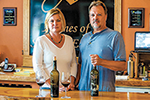 Whistle Punk, TriUmph, and Devil's Smoke Stack are fanciful names for just three of the extraordinary wines crafted by Ray Sandidge, a renowned Washington State winemaking pioneer. Ray has devoted 30 years to making beautiful, superbly balanced red and white wines. Aside from short stints on Long Island, New York, and in the Rheingau region of Germany, Ray has spent 23 years making wines in Washington State.

Pepper Bridge Is a Young Winery With a Vision

Pepper Bridge Winery was the first in the state of Washington to receive sustainability certification.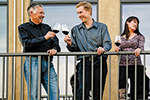 Known for elegant, balanced wines handcrafted from grapes grown in its three Walla Walla estate vineyards, Pepper Bridge Winery was the state of Washington's first gravity flow winery and first to receive sustainability certification.

The winery was founded in 1998 by the visionary team of engineer-turned- agriculturalist Norm McKibben, Anheuser-Busch veteran Ray Goff, and third-generation winemaker and viticulturist Jean-François Pellet.
The Hedges' Family Crest Shines Bright

A family winery that's rewriting the rules on defining quality.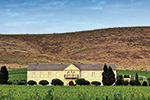 When Tom and Anne-Marie Hedges purchased their first 50 acres of land on Yakima Valley's Red Mountain AVA in 1989, they were fully confident about its potential as a wine region. Anne-Marie, who was born and raised in the countryside of Champagne, France, and Tom, who was born in Richland, Washington, had already formed a successful export company that sold Washington wines to foreign exporters. Recognizing the intrinsic value of an authentic wine estate, they immersed themselves and their young family into their new enterprise, Hedges Family Estate.


Hamilton Cellars Is Spicing Up Washington's Wine Scene

The Hamiltons launched their winery with a focus on the under-appreciated Malbec.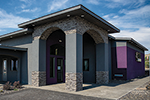 When Russ and Stacie Hamilton first decided to start a winery in 2006, they knew what their signature wine would be. Although Malbec was relatively new to the State of Washington, they were intrigued by its peppery and aromatic black fruit scents and flavors. At the time, this enticing Bordeaux varietal was almost exclusively used in its traditional role: as a blending grape for a red Bordeaux blend. However, Russ and Stacie noted a trend. As they visited tasting rooms around Columbia Valley, they saw that more and more wineries were bottling Malbec as a single varietal.
Amavi Cellars Celebrates Love and Life

Three families have come together to create spectacular wines for all to enjoy.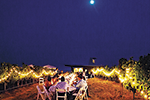 The name Amavi (ahh-muh-vee) is derived from two Latin words: amor (love) and vita (life). It was chosen by the Goff, McKibben, and Pellet families when they decided to create a brand focused on limited lots of Walla Walla Valley's star varietals, Cabernet Sauvignon and Syrah.

All of the grapes for Amavi Cellars wines are resourced from the families' three estate vineyards: Seven Hills, Pepper Bridge, and Les Collines. The wines are created in a state-of-the-art gravity-flow winery under the watchful eye of Jean-François Pellet, a third-generation winemaker. Since the first bottling in 2001, Amavi Cellars wines have been praised for their high quality and "wallet- friendly" price points. In fact the winery has been referred to as a rising star by Wine Spectator; one of Washington's outperforming labels by The San Francisco Chronicle; and a Top 100 Winery by Wine & Spirits Magazine.
RoxyAnn Winery Still Jammin' Four Generations On

A rich history surrounds the winery and can be experienced guests who can visit.
A family legacy spanning four generations and more than 100 years provides the backbone for RoxyAnn Winery. Its 70-acre estate vineyard is situated on a portion of the Rogue Valley's famed 200-acre Hillcrest Orchard, which has been farmed by Jack Day's family since 1908. The orchard was dedicated to the production of pears until Jack, a member of the family's third generation, decided to pursue his vision of growing winegrapes on the property.

Adelsheim: A Pioneer in the Oregon Wine Industry

A pioneer in Oregon's wine industry, guests can indulge in a grand experience, which includes a private luncheon wine pairing dining experience.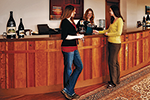 With the conviction that Oregon's cool climate and soils could yield distinctive wine, Ginny and David Adelsheim planted their first grapevines in 1972. To this day, the Adelsheim Vineyard is regarded as a leader in the growth and development of the Oregon wine industry.

Adelsheim Vineyard was the first winery built in the north Willamette Valley's beautiful Chehalem (sha-HAY-lem) Mountains and remains as breathtaking as the day Ginny and David first saw the land. Drop-in guests are welcomed warmly and invited to taste from a flight of several small production single vineyard Pinot Noirs. But this exceptional winery deserves a closer look.
Mercer Estates: Family Legacy, Washington Icon

The Mercer Estates story begins in 1886 when the family began farming on the Washington property.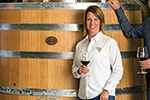 The name "Mercer" means far more than wine in Eastern Washington, where the Mercer family's farming tradition stretches back five generations and 125 years. Since 1886, the family has raised a variety of crops and livestock on the same expansive property in the Horse Heaven Hills.

In 1972, with the encouragement of the renowned horticulturist Dr. Walter Clore, Linda and Don Mercer planted their first vineyard there. Dr. Clore, who is now remembered as The Father of Washington Wine, was right.
Family Winery Has Earned Over 2,500 Awards in Just 15 Years

Husband and wife duo have created exceptional wines to enjoy at their family-friendly winery.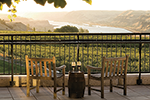 Since its founding in 2001, family-owned Maryhill Winery has won more than 2,500 awards, including the San Francisco International Wine Competition's 2014 Winery of the Year, the Indy International Wine Competition's 2013 Winemaker of the Year, Wine Press Northwest's 2009 Washington Winery of the Year, and Seattle Magazine's Best Destination Winery.

Maryhill Winery is the answer to an entrepreneurial dream shared by Owners Craig and Vicki Leuthold, who saw great potential for a winery in the Columbia River Gorge National Scenic Area, perched on the Northern side of the Columbia River, in the Southern tip of the Columbia Valley in Washington.
Couple Helps Spanish Flavors Blossom in Southern Oregon

Husband and wife planted roots in the Umpqua Valley and have been producing amazing Spanish and Portuguese wine varietals since.
It has been 20 years since the founder of Abacela, Earl Jones, planted the first Tempranillo in the Pacific Northwest. In 1992, his passion for the grape and a good deal of scientific analysis was strong enough to justify a move for Earl and his wife Hilda from the Gulf Coast to Southern Oregon's Umpqua Valley. Here, Earl found the land he dreamed of, resting over an ancient geological fault with steep hillsides featuring an exciting diversity in soil types, microclimates, and sun exposures. What's more, at 43 degrees North latitude, the land occupied a similar geographic position as sections of northern Spain.


Tsillan Cellars: A Jewel of Lake Chelan

A slice of heaven on the souther shores of Lake Chelan in Washington is waiting.
Nestled on the gently sloping south shore of Lake Chelan in Washington with breathtaking views of the lake and mountains, Tsillan Cellars is an enchanting slice of Italy. The winery's name is the original spelling used by the 19th century explorer who charted the lake using the native word, tsillan (she-lahn), for deep waters. It is the crown jewel of the fast-growing Lake Chelan Valley appellation, offering an unsurpassed destination for wonderful wine, food, scenery, and more.
Thoroughbred Vineyard Pulls Away from Competition

Bello Family Vineyards parlayed a winning racehorse into winning hands at the vineyard, resulting in victorious wines.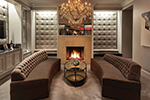 The story of Bello Family Vineyards is proof that success does breed success. Family patriarch Michael Bello, who has always set high goals and worked tirelessly to achieve them, had two lifetime dreams. The first was to own a champion racehorse and the second was to produce a champion wine.

He made both possible in 2000, when he purchased real estate in the Napa Valley's Rutherford District and began building his estate with the meticulous construction of a farmhouse—the likes of which had never been seen in the valley.
The Intoxicating Lake Chelan Wine Country

A young AVA in Washington takes advantage of a unique climate and soil.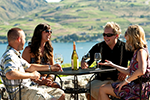 Welcome to the Lake Chelan Wine Valley, one of the most naturally intoxicating wine destination in the Pacific Northwest. The vintages are deep and complex, like the cobalt depths outside their wineries' Washington steps. The glacially carved soil gives Lake Chelan grapes unique character. The Lake's depths literally change the seasons here, stretching them out, drawing out late-summer sugars, long after others are off the vine. Some say Lake Chelan's most precious resources are the world-class winemakers drawn to these conditions, turning nature's gifts into the magic in your glass. Engaging and accessible, chances are you'll talk to more than one on your next wine adventure here.
Napa Cellars: Classic Regional Style

Recently purchased by the Trinchero family, Napa Cellars is delivering a modern update to the flavors made famous in Napa.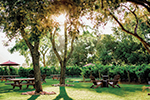 It seems only fitting that a winery by the name of Napa Cellars should embody the sense of place for which the famed Napa Valley is known. Every day in the winery's tasting room, guests discover great wines in a friendly setting that celebrates the Napa Valley legacy.

Founded in 1968, Napa Cellars crafts wines that express the characteristics that have become widely recognized as the classic Napa Valley style: ripe, rich, and balanced. Quite fittingly, 1968 was also the year that the Napa Valley was granted the status of agricultural preserve, protecting it from becoming a residential community. Its founder, Charlie R. Woods, built a geodesic dome on the five and one-half acre property to store barreled wine and concentrated on making Zinfandel, Cabernet Sauvignon, and other red wines.
Fun-Loving Friends Share Their Wine

The Papapietro Perry Winery began in a garage and still maintains the homestyle hospitality while producing great wines.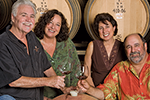 The story of Papapietro Perry Winery began in a garage with two friends, Ben Papapietro and Bruce Perry, who were bitten by the winemaking bug. They started making wine, as both of their grandfathers had, for the enjoyment of their families and friends. Like their grandfathers, they were good at it. So good, in fact, that by the 1990s they decided to produce their garagista wines in commercial quantities, and Papapietro Perry Winery was born.


Steven Kent Is On a Quest to Create the Greatest Bordeaux-Style Wines on the Planet

As a sixth generation winemaker, Steven Kent is ripe to make truly special wines.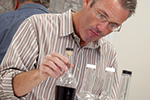 Winemaker Steven Kent Mirassou's Lineage is the realization of his personal mission: to create one of the best single Bordeaux-style wines—not just in Livermore Valley—but in the entire world. Steven, a sixth generation member of America's oldest winemaking family, was an early proponent for growing noble Bordeaux varieties in Livermore Valley. He started the winery in 1996, and today, The Steven Kent Winery is a standard-bearer for the region, crafting small lot vintages of Cabernet Sauvignon and other Bordeaux grape varieties.

Seghesio Family Vineyards Thrives With More Than a Century of Experience

Fourth and fifth generation Seghesio family members continue to innovate and hold true to the values that made the family business such a legacy.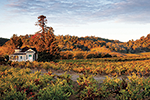 This Year, Seghesio Family Vineyards marks its 120th anniversary. Not many Northern California wineries have roots that run this deep, but the story of the Seghesio family, their vineyards, and their wines belong to the whole of Sonoma County.

The story begins in 1895, when an Italian immigrant and winemaker, Edoardo Seghesio, planted his first Zinfandel vines in what is now Seghesio's Home Ranch Vineyard in Alexander Valley. Edoardo and his wife Angela crushed their first grapes in 1902 and continued to acquire vineyard land—including the Chianti Station Vineyard, which now contains the oldest planting of Sangiovese in North America— through Prohibition.
The Sanger Family Welcomes New Members

Husband and wife proprietors of Sanger Family of Wines include new brands to add flavor to their worldly palate.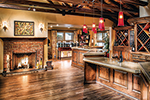 Sanger Family of Wines invites guests to fully savor the Mediterranean lifestyle as they discover three distinctive wine brands, all born on California's Central Coast. In late 2013, Bill and Jan Sanger, proprietors of Marianello, welcomed Consilience and Tre Anelli into the Sanger Family of Wines—creating an exciting portfolio inspired by the wines of Italy, France, Spain, and Portugal. The releases from all three labels are under the direction of Winemaker Brett Escalera.
Cultivating a Vision at Westerly Wines

The Westerly Wines team is dreaming up an ultra-exclusive estate grown wine that expresses the soul of the Santa Barbara AVA.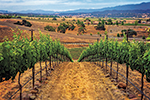 The name Westerly resonates in the Santa Ynez Valley. It was the name given nearly 50 years ago to a magnificent 3,900-acre Santa Ynez Valley horse ranch called Westerly Stud Farms. Today, the name Westerly represents one of the most diverse portfolios of wines in Santa Barbara County, California.

Based in the Santa Ynez Valley, Westerly is dedicated to producing exceptional AVA-specific wines from Santa Barbara County. The region's diversity is reflected within the range of Westerly Wines: Cabernet Sauvignon and Sauvignon Blanc from the rocky, warm, mineral-laden hillsides of the Happy Canyon of Santa Barbara AVA to Pinot Noir and Chardonnay from the cool, foggy, and maritime-influenced Sta. Rita Hills.
Happy Canyon Offers a Ten-Goal Experience

Mix the pleasure of polo with great wine at this unique vineyard where the land is part of the family.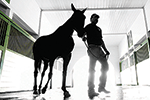 With a passion for the countryside and a rancher's way of life, Thomas J. Barrack Jr. acquired Piocho Ranch in Happy Canyon in 1992. Today, Piocho Ranch is home to the Barrack family, a vineyard, with two regulation-sized polo fields, and many powerful ponies.

The Barrack family has always taken great pride in their ranch and consider themselves to be stewards of the land where they blend a passion for polo with a commitment to producing the highest quality wines. Their estate vineyard, nestled into the undulating hills, is one of the reasons the new Happy Canyon of Santa Barbara AVA is getting so much attention.
Wente Vineyards: A Pioneering, Multigenerational Family Affair

The Wente family continues to innovate and evolve as the fourth generation of winemakers maintains the excellence that built the name.
It's nearly impossible to describe Wente Vineyards without using superlatives like "longest," "most," and "best." For starters, with a history in wine that dates back 131 years, Wente Vineyards is the oldest continuously operated family-owned winery in the United States. From its earliest years, it has also been a leader in the world of wine, maintaining a global vision for quality and integrity in every aspect of the wine industry.


Saddle Up at Tamber Bey to a Horse and Wine Enthusiast's Dream

The winery was named after the founder's first two Arabian horses, Tamborina and Bayamo.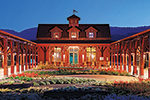 A passion for horses is evident the moment visitors turn onto the lane that leads to the Tamber Bey tasting room and winery at Sundance Ranch. The 22-acre ranch is home to champion performance quarter horses and Arabians that graze in the white-fenced paddocks lining the lane. The focal point of the property is the barn and clubhouse, which was designed by famed Napa Valley Architect Howard Backen. Here, wine country and horse country unite.

The Hess Collection of Wines Are Artfully Executed

Free public access to view the founder's private art collection is offered to visitors who also get to enjoy exquisite wines.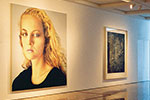 Hidden away in the hills of Napa along a scenic road ascending Mount Veeder, the Hess Collection is a world-class winery that combines founder Donald Hess' passion for unique vineyards and excellent wine with his appreciation of fine modern art.

Donald, who was born in Switzerland, grew up surrounded by the finest vineyards of Europe, and after developing an interest in winegrowing, decided he wanted to build a beautiful vineyard that could produce quality wine. In the early 1970s, he began searching for a suitable site, and when he came to the Napa Valley for a business trip, he knew he had found the right place.
Quintessential Couple Honors the Last Great Unplanted Land in Napa

Valeria and Agustin Huneeus have cultivated an exceptional piece of land in Napa, which is entirely farmed using Biodynamic principles and no chemicals.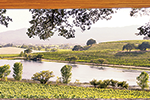 On the west side of the Silverado Trail in the northeastern corner of the Napa Valley's famed Rutherford appellation, the riveting, crescent-shaped building that houses Quintessa calls out to wine lovers seeking a truly exceptional tasting experience. The way the stunning building blends seamlessly into its eastern-facing hillside is a first signal to arriving guests that they have discovered a winery dedicated to its natural environment.

When Valeria and Agustin Huneeus first discovered this 280-acre parcel of virgin land in 1990, they were delighted with their good fortune.
Everyone's a Friend at Cairdean Estate

Husband and wife, Stacie and Edwin Williams, have created a unique and exceptional food and wine destination in Napa Valley.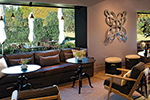 The Old Scottish saying, "What's meant to happen will happen" rings very true at Cairdean Estate. When Stacia and Edwin Williams first moved to the Napa Valley and bought their first 50-acre parcel of land in St. Helena in 2010, they intended to plant vineyards, make a little of their own wine, and sell the rest of the grapes. Shortly after closing on the 50-acre parcel, they went into escrow on a seven-acre commercial parcel next door. Stacia and Edwin instantly recognized this amazing opportunity to create a true winery destination unlike any other in the Napa Valley, and bought the land.
B Cellars Offers an A+ Tasting Experience

From artisan cheeses to elegant charcuterie, B Cellars offers a complete tasting experience guests will never forget.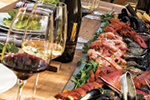 When B Cellars opened its doors along the renowned Oakville Cross Road last August, it was the first winery to do so in 18 years. Founded in 2003 by Duffy Keys and Jim Borsack, the winery is a fitting addition to the neighborhood, which includes Opus One, Silver Oak, PlumpJack, Groth, Gargiulo, and Rudd.

"We're honored to find our permanent home amidst the celebrated wineries who help define Napa Valley's esteemed Oakville AVA," Duffy says.