How Love Connects the Universe

Recognizing love within yourself, your marriage and those around you is easier said than done. Learn why existing as a whole is better than a half.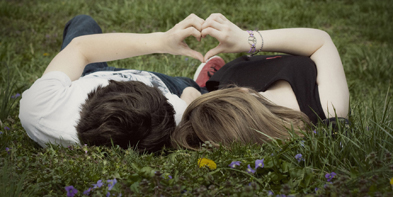 "Love is the affinity which links and draws together the elements of the world… Love, in fact, is the agent of universal synthesis." ~ Pierre Teilhard de Chardin

We live in conscious universe.

I spent the weekend immersed in "The Science and Non-Duality Conference," exploring the depths of the ultimate truths of existence.

It was quite heady and surprisingly reassuring. The conference featured several panels of world-renowned quantum physicists sharing PowerPoints of the immensity of the universe in which our visible universe that goes on for 100 million light years makes up less than 2 percent of the whole.
---
MORE ARTICLES
Fifty Shades of Grey: Recreating Erotic Consciousness

A look at the sexual environment in American culture and what it means to you and your marriage.
Finding Love In Yourself and In Your Marriage

Love works both ways. Learn how you have to feel love before you can truly receive love in your marriage.
Allow Your Marriage to Open Up to Pleasure

Pleasure comes in many forms, but are you really allowing yourselves to experience it fully. Read on to find out.
More Reasons to Schedule Sex: The Power of Anticipation and Resolving Radically Different Libidos

In an excerpt taken from her new book, Dr. Jen begins to create a power plan to help women work a solution for a different libido than their spouse.
Marriage: Healing Container of Love
Transcendent Orgasms
Make Your Spouse Your Everyday Valentine
Your Brain on Sex: Deep Healing of Sexuality
10 Tips to Heal Your Love
An Education in Gratitude
Marriage Boot Camp – Week 5: Endurance Training for Love
Marriage Boot Camp - Week 4: Conditioning Your Lovemaking Response
Making Your Desire Authentic by Wanting It
14 Ways to Keep Romance Alive
How Do You Kiss?
Start Foreplay by Doing Chores
Poisoning Sexual Desire in Marriage
Laying the Groundwork for Love
Needs Versus Wants In Marriage
Change Your Marriage (and Sex Life) in Minutes
Growing an Organic Orgasm
The Rules Of Social Kissing
Fulfilling Sexual Fantasies
The Power of Positive Thinking
A Call To Forgive
On the Edge of Forgiveness
8 Ways To Revitalize Your Sex Life
Growing an Organic Orgasm Together
Lingerie vs. Candy on Valentine's Day
Valentine's Day Tip for the Ladies
Valentine's Day For Men
Valentine's Day Resolutions
Find Your Passion This Valentine's Day
Lifting the Mystery (Part 5)
Why Orgasm Is Important To Your Marriage (Part 4)
Orgasms: 5 Steps To Getting There (Part 3)
The Center of Letting Go (Part 2)
Affairs: The Ultimate Challenge
The Mysterious Orgasm (Part 1)
3 Steps to Good Sex
Regenerating Your Life In The Bedroom
Rebuilding Trust After an Affair
Dealing With An Affair: Moving from Pain to Recovery
Making a Habit of Love
Tantra for the Uninitiated
The Art of the Love Letter
A Bold Love