Lose Weight on a Budget, Run!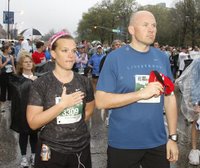 USA Today
is running (no pun intended) a weight-loss challenge and have selected Paul and Amy Kreidler of Glendale, Mo. to share their story. Combined, the couple dropped 160 pounds; Paul shed 120 pounds and Amy lost 40. In short, the couple blamed their weight gain on their hectic lifestyles and poor choices. Between work and raising kids, the couple often found themselves grabbing fast food. The couple decided they needed a change. They made two moves that helped them lose weight and become a happier, healthier couple. They started to eat healthier food and run. Amy, who doesn't like running as much as her husband says it's the quickest and best way to get her workout in. "It's free. It's fast. You put your shoes on, you warm up, you stretch and you go."
What's your weight loss secret?
Labels: advice, food, health, real people, sports