Black Walnut Inn: A Tuscan Villa in Oregon Wine Country
The Utz family literally stumbled upon this slice of heaven when chasing their dog through Oregon's wine country.
Standing atop a hill in the heart of Willamette Valley wine country, Black Walnut Inn in Dundee, Oregon, provides guests with an ideal respite complete with sumptuous rooms, gourmet cuisine, and jaw-dropping views.

Reminiscent of a Tuscan villa, the nine-suite inn has been a labor of love for the Utz family, since Karen and Neal Utz and their son Kris, literally stumbled upon the land in early 2002. They chased up a deer trail after their dog, only to find themselves in a spot with a splendid view of undulating vineyards, orchards, and forests. It was the spot that Karen, who always wanted to run a bed and breakfast, had been dreaming of her entire life.

The authenticity of the inn's architecture belies the fact that the inn was built less than a decade ago. The layout is that of an Italian manor, with a gracious entryway, spacious living areas, and massive French doors that celebrate the view. The nine suites, lovingly decorated by Karen and daughter Melissa, all have private bathrooms with large soaking tubs. They're furnished with queen or king-sized beds, unique antiques, and each room has its own private balcony or private garden.

Each morning, guests start their day at the time of their choosing over a gourmet breakfast. The inn has its own hens and organic garden, providing the freshest possible ingredients. In the afternoon, after a day of touring and wine tasting, guests return to light afternoon appetizers. The inn also hosts cooking classes and all sorts of culinary adventures, overseen by Kris who is a master chef, for groups of up to 50 guests.

What's more, Black Walnut Inn has its own 13-acre Pinot Noir vineyard. Both the 2008 and 2009 vintages are currently being poured in the inn's tasting room. From a gracious greeting to a fond farewell, Black Walnut Inn provides guests an unforgettable stay in the picturesque Willamette Valley.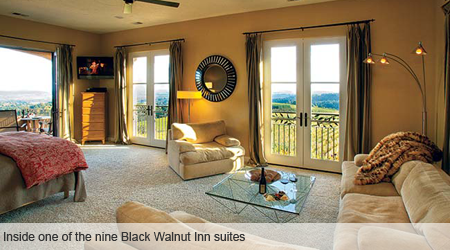 CONTACT
Reservations: 866.429.4414 or 503.538.8663
innkeeper@blackwalnut-inn.com
blackwalnut-inn.com
9600 NW Worden Hill Rd.
Dundee, OR 97115
$185 and up
Tasting Room Open Fri–Mon 11–4

SPECIAL NOTES
Scenic views, wine tasting, culinary adventures, sustainable practices, events

Touring & Tasting is a media company that produces a wine and travel magazine and is also partner in the Hitched Wine Club.