Crashing in California
Take a look at these accommodations to get the most out of your California trip.
There's so much to see, do and taste when traveling the state of California you'll want to find a great place to lay your head and keep the trip going. Your hospitality needs will be more than met at these four amazing locations, plus we have a bonus suggestion for getting around wine county.

The Historic Cary House Hotel
Placerville, CA

In the heart of California's Gold Country wine region, the Historic Cary House Hotel has been a popular respite since it first opened in 1857. Through the years it has hosted many legendary guests including Mark Twain, Buffalo Bill, Bette Davis, and Elvis Presley. Conveniently located in the center of town the hotel offers 38 uniquely designed rooms and suites, each with all the modern conveniences. Some suites feature sitting rooms and kitchenettes. Yet The Cary House retains its historic charm with a fully functioning original elevator that is over 100 years old and intriguing antiques and memorabilia in the lobby. Many beautiful weddings, gala parties, family reunions, and other celebrations have taken place in the hotel's banquet facility, and there is a conference room ideal for small meetings. Wine tourists are drawn to the charming, secluded courtyard with a fountain and ivy-covered brick walls where they can relax over coffee or a glass of wine.

CONTACT
530-622-4271
caryhouse.com
300 Main St.
Placerville, CA  95667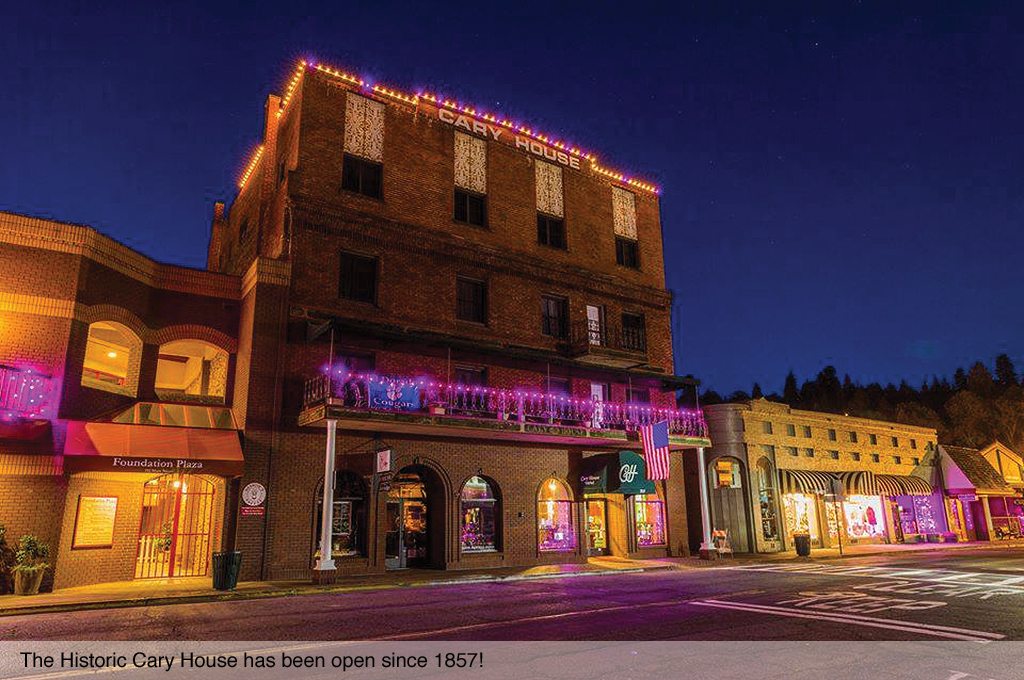 Flamingo Resort & Spa
Santa Rosa, CA

This historical landmark, located between Sonoma Valley wineries and downtown Santa Rosa, offers 170 newly remodeled rooms and suites, two pools, 8,000 square-foot health club, sauna, Jacuzzi, full service spa, tennis, lounge entertainment, live music, dancing, and Sunday Champagne Brunch. Walk to the Montgomery Village Shopping Center, craft breweries, and restaurants.

CONTACT
707-545-8530
flamingoresort.com
2777 Fourth St.
Santa Rosa, CA  95405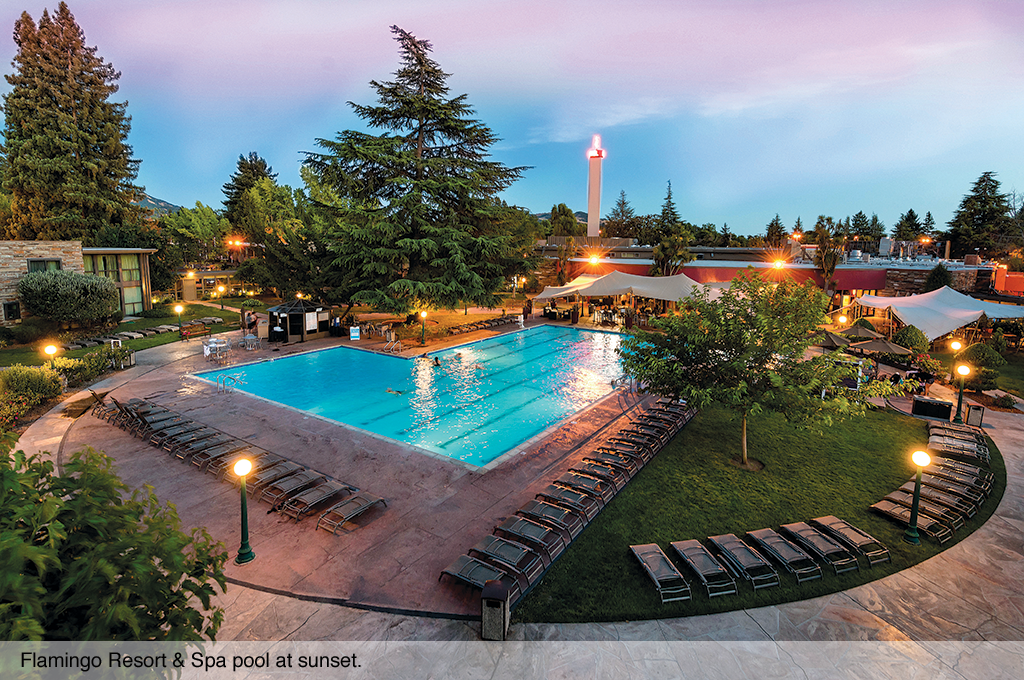 La Quinta Inn & Suites
Paso Robles, CA

Hand-etched glasswork of a local vineyard, custom hand-painted tables imported from Italy, and an upscale wine shop in the lobby are the first signs that Paso Robles' La Quinta Inn & Suites is not a typical chain hotel. Perhaps the difference begins with the fact that this property featuring 138 guest rooms and suites is owned by Arciero & Sons. Frank Arciero also founded EOS Estate Winery. The inn is seamlessly run by General Manager Victor Popp and a dedicated staff who are eager to give each guest a wonderful wine country experience.

Guests can expect to find all of the fine amenities La Quinta properties are known for and more. The standard guest rooms feature granite tubs and countertops, flat-screen TVs, overstuffed duvets, refrigerators, microwaves, ceramic coffee mugs, and glass wine glasses. Each morning a free buffet breakfast is served, and each weeknight there's a themed wine and gourmet cheese reception, graciously hosted by Victor.

In 2016 La Quinta Inn & Suites observed its 10th anniversary. As part of the celebration, the property opened a brand-new wing featuring 37 exquisite Villa Suites. These luxurious accommodations include full kitchens, 10-foot ceilings, elegant electric fireplaces, and 49-inch televisions. The new suites offer an ideal solution for guests seeking more space and long-stay accommodations.

"As a wine family hotel, we strive to provide our guests with all the amenities of an upscale home as they experience wine country. That's why we created our new Villa Suites," Victor says. The 500-square-foot wine shop offers an impressive selection of more than 100 local wines, including the inn's own custom-made wine released in June 2012, along with many wine related gift items.

With this level of dedication to its guests, it's not surprising that this La Quinta Inn was named 2011 Franchise Inn of the Year by the La Quinta corporate office and awarded a 2015 TripAdvisor Hall of Fame Certificate of Excellence. 

CONTACT
805-239-3004
832.lq.com
2615 Buena Vista Dr.
Paso Robles, CA  93446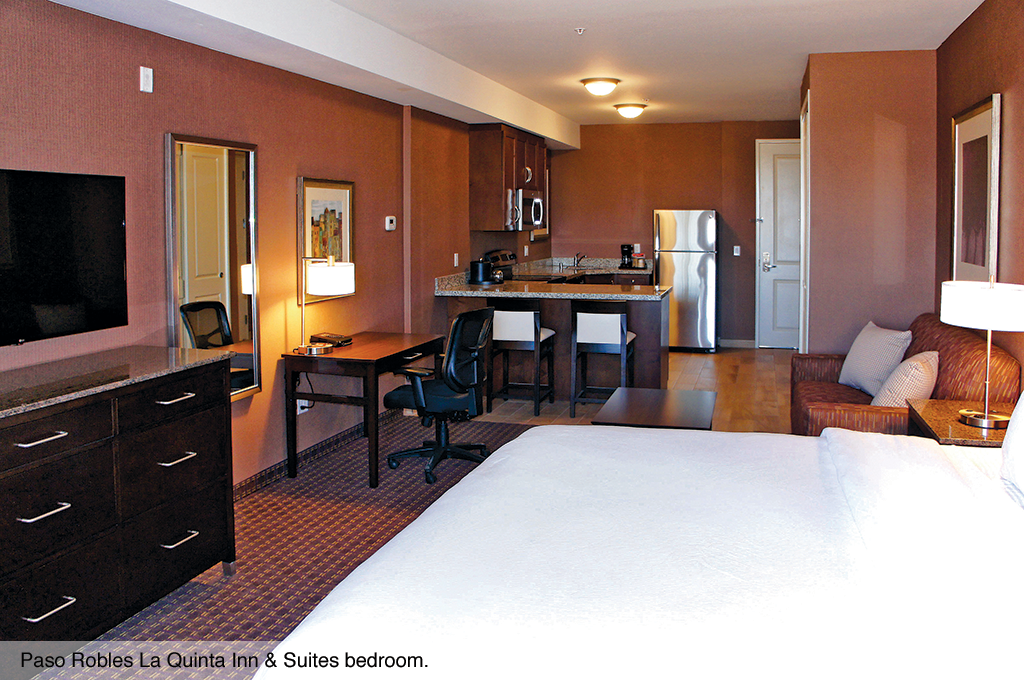 Getting Around

Napa Valley Tours & Transportation
Calistoga, CA

As an expert wine tourist, I've found that there's a lot more to a good professional wine touring company than a nice fleet of cars. That's why I'm in the process of booking a tour with Napa Valley Tours & Transportation. The company's fleet has grown from one car to more than 90 vehicles, ranging in size from mini to motor coach, by giving clients what matters most—a complete wine touring experience. They recognize that each individual client has a distinct set of interests and needs, so each tour starts with a dialogue, either through e-mail or by phone.

Take me, for example. I've been to the Napa Valley countless times, but I know I've only scratched the surface… in a brief phone call, they're working on a custom itinerary for me to suit my interests and needs. I'm pretty excited because this company is very well connected! Since they position themselves as a hospitality company, they partner with the region's finest hotels, top restaurants, and top-tier wineries so they can curate unique, individualized touring experiences. They're always uncovering something new, from a great new lunch spot to a boutique winery crafting a distinctive Meritage. All I have to do is explain what I want to get out of the day and they will deliver my experience on a silver platter.

That's another great thing: The drivers are very professional. In fact, the drivers are more like Napa Valley ambassadors, with impressive backgrounds and a great deal of knowledge to share about the region. This time, I'm booking a custom wine touring experience for my photographer and myself, but the company also has a stellar reputation for organizing corporate group experiences like incentive trips and conferences for many Fortune 1,000 companies. Recent group itinerary themes include Napa Valley art, winery caves, great photo opportunities, benchmark Cabernet Sauvignons, cult wineries… the sky's the limit—and they'll take you there too—up the winding roads of Howell Mountain, Spring Mountain, and more! Regardless of the itinerary, we're promised our experience will be memorable and very unique. ~ W. van Diver

CONTACT
707-251-9463
nvtt.net
407 Soscol Avenue
Napa, CA  94559




Touring & Tasting is a media company that produces a wine and travel magazine and is also partner in the Hitched Wine Club.