Visit the Family Wineries At the Heart of Sonoma
Sonoma has a rich history of families cultivating the area to become one of the greatest wine regions on the planet.
Sonoma is a shining jewel of the wine world that deserves your attention and a visit. Aside from the beauty of the region you'll find friendly families and wineries ready to serve you. Here are three you should add to your itenerary.

Ledson Winery & Vineyards

The Ledson family spans five generations of farming and winemaking in Sonoma County with more than 150 years of tradition. Approximately 90 percent of Ledson wine is produced from meticulously farmed estate portfolio with something to tantalize the palate of every guest. Ledson wines are popular with judges and wine critics throughout the world, consistently producing highly coveted, small-lot wines always scoring in the mid- showcasing wine country at its absolute best.

The Ledson tasting room is nestled among 20 acres of estate vineyards and inviting picnic grounds dotted with ancient oaks where an architectural showpiece designed and built by fifth generation Sonoma County farmer and winemaker, Steve Ledson, stands. Known to locals and visitors worldwide as "the Castle," Ledson Winery & Vineyards has become a destination estate with plenty of options to make any wine country experience unforgettable.

SPECIAL NOTES
Ledson Winery & Vineyards also has a dedicated wine concierge to assist wine enthusiasts as they plan their visit to Sonoma County. A stroll through the gourmet marketplace offers many wonderful temptations. The Ledson's impeccable service means every detail is carefully coordinated and tailored to each individual palate.

WHAT TO BUY
'14 Russian River Valley Chardonnay - $44
Honey, pear, cantaloupe

'12 Russian River Valley Old Vine Zinfandel, Amy's Vineyard - $54
Berry pie, cocoa, pie spice

'13 Alexander Valley Cabernet Sauvignon Extra Reserve - $110
Black currant, plum, boysenberries, spice

CONTACT
707-833-2330
ledsonwinery.com
7335 Sonoma Hwy
Kenwood, CA  95409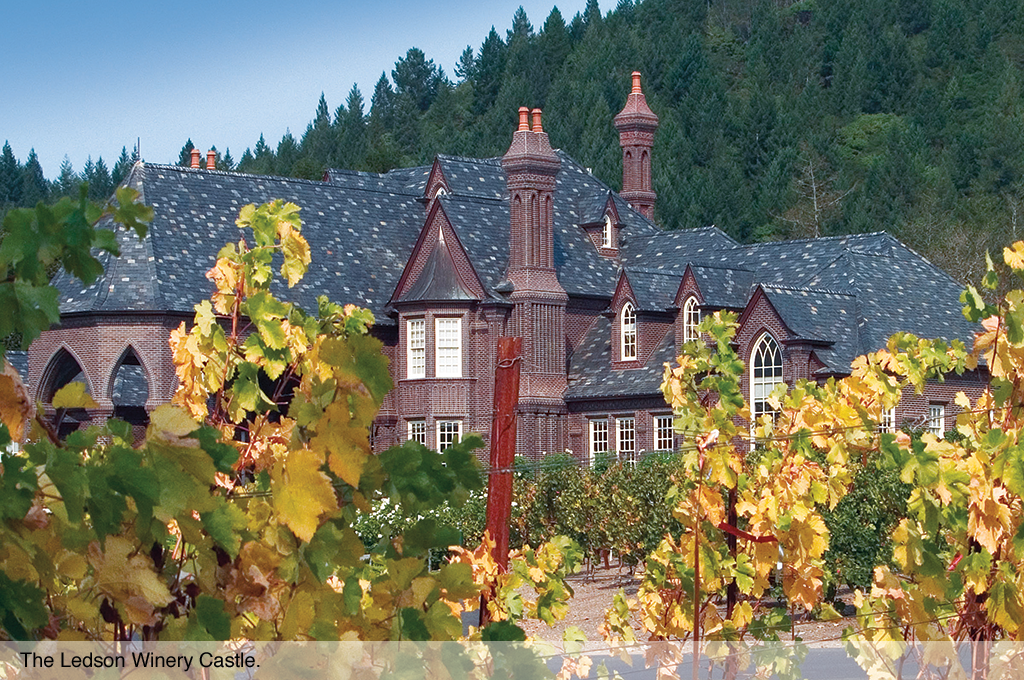 Martin Ray Vineyards & Winery

The name Martin Ray resonates deeply with those well-versed in the history of California wine. Winemaker Martin Ray was a pioneer in creating 100 percent varietals in the region and made wines under his namesake label from 1943 through 1972. Nearly 20 years later Courtney Benham made a life-altering discovery when he stumbled on 1,500 cases of Martin Ray wine in a San Jose warehouse. Recognizing his good fortune, Courtney purchased the brand and since 1990, he has been dedicated to the production of exceptional artisanal wines worthy of the Martin Ray name.

Since 2003 Martin Ray Vineyards & Winery makes its home in the heart of the Russian River Valley. The winery and its 12 acres of Estate Pinot Noir vineyard are located just beyond the eastern border of the Russian River's coolest, foggiest sub-AVA, Green Valley. Now in its third vintage, these vineyards have yielded elegant wines that show the character of a variety of Dijon clones and two acres of most notably Clone 37, which was brought to the region by Martin Ray in the 1940s. The current vintages from this vineyard are the 2014 Estate Pinot Noir and 2016 Estate Rosé of Pinot Noir released in February 2017.

SPECIAL NOTES
Tower Flight: Selection of 5 current release wines, $10

Appellation Tasting: Comparative tasting of 2 Chardonnays, 2 Pinot Noirs, 2 Cabernet Sauvignons, $15

Pavilion Tasting: Guided seated tasting $35 (reservation only)

Library Tasting: Comparative tasting in reserve barrel room $50 (reservation only)

WHAT TO BUY
'15 Tina Marie Vineyard Pinot Noir - $55
Baked blackberry cobbler, cherry blossom

'14 Mt Veeder Cabernet Sauvignon - $80
Black currant, cassis, dried sage

CONTACT
707-823-2404
martinraywinery.com
2191 Laguna Rd.
Santa Rosa, CA  95401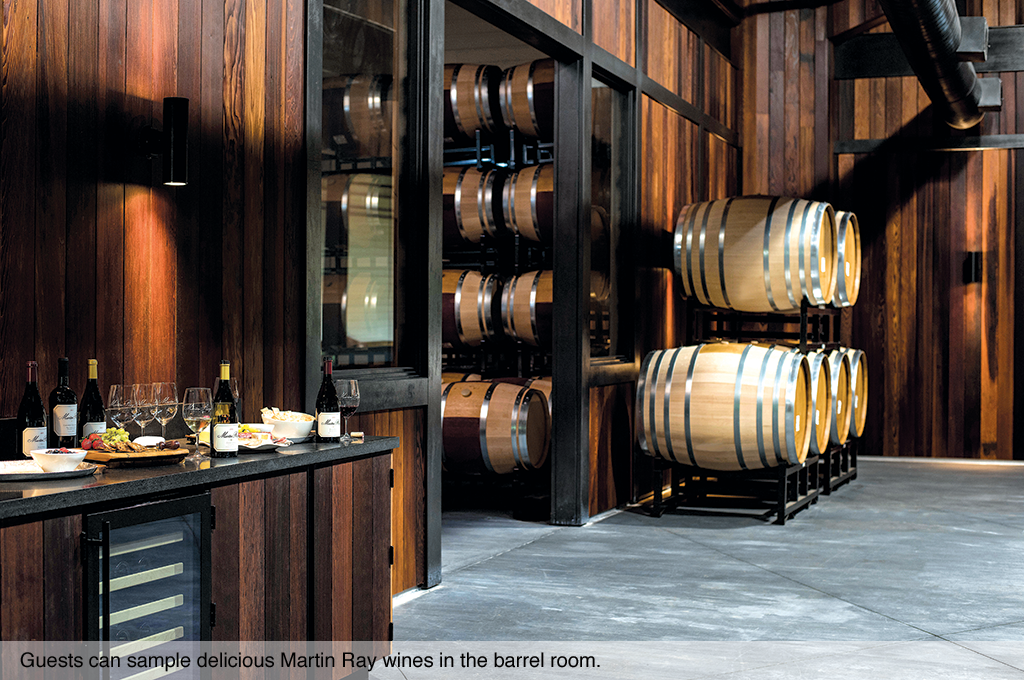 Tara Bella Winery

Savvy Cabernet Sauvignon lovers planning a tour of Sonoma County's Russian River Valley always put Tara Bella Winery on their lists. This little jewel totals only six acres, but it produces some of the region's finest Cabernet Sauvignons. The proof is in the Gold medals. Nearly every vintage has produced at least one.

The winery is owned by Kevin and Wendy Morrow. Kevin brings 31 years of viticulture expertise, taking the wine from bud to bottle, while Wendy brings experience in hospitality. Her parties are legendary.

Each bottle is 100 percent estate-grown Cabernet Sauvignon—numbered and hand waxed, demonstrating that Tara Bella wines are a true labor of love.

SPECIAL NOTES
Private tours and tastings by appointment, winemaker/owner on site, wine club discounts and events, picnics, sustainable farming practices.

WHAT TO BUY
'15 Estate Cabernet Sauvignon - $75
Dark cherry, vanilla, oak, brown spice

'15 Reserve Cabernet Sauvignon - $75
Blackberries, rich oak, vanilla

'16 Rosé - $35
Dry, fresh strawberries, pomegranate, melon

CONTACT
707-544-9049
tarabellawinery.com
3701 Viking Rd.
Santa Rosa, CA  95401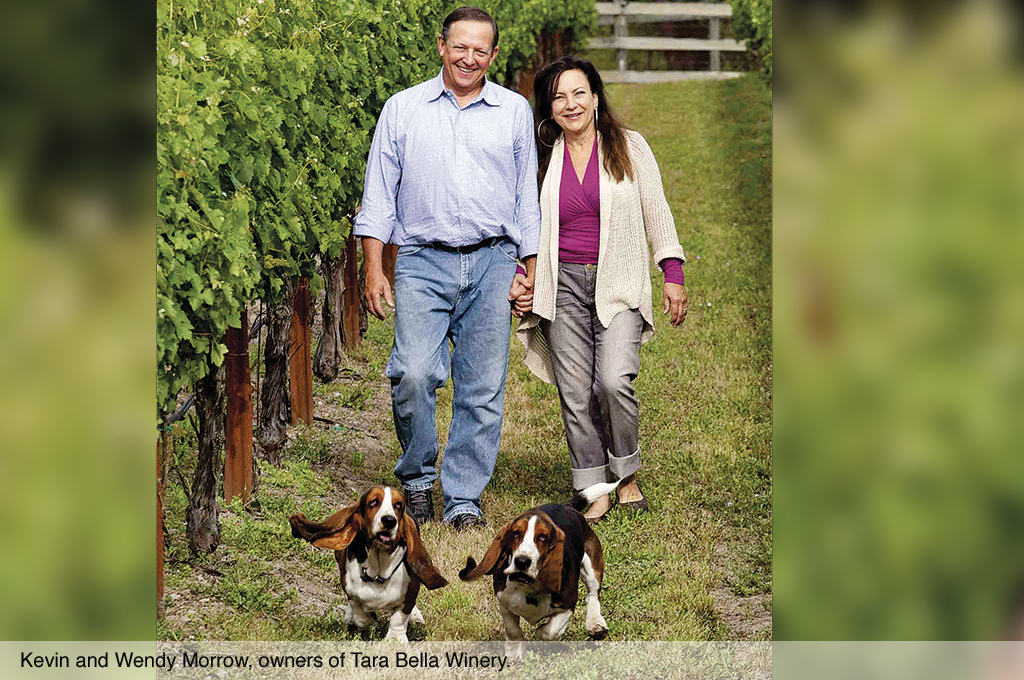 Touring & Tasting is a media company that produces a wine and travel magazine and is also partner in the Hitched Wine Club.