The Ultimate Sonoma Itinerary
We've put together a list of where to stay, where to travel, where to shop and wineries you must try.
We have a thing for Sonoma, California. It's beautiful, it's flavorful and it's a perfect West Coast getaway spot. There's so much to see and do we thought we'd offer some help by providing a few tips and locations to make your visit more enjoyable.

STAY

Sonoma Carneros Barn House

This is the ideal Sonoma vacation rental for four to six guests who enjoy space, privacy, and wine country living. This modern two-story barn-style home has two spacious bedrooms, two bathrooms, a fully stocked chef's kitchen, outdoor area, bikes, and more. Centrally located just minutes between Sonoma and Napa, it's perfect for sightseeing, wine tasting, and day trips year-round.

CONTACT
707-732-4539
carnerosbarnhouse.com/tt
2902 Dale Avenue
Sonoma, CA  95476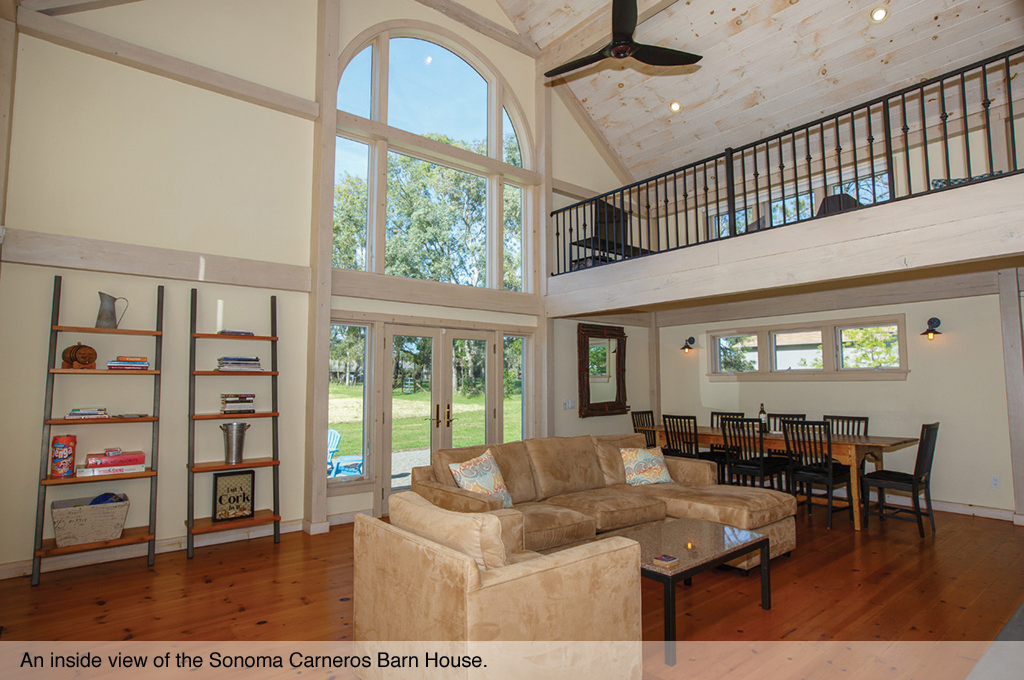 TASTE

Lake Sonoma Winery

Lake Sonoma Winery focuses on the most celebrated Sonoma sub-appellations in a portfolio of wines designed to showcase the region's unique characteristics with Sauvignon Blanc, Chardonnay, Pinot Noir, Zinfandel, and Cabernet Sauvignon. The tasting lounge is a warm, welcoming space in Sonoma Plaza. A private tasting room holds groups of up to eight with advance reservations.

INSIDER TIP
A private tasting room holds groups of up to eight with advance reservations. Check out their newly-renovated patio.

CONTACT
707-721-1979
lakesonomawinery.com
134 Church St.
Sonoma, CA  95476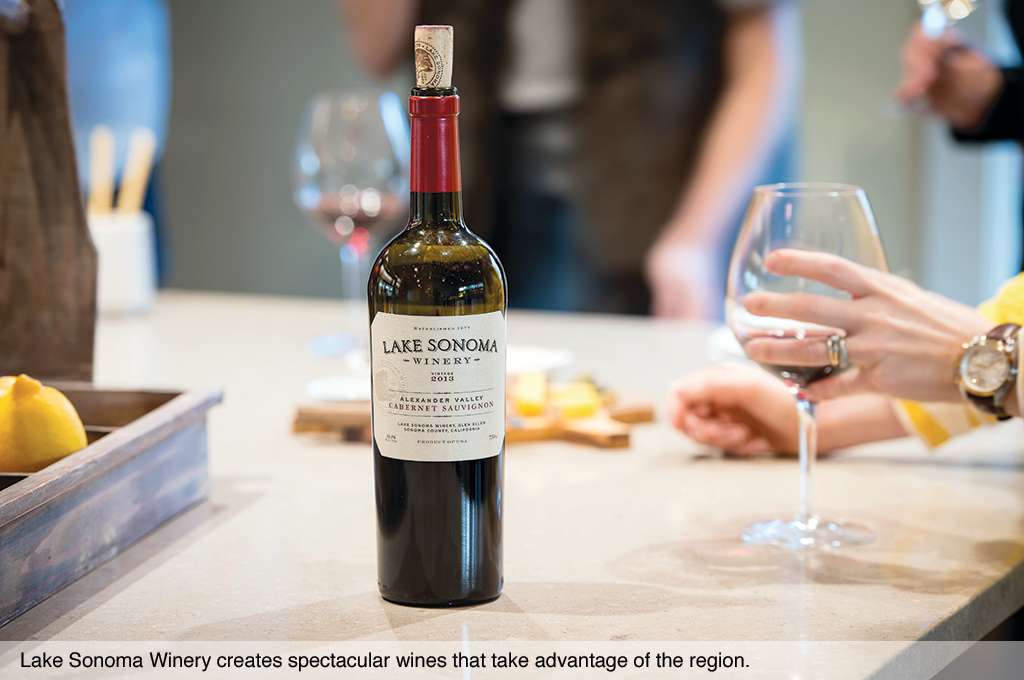 Galatea Effect

Discover this exciting new ultra-premium winery's "uber cuvées" from coveted vineyards in Sonoma and across California, with a focus on Syrah, Pinot Noir, and Rhône varietals. The compelling series of Galatea Effect small lot wines includes the Genception of Giants California Super Syrah. The newly opened tasting room is located in "Vine Alley," just off the Sonoma Plaza. Generally open daily 12–6.

SOMMELIER PICKS
Conoscenti Syrah - $65
Aged 27 months in 100% French Oak

2013 Laminar Flow - $125
Pinot Noir aged in 100% New French Oak

Conoscenti Rose - $40
Barrel Fermented & Aged in Neutral French Oak

CONTACT
707-849-9062
galateaeffect.wine
25 E. Napa Street, Suite E
Sonoma, CA  95476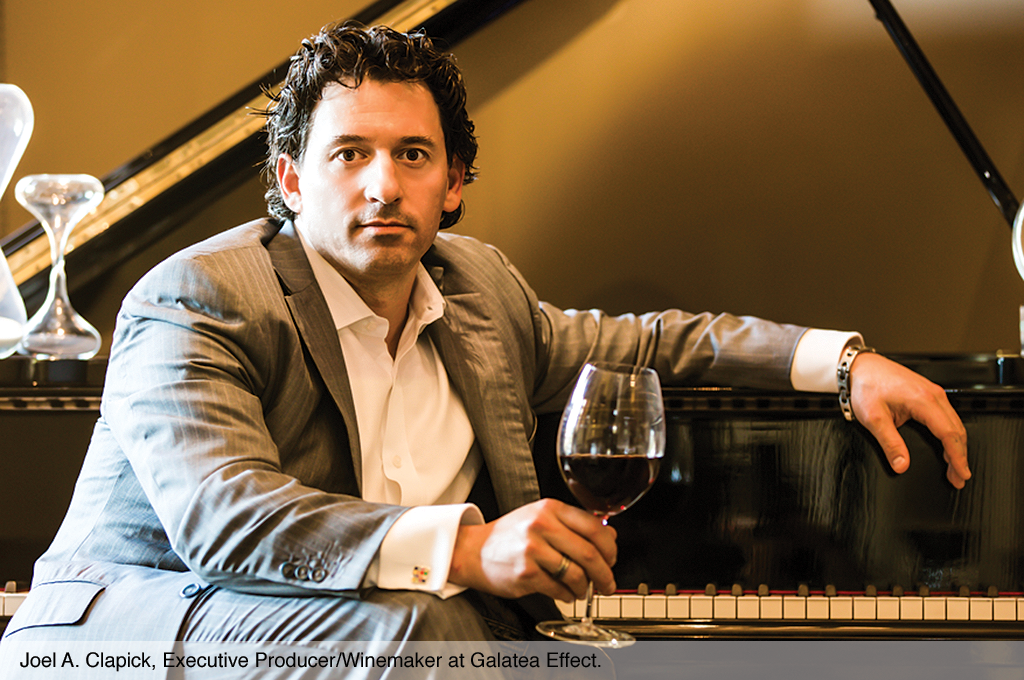 Anaba Wines

Anaba [anna-ba] Wines, named for the anabatic winds that soar through its vineyards, creates classic, elegant wines borne by the wind. The 16-acre estate sits in the western part of Los Carneros AVA where cool Pacific breezes flow up its gently sloping vineyards, slowing down the ripening process and allowing the grapes to develop robust flavors and distinctive varietal characteristics. Guests are welcome to sample Anaba's exceptional wines there or seated outside on a patio overlooking the rolling vineyard. They will enjoy beautiful offerings of Chardonnay, Pinot Noir, Rhône varietals, and Rhône-style blends.

SOMMELIER PICKS
'14 Chardonnay, Carneros, J McK Estate Vineyard - $42
Stone fruits, minneola, lemon glaze, toast

'14 Pinot Noir, Sonoma Coast - $42
Juicy cherry, wild strawberries, dried sweet cranberries, nutmeg

CONTACT
707-996-4188
anabawines.com
60 Bonneau Rd.
Sonoma, CA  95476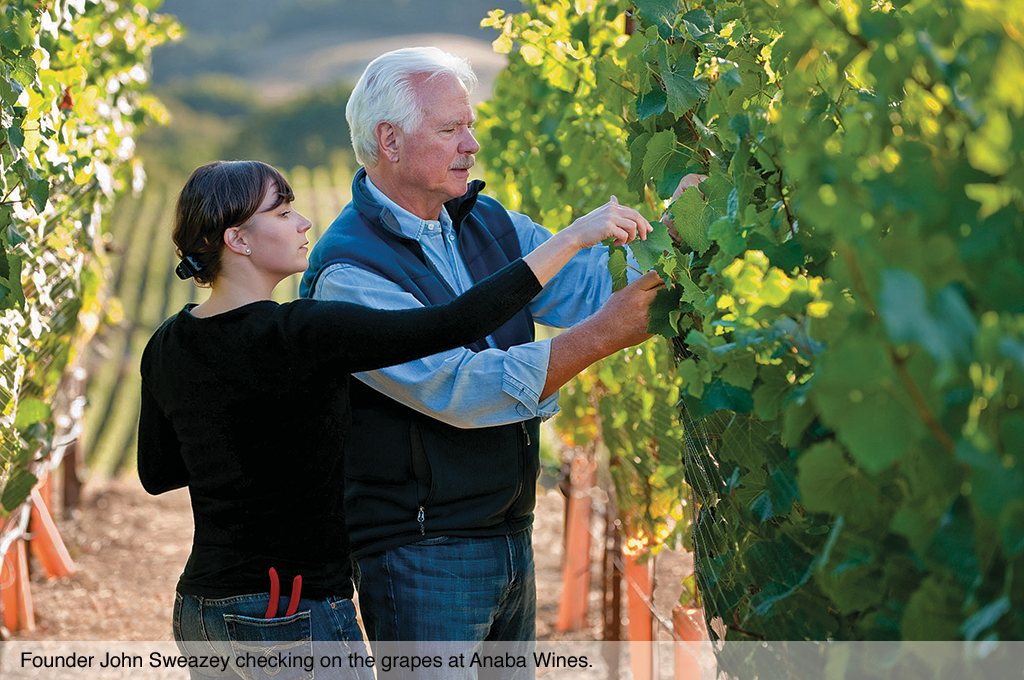 Zina Hyde Cunningham Winery and Vineyards

An intersection of rich history and winemaking passion can be discovered on the historic Sonoma Plaza at Zina Hyde Cunningham Winery and Vineyards. Producing just 3,000 cases per year from its estate vineyards, Zina Hyde Cunningham is well known for its small-lot productions of award-winning wines. The winery's portfolio includes its flagship wines, Anderson Valley Chardonnay and Anderson Valley Pinot Noir, along with highly acclaimed Sauvignon Blancs, Zinfandels, and Cabernet Sauvignons. Zina wines encapsulate the collective vision, wisdom, and experience of 150 years of family winemaking and viticultural heritage.

SOMMELIER PICKS
'14 Anderson Valley Chardonnay - $48
Lemon, fig, white peach

'14 Anderson Valley Reserve Pinot Noir - $64
Ripe cherry, cranberries, strawberry preserves

CONTACT
707-895-9462
zinawinery.com
480 1st St. E
Sonoma, CA  95476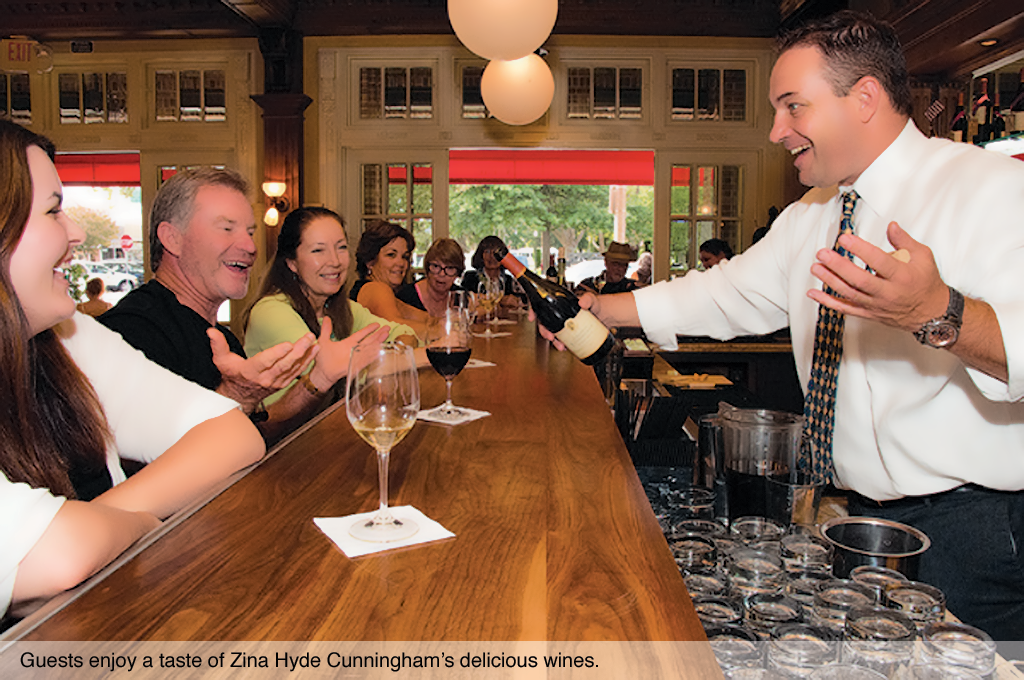 TRAVEL

Leone Wine Tours

A personalized tour just for you. Sit back, relax, and ride in the comfort of Jill Leone's fully loaded luxury vehicle! Jill will show you the intimate backroads and the hidden treasures of this breathtaking landscape that is Sonoma wine country. You will learn more about wine as you hear fun stories, visit boutique wineries, and enjoy picnics in the vineyards, all at a very competitive rate.

CONTACT
707-331-8991
leonewinetours.com
Sonoma, Napa, Mendocino, CA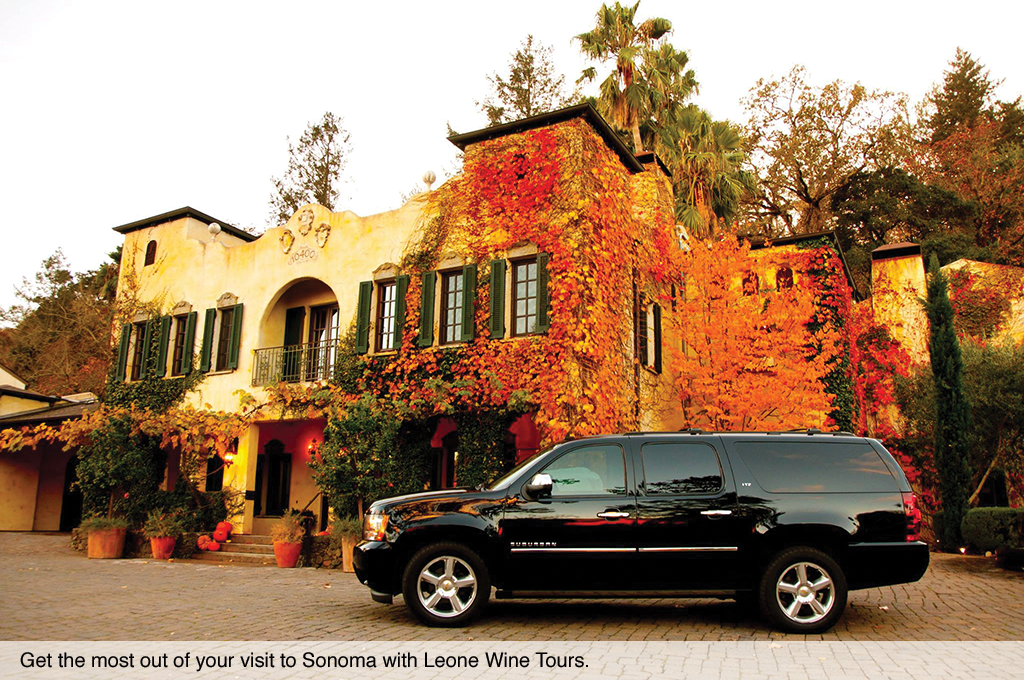 SHOP

Sonoma Market

Serving Sonoma Valley for more than 50 years, these beloved community institutions are known for outstanding service, top-quality food, and a deep connection with local growers and guests. Both markets offer an extensive selection of farm-to-market produce, gourmet creations from chef-led kitchens, local and imported wines, specialty cheeses, fresh baked goods, and more.

CONTACT
707-996-3411
sonomamarket.net
500 West Napa Street, Suite 550
Sonoma, CA  95476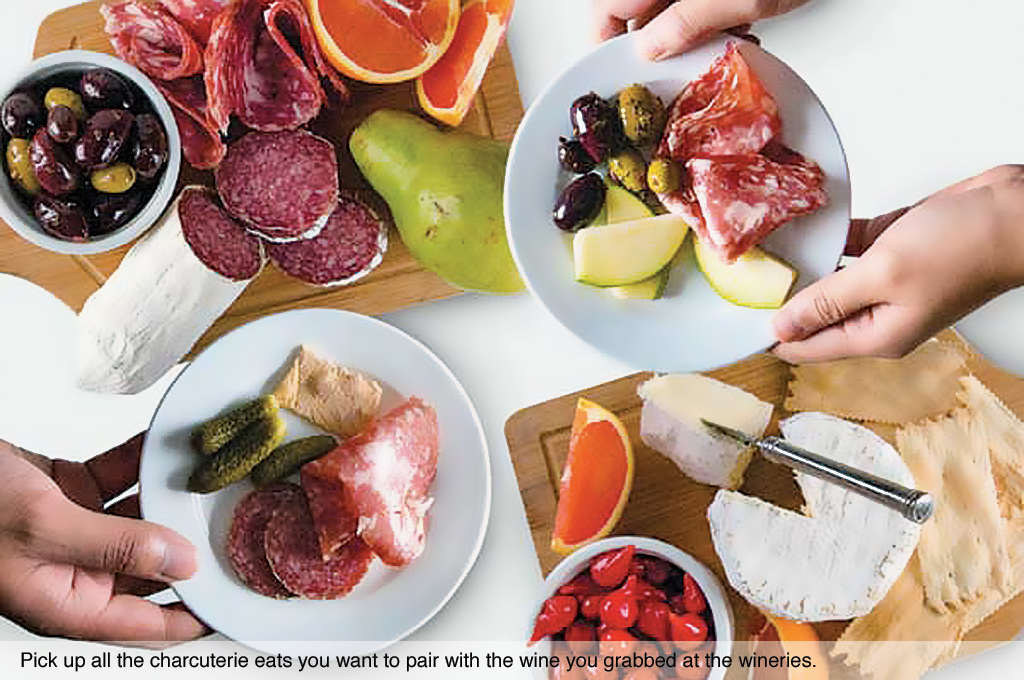 Touring & Tasting is a media company that produces a wine and travel magazine and is also partner in the Hitched Wine Club.