8 Romantic California Getaways
Don't wait for a special occasion to celebrate your love, do it now to avoid the crowds and embrace the romantic tranquility that awaits.
Every couple can benefit from a quick romantic getaway. These eight destinations are convenient and just enough of a destination that you'll think you're in a luxurious, far-off world. Each of these locations offers their own beauty, amenities and delicious options for food and drink. Don't wait to celebrate your love with these amazing locations waiting for your arrival.

Flamingo Resort & Spa

This historical landmark, located between Sonoma Valley wineries and downtown Santa Rosa, offers 170 newly remodeled rooms and suites, two pools, an 8,000-square-foot health club, sauna, jacuzzi, full-service spa, tennis, lounge entertainment, live music, dancing, and Sunday Champagne Brunch. Walk to Montgomery Village Shopping Center, breweries, and restaurants.

CONTACT
707-545-8530
flamingoresort.com
2777 Fourth St.
Santa Rosa, CA  95405

El Pueblo Inn

Providing an ambience that blends Tuscan beauty with adobe serenity, El Pueblo Inn is a wonderful oasis with meticulously maintained adobe interiors and many services and amenities. There's an interior garden, 24-hour outdoor swimming pool, whirlpool hot tub, 24-hour fitness center, green lawns, 24-hour concierge, free off-street parking, and complimentary continental breakfast. Smart travelers know that mid-week is the best time to visit Wine Country, so be sure to ask about the latest Manager's special.

CONTACT
707-996-3651
elpuebloinn.com
896 W Napa St.
Sonoma, CA  95476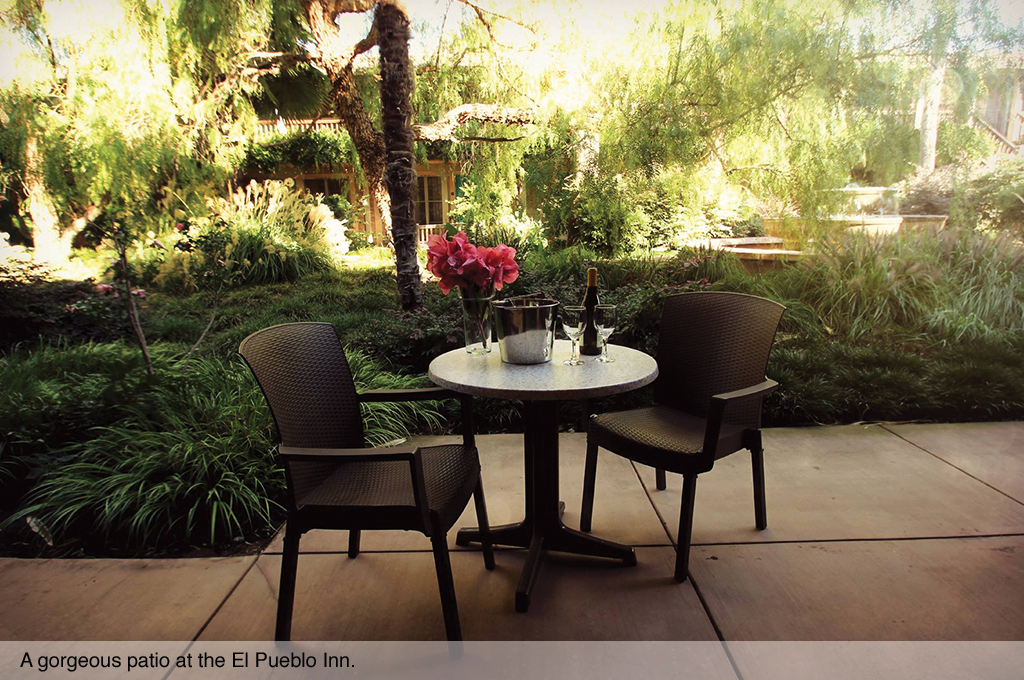 Sonoma Valley Inn

The charming Best Western Sonoma Valley Inn has been owned by one family for three generations. It is set in an ideal location, just steps from the historic Sonoma Plaza. Sonoma Valley Inn is designed around a serene garden courtyard and features a heated saltwater pool, steam room, and covered hot tub. Guest rooms offer wood-burning fireplaces, upgraded bathrooms, and private balconies or patios. The luxurious Mission Suites include four-poster beds, refurbished living rooms, and soaking tubs for two. The Krug Event Center has a range of flexible venues for small meetings and group gatherings. Sonoma Valley Inn brings a taste of Tuscany to the heart of Sonoma wine country and provides a peaceful escape for all of its guests.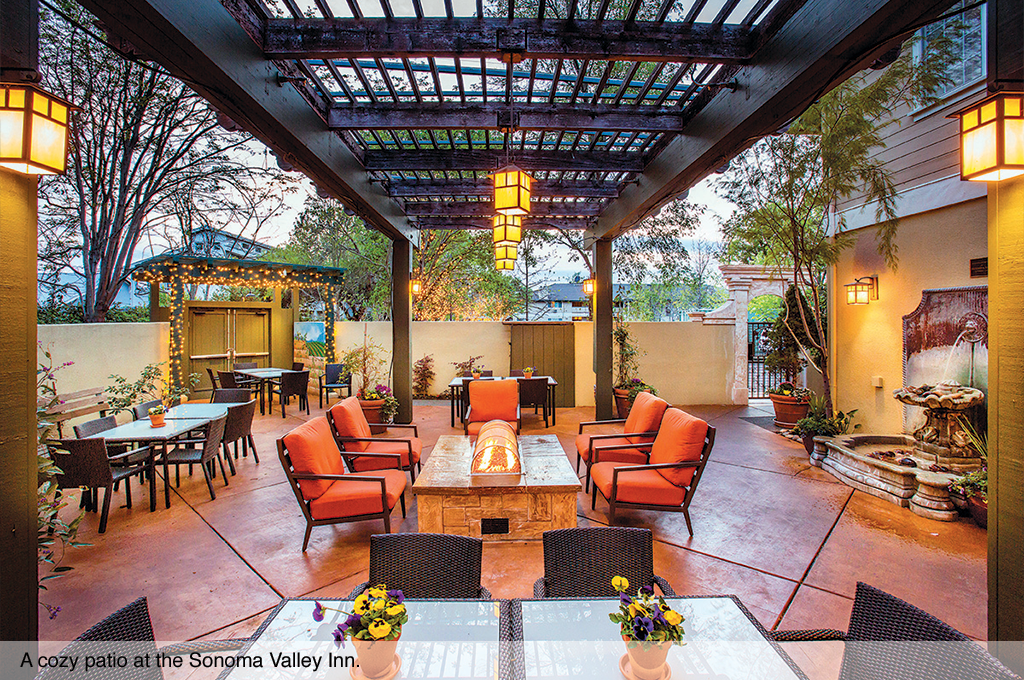 CONTACT
707-938-9200
sonomavalleyinn.com
550 2nd St. W
Sonoma, CA  95476

The Westin Verasa Napa

Located just minutes from downtown Napa, the Wine Train, and Oxbow Public Market, The Westin Verasa Napa provides an exquisite oasis to wine tourists eager to explore the Napa Valley. The sleek, contemporary lobby, decorated in vineyard hues, is the first signal to guests that they are in for a treat. Every detail connects harmoniously. The Westin Verasa Napa is an ideal venue for conferences and weddings of groups numbering up to 240. It offers 12,000 square feet of meeting space including a modern 3,128-square-foot ballroom and three more boardrooms—all more than 500 square feet—opening to an outdoor terrace. Meeting rooms are equipped with the latest audio-visual equipment and catered exquisitely by the kitchen of award-winning chef, Ken Frank.

CONTACT
888-627-7169
westinnapa.com
1314 McKinstry St.
Napa, CA  94559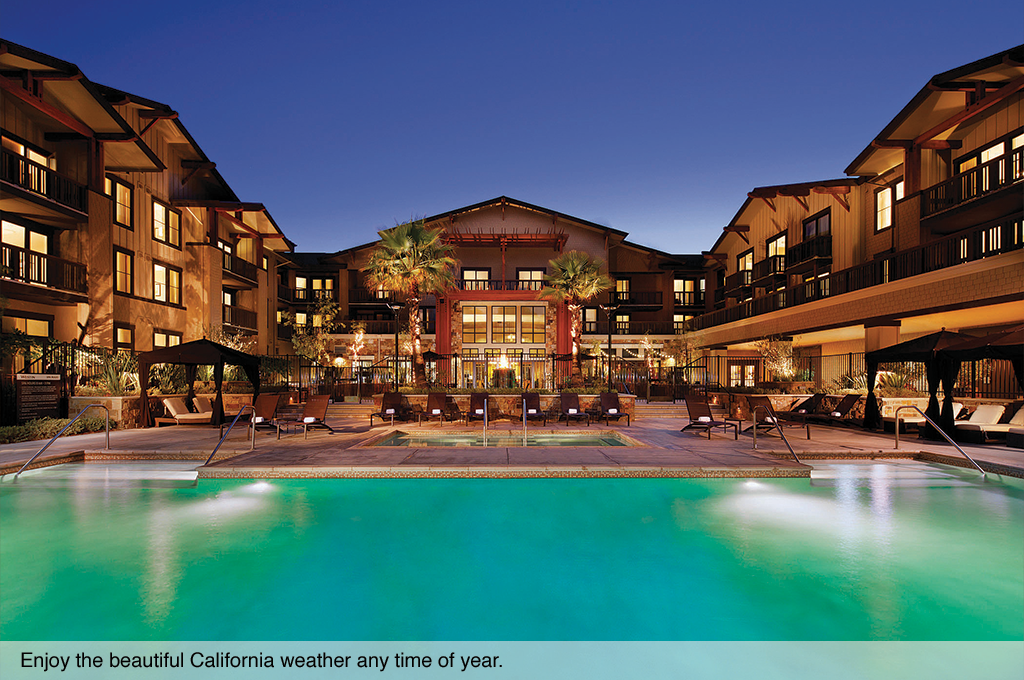 Wine & Roses

Wine & Roses Hotel is everything guests long for in a wine country retreat. It is owned by lifelong Lodi native Russ Munson and his wife, Kathryn, who wanted to create a true destination for wine enthusiasts eager to discover Lodi and its wonderful wines. This exceptional seven-acre property offers serenity, beauty, and all of the comforts of a luxurious home in the heart of Lodi wine country. The hotel features 79 spacious guest rooms and suites located in a variety of settings. The historic inn, built in 1902, offers individually designed guest rooms, each with a distinctive charm. Garden rooms boast rustic luxury, spa rooms emanate a Zen-like feel, and the Signature Suites are abundant with custom details and amenities. All accommodations provide picturesque views from a balcony or veranda, along with creature comforts such as Italian linens, down pillows, free Wi-Fi service, and Aveda personal care products. Some rooms also feature flat-screen TVs, iPod docking alarm clocks, and plush Wine & Roses bathrobes. In the morning, guests can awaken slowly in the comfort of their suite, or they can get an early start with a workout in the well-appointed fitness center or heated outdoor pool.

CONTACT
209-334-6988
winerose.com
2505 W Turner Rd.
Lodi, CA  95242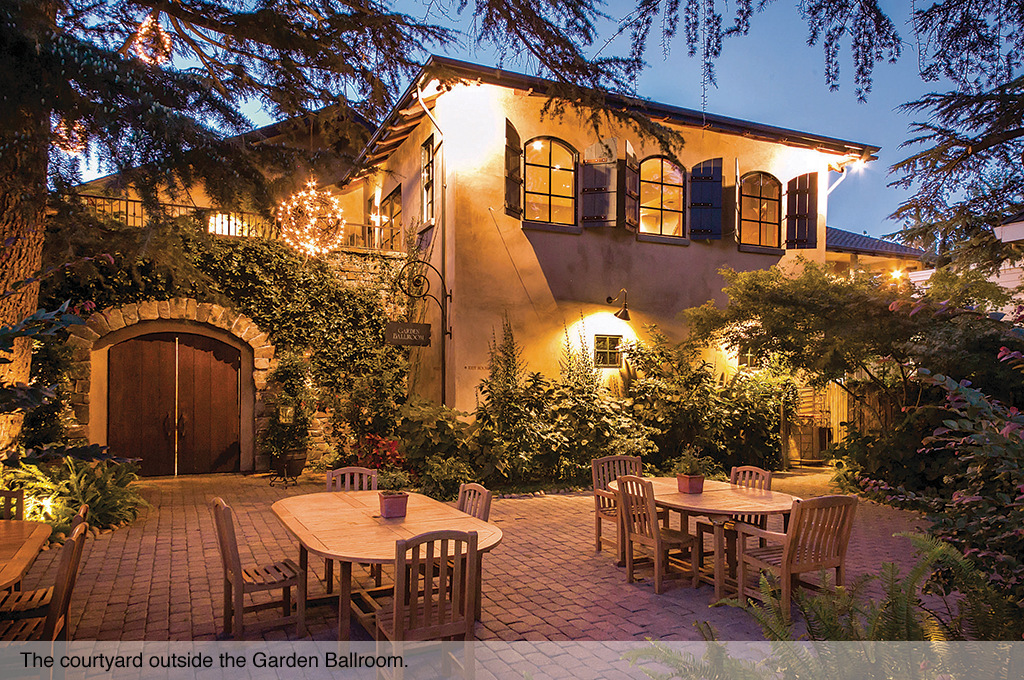 Bodega Bay Lodge

Perched on a pastoral bluff overlooking the rugged Sonoma Coast, Bodega Bay Lodge is the quintessential California coastal retreat. The Lodge offers rustic refinement with breathtaking views of the Pacific Ocean, 83 welcoming guest rooms, a stunning outdoor area, and a guest lobby. Bodega Bay Lodge is located just 90 minutes north of San Francisco—convenient to get to yet a world apart. The Lodge is nestled on eight beautifully landscaped acres of rolling hills next to Bodega Bay. Each guest room features a private balcony or patio with ocean views and sumptuous amenities including cozy down comforters, a wood-burning fireplace, spa robes and slippers, and state-of-the-art entertainment systems. The property's outdoor area has been completely transformed. Guests enjoy long soaks in the oversized infinity-edge spa and dips in the heated pool. Each has sweeping views of the Pacific Ocean and the beautiful surroundings. Guests can also snuggle under a blanket next to the fire pit on the new patio with a glass of wine or hot chocolate while they enjoy a dramatic sunset. All guests are invited to enjoy complimentary wine and cheese—locally sourced, of course—in the lobby, a seaside home away from home, complete with oversized couches and leather reading chairs.

CONTACT
888-875-2250
bodegabaylodge.com
103 Coast Hwy.
Bodega Bay, CA  94923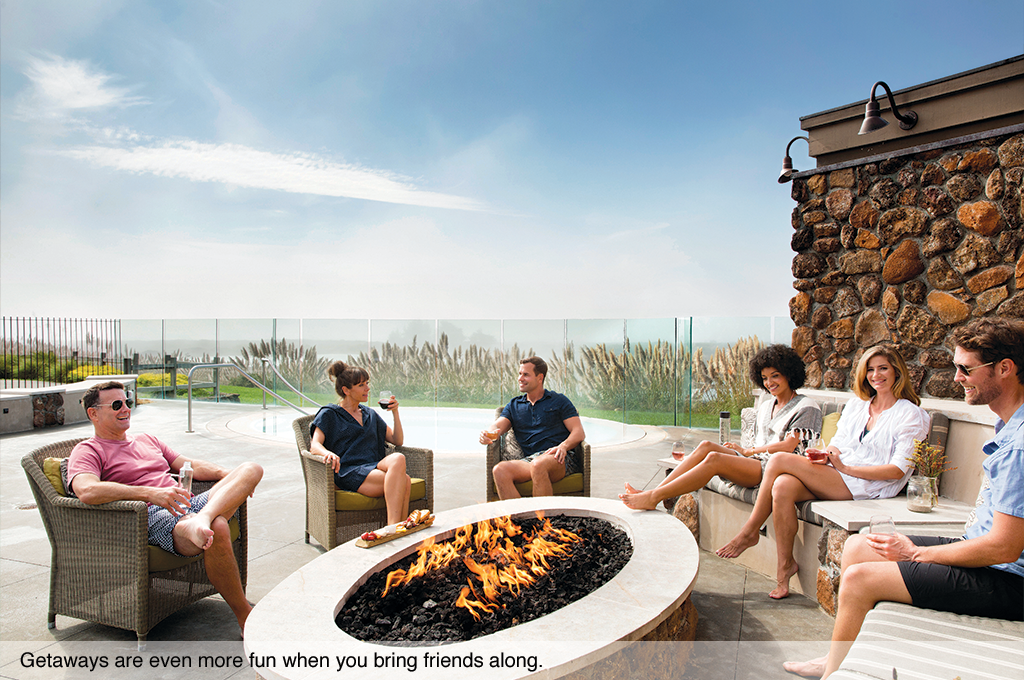 Twin Pine Casino & Hotel

Owned and operated by the Middletown Rancheria of Pomo Indians of California, Twin Pine Casino & Hotel offers wine tourists the fun and luxury of a premier casino, hotel, and restaurant—nearly halfway between the wineries of the northern Napa Valley and Lake County. Said to be the only wine-themed casino destination in the United States, Twin Pine attracts discerning guests who like to blend their love of casino life and wine. Twin Pine dedicates 25,000 square feet of space to the latest slot machines and blackjack, three-card poker, and live poker. Guests can relax at the new Twisted Vine Bar featuring Mount St. Helena Brewery's finest microbrews on tap or enjoy a cocktail while playing their favorite bar-top video poker machines. Texas Hold'em tournaments are held three days a week and other tournaments fill the calendar all year. Next to the casino floor the Grapevine Bar & Lounge offers delicious bar bites, regional wines, and a large selection of beer and spirits. Guests enjoy free live weekend entertainment and five high-definition television sets. The wine-themed Manzanita Restaurant offers breakfast, lunch, dinner, and wine-paired menu selections nightly. To showcase the wines of the region, Twin Pine selects a different winery for its wine pairing dinners. The program includes a "meet and greet" wine tasting and a prix fixe wine pairing dinner prepared by the Manzanita's chefs.

CONTACT
800-564-4872
twinpine.com
22223 Hwy 29 at Rancheria Rd.
Middletown, CA  95461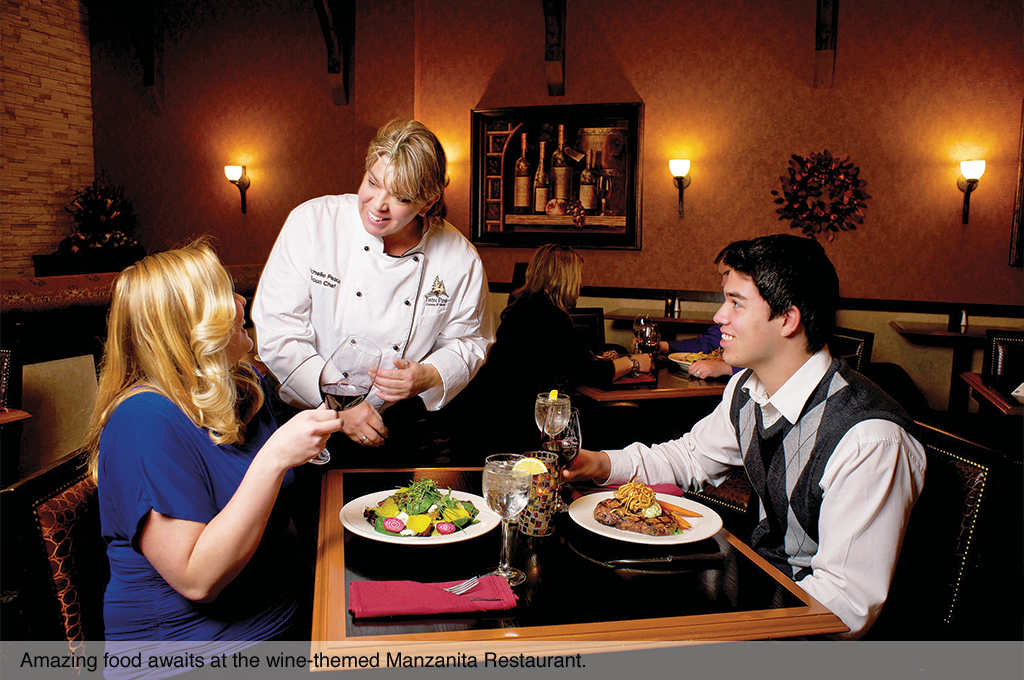 Ledson Hotel

With the conviction that wine tasting should revolve around luxury and relaxation, fifth-generation farmer, winemaker, and owner of Ledson Winery & Vineyards, Steve Ledson, created a welcoming retreat on downtown Sonoma's charming Plaza. Ledson Hotel is a boutique property with six individually decorated guest rooms on the building's upper floor. Each guest room was named after one of Steve's ancestral family members whose story inspired the décor of the room. Every room was designed with the utmost attention to detail, with wood-carved ceilings, unique furnishings, and plush oriental rugs. Measuring around 400 square feet, the rooms feature private balconies, whirlpool tubs, marble sinks and showers, and romantic fireplaces. This charming vintage-style property brilliantly captures the splendor and grace of a bygone era, while providing the amenities guests seek after a day of wine country exploration. With accommodations this luxurious, it may seem hard for guests to step out for wine tasting or a bite to eat. Happily, more fabulous Ledson adventures await downstairs. In the lounge the wines of Zina Hyde Cunningham, Ledson's other winery named for his great grandfather, are available for tasting. Guests are encouraged to sample these delicious artisanal wines at the tasting bar and choose a favorite bottle to take back to their room. Savvy guests also make reservations to indulge in a full Ledson culinary experience: an impressive wine and food pairing featuring Asian infused French cuisine prepared by resident master sommelier and world-renowned Executive Chef Yoshiharu Sogi.

CONTACT
707-996-9779
ledsonhotel.com
480 First St. East
Sonoma, CA  95476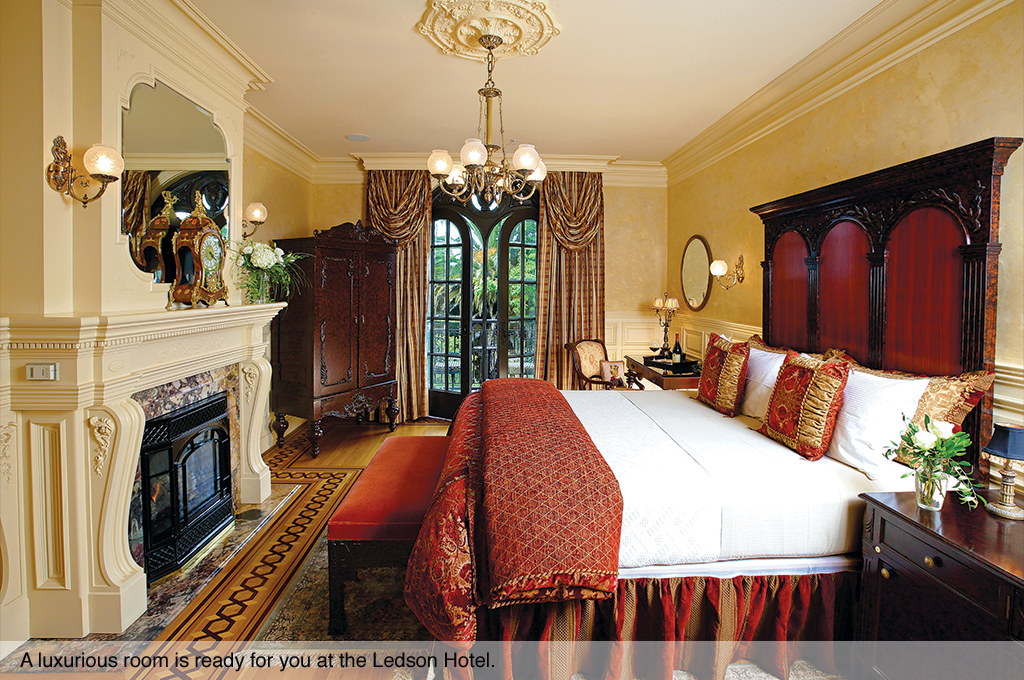 Touring & Tasting is a media company that produces a wine and travel magazine and is also partner in the Hitched Wine Club.