We are so excited that you and your spouse are interested in our wine club. Research shows that couples who regularly celebrate the good times have higher levels of commitment, intimacy, trust, and relationship satisfaction. We look forward to delivering delicious wine at amazing prices every month as a reminder for you and your spouse to slow down, reconnect and celebrate your life together. In addition to delicious wine, each shipment comes with a newsletter and

exclusive date ideas from Hitched

... and more.

We have clubs for all budgets,

starting at $29.95!




All clubs will receive a free subscription to Touring & Tasting magazine. Shipments also include the Cellar Notes newsletter filled with information about the wines along with date night tips from Hitched. All of these hard-to-find, award-winning wines are backed with a 100% satisfaction guarantee.


Puppy Love Wine Club

-

$29.95/mo.


Every month, you will receive two wines of outstanding value from premium wine makers in California, Oregon, Washington and even selected imports from France, Italy, Australia, Chile, Spain and beyond. Every shipment includes your Cellar Notes newsletter filled with information about the wines along with marriage tips from Hitched.
* 2 bottles every month
* Outstanding wine from around the world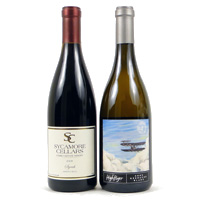 The Happy Couple Wine Club

-

$39.95/mo.


Every month, two premium wines from California's famous appellations such as Napa and Sonoma along with the best of Oregon and Washington wines are hand selected. This club level offers you a wide variety of hard-to-find vintage wines, reserve level wines and limited edition wines that will give you and your spouse something to talk about.
* 2 bottles every month
* Reserve level and limited edition wines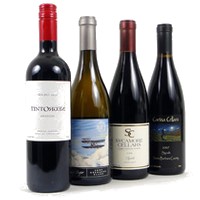 Marital Bliss Wine Club

-

$79.00/mo.


Savor two different premium red wines from California, Oregon or Washington in each shipment, along with an exciting international red wine from Italy, France, Spain, Australia and beyond. Also included will be one bottle of crisp, white wine, either domestic or international.
* 4 bottles every month
* 2 domestic reds, 1 international red, 1 white that's international or domestic
* Free shipping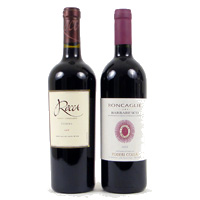 Soul Mates Wine Club

-

$89.00/mo.


For those who want to experience only the rarest and most exceptional wines found in such limited quantities that we must limit membership to just 100 people. Each month you'll receive two different (all red) super-premium wines from around the world.
* 2 bottles every month
* Only the rarest and most exceptional wines
* Wines so rare membership has to be limited to just 100 people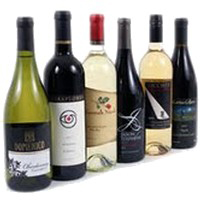 *NEW* Happily Ever After Wine Club

-

$99.00/mo.


Six exceptional wines from California, Oregon, Washington and selected imports. Shipping is always FREE! Your shipment (retail value is over $160) comes complete with detailed information on the wines and a free subscription to Touring & Tasting magazine. You even get to choose your shipping frequency: monthly, bi-monthly or quarterly. You can pre-pay also making this club a great gift!
* 6 bottles delivered either monthly, bi-monthly our quarterly (your choice)
* Free shipping--forever!
* Retail value of wine is over $160!
* Gift options available