UPDATED: 3RD ANNUAL ANNIVESARY GIFT GUIDE

Welcome to the second annual Hitched Anniversary Gift Guide. We launched our Anniversary Gift Guide last year and got a tremendous response. We're keeping the same format this year, which breathes life into the Middle Age tradition of giving gifts specific to the number of years married. To explain, the first year of marriage is to be represented with a gift of paper. Today, however, we all know that e-ink and glowing displays are our version of paper. Throughout the guide, we sought to offer a range of gifts for husbands and wives of all price ranges. We have also solicited the help of our friends at TheManRegistry.com to help cement the ultimate gift ideas for men.We hope you like the creative liberties we took in creating this year's gift guide and want to wish all of you a happy anniversary!

1-Year Anniversary:
Paper
Many people continue to claim that the medium of paper is dead. We don't think so. Sure, we love the gadgets that are replacing them, but there's also something special about getting a handwritten letter or finding that sticky note in your lunch from your spouse. If times are financially tough for you this year and you can't afford a vacation or gift, we guarantee satisfaction if you write your spouse a love letter. This works for any celebration year.
Apple iPad
www.apple.com/ipad
You want paper, welcome to paper 2.0. The iPad, in case you hadn't heard, is a marvel. It allows users to read books, browse the web, check e-mail, watch videos, flip through photos and much more. If really want to make this gift special, load some old photos (or even wedding photos) of the two of you and have a slideshow playing for your lucky spouse to see when they walk into the room. If you have a video of your wedding, load that on there and reflect on how fun the past year has been.
Price: Starting at $499
More Ideas:
- Amazon Kindle
- Barnes & Noble Nook
- Write him/her a love letter every day of your anniversary week
- A vintage copy of his/her favorite classic novel
- A basket full of their favorite magazines
- Personal stationary
- Finally get your book of wedding photos together
- Create a calendar of the two of you

TheManRegistry.com:
Whatís the most important paper that a man possesses? Birth certificate? Nah. Marriage license? Maybe. The truth is if you ask the average guy, itís that cold hard cash that he has in his pocket this very moment. The world famous Storus Money Clip will give him the perfect tool to organize that cash.
---
2-Year Anniversary:
Cotton
Cotton maybe the coziest year. Like an old cotton t-shirt, your marriage just gets more comfortable with time. While many couples go all out in their first year, they sometimes fade in the following years and focus only on the ones divisible by five. Don't fall into this trap. Take every opportunity to celebrate your marriage. There are so many great possibilities for cotton. Below are some of our favorites.
Organic Cotton Terry Robe
www.gaiam.com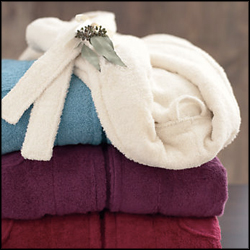 This 100% pure organically grown cotton robe from Gaiam is an indulgent envelopment you won't regret. If you want variety, these robes come in natural, French blue, celadon, plum, or ruby. We know what you're thinking, "Great, a fancy robe that needs special care." Nope. This cotton robe gets tossed in your washing machine with all your other dirty laundry. It's like taking an anniversary getaway in a fancy hotel, except you get to stay in the comfort of your own home.
Price: $96
More Ideas:
- A new dress or suit followed up with a dinner out
- Upgrade the undergarments (i.e., lingerie and underwear)
- Bed sheets
- New rugs
- A his and her hammock
- Create art on a canvas

TheManRegistry.com:
The touch. The feel. The stained armpits? Yes, itís true. The workday can be very stressful for men. And stress often leads to sweating. Do him a favor and give him the gift of replacing his current shirts with the best cotton undershirt on the market, The Zimmerli Mercerized Cotton Undershirt found at
www.sierratradingpost.com
.
---
3-Year Anniversary:
Leather
Leather is one of those materials that can be soft and delicate or tough as nails. It's also a material that seems to get better with time. What man doesn't love his leather chair after it's got a good few years molded into it? This is the year that you can really express both of your personalities in wildly different ways, yet keep with tradition.
Ten One Design: Tango
www.tenonedesign.com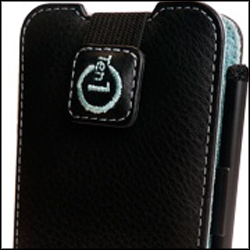 Do you or your spouse have an iPhone? Do you have a hard time hitting those virtual keys? This leather Tango Case includes a holder for a Pogo Stylus to help you click just where you mean too. This is also a neat tool for women who have difficulty because of their nails. Moreover, the case, of course, protects your iPhone and is lined with microsuede. Lastly, you can secure the Tango Case to your belt or bag with a clip.
Price: $39
More Ideas:
- Couches or chairs
- Jacket
- Surprise your spouse with new upholstery for their car
- Get a cover for their e-reader or tablet
- Whips or other leather-based sex toys
- Gloves
- Purse
- Boots
- Horseback riding lessons

TheManRegistry.com:
Guys love feeling like big shots in their office or den. A leather-wrapped pen will be a unique and quality addition to his domain.
---
4-Year Anniversary:
Fruits & Flowers
The obvious gift for this year would be, of course, a nice bouquet of flowers. Well, you can go ahead and do that and it will be appreciated, but if you want to stretch your boundaries a bit, we've got some ideas below that both of you will appreciate.
Salvatore Ferragamo Silk Flower Tie
www.saksfifthavenue.com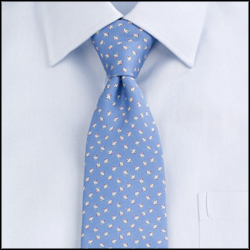 When you think flowers you're probably thinking something really feminine. However, this Salvatore Ferragamo Silk Flower tie oozes males sophistication and charm. This tie is made in Italy and is woven in premium Italian silk. This tie will look even better in your favorite restaurant while you celebrate your fourth year together. This tie is dry clean only and is also available in green.
Price: $160
More Ideas:
- Wine of the month club
- Brew kit
- A trip to a botanical garden
- A trip to the farmer's market followed by a romantic homemade meal
- Canning/jarring kit
- Hawaiian shirt or dress
- Day spa with a fruit or flower treatment
- Flowery or fruity perfume

TheManRegistry.com:
Blue Moon. Wisconsin Belgian Red. Dogfish Black and Blue. These are all great tasting beers that have hints of fruit in them. If just the mention of new beer flavors gets your guy jumping up and down, we suggest signing him up for the Beer of the Month Club (
www.beermonthclub.com
).
---
5-Year Anniversary:
Wood
You can make just about anything with wood, which offers a tremendous amount of gifting opportunities for your five-year anniversary. If you're crafty you can whittle your spouse something special. At minimum you can go outside and carve your initials in one of your trees. It'll be a constant reminder of your union that's as strong as oak.
iWave: Grass Roots Collection
www.iWaveAudio.com
Is your spouse an audiophile? These high performance headphones from iWave are made from recycled materials, offering elegant style and comfort. The wood headphones are trimmed with chrome and the adjustable headband presents a comfortable fit. If you're plugging these into your stereo or television it has a 6-foot cord.
Price: N/A (on sale Q2 2010)
More Ideas:
- Dresser
- Desk
- Knife set
- Wood iPhone case (also available from iWave)
- Large picture frame for an updated picture of you two
- A phallic sex toy (we don't need to explain do we?)

TheManRegistry.com:
Five years of marriage is a great achievement. An engraved wood clock for your home is the perfect gift to celebrate the time youíve spent together. Find out more at
www.findgift.com