About Coop's Corner:
The semi-regular column by co-founder and editor-in-chief, Steve Cooper.
Finding Harmony Between Marriage and Technology

Blending tech with your marriage doesnít have to be a virtual tightrope. Create clear boundaries with one another and use your gadgets to grow closer.
The relationship of technology and marriage has a long history. I'm sure at some point during the Stone Age a woman was frustrated because her mate wouldn't step away from the fire and come to bed. More recently, televisions became places of congregation for couples and families. Today, our unions are intertwined with smartphones, tablets, social networks and more. The current tech du jour is Facebook. The question we have to ask is, are these tools good for marriages or bad? The answer: potentially both.

The Case for Married Couples to Celebrate Valentine's Day

Why itís important for you and your spouse to celebrate Valentineís Day and continue the tradition throughout the year.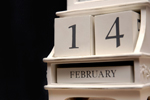 I'll be the first to admit that not long ago, I would have been quick to declare that Valentine's Day is nothing more than a "Hallmark" holiday. Iíve often said, "It's just a reason for greeting card companies to push more product." While they certainly capitalize on the holiday, I had an epiphany that brought me on board with the celebration.

Even before the light bulb went off above my head, I still celebrated Valentine's Day and even enjoyed the holiday, although a certain piece of me felt it was contrived.
In Search of a New Word for 'Married'

If the pen is mightier than the sword, we've got a battle with the language used in marriage.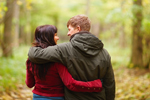 Who wants to be married? Dying sounds more proactive than being married. The word married, whether used as a noun, verb or adjective sounds past tense and settled. Married comes across as boring and evokes no excitement. Dating, on the other hand, is an action word. Dating sounds like things are happening, you sense a future with endless possibilities and dreams around the corner. Married rolls off the tongue with the thud of dirt clods falling on a casket.