4 Ways to Involve Kids to Establish Healthy Eating Habits

An easy way to improve the eating habits of kids is to get them involved in the preparation of their meals.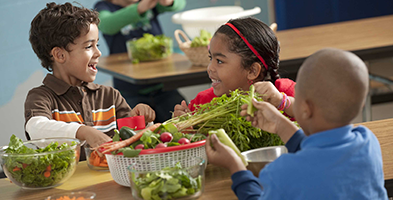 Children often can't wait until a parent fixes dinner, but getting the youngsters involved in helping to prepare those meals could do more than help mom and dad out. It also could lead to life-long healthy eating habits, nutrition experts say.  And that in turn could have a profound effect on their well-being, because childhood obesity in the U.S. is on the rise. The percentage of obese American children and teens has more than tripled since the 1970s, with nearly one in five categorized as obese, according to the Centers for Disease Control and Prevention.

---
MORE ARTICLES
Disrupt Your 9 Hungers with One Simple Mindfulness Tip

Our food culture is causing relationship issues with our food. Here are nine simple tips.
High Anxiety: 5 Things that Set Us Off and What to Do

Anxiety is a common feeling with common triggers. Here are popular triggers with tips on how to cope.
Improve Your Energy Levels Instantly with This Shower Technique

Here are 5 reasons you should take a Scottish Shower in the morning.
Be Your Best With Rest

Rest doesn't subtract from your day, it makes your day more productive.
Study: Older Women Face Low Sexual Desire
Is Your Birth Control Making You Dry?
5 Clues Your Partner Might Have ADHD
Can Grooming Lead to STIs?
5 Reasons Why Couples Working Out Together is a Great Idea
9 Ways to Prepare Your Microbiome for a Healthy Baby
6 Ways to Save Your Husband's Life
Think You Know ADHD When You See It?
How to Beat the Healthcare Odds in These Uncertain Times
Does E-Cigarette Vapor Harm Kids? One Third of U.S. Adults Don't Know
Study: Exercise May Stave Off Postpartum Depression
7 Ways Social Media Can Be Good for Your Mental Health
Study: Less Than 1/3 of Pregnant Women Hit Target Weight
Study: Military Couples Who Avoid Problems Fare Worse After Deployment
Study: Severe Birth Complications More Common with Older Mothers
3 Tips to Fix Your 'Sugar Belly' and Return Wheat to Your Diet
Study: Those With Insurance More Likely to Have IVF Baby
5 Tips to Get Your Spouse Off the Couch
Can Puppies Protect Babies From Allergies and Obesity?
Study: Should Pregnant Mothers Hang Up Their Cell Phones?
Dormant HSA Funds Can Be Seized, What to Do
Do Any Fad Diets Improve Your Heart Health?
Study: States With Same-Sex Marriage Laws Tied to Fewer Teen Suicide Attempts
6 Things to Know Before Starting Infertility Treatments
Study: Obese Couples May Take Longer to Conceive
Study: Painkillers Often Stored Within Reach of Little Kids
Study: Stress Hormone May Help Explain Health Advantages of Marriage
5 Ways to Kickstart Your Weight Loss Motivation & Rev Up Your Health
Study: Cash May Get More Mothers to Breastfeed Babies
Fat Shaming Tied to Increased Risk of Metabolic Problems
Study: 45% of Breast Cancer Patients Have Severe Side Effects
Study: Pregnancy Changes Mothers' Brain
Study: Odds of Survival After Stroke Increases if Married
Teens' View Of Pot Changed In One State After Legalization
Coping with the Holiday Blues Naturally
3 Reasons Why Infertility Sucks for Men, Too 
Chronic Gum Disease Tied to Risk of Erectile Dysfunction
IVF Calculator May Help Predict Chances of Having a Baby
Study: Nearly Half of All Heart Attacks May Be Silent
How to Rein In Stress by Controlling Kids' Extra-Curricular Activities
Stressed Out Over Trump Victory? Try Cleaning Out Your Freezer
Night Owl Teens May Struggle To Control Their Emotions
Obesity Gene Could Lead to Children's Overeating
Men Born by "ICSI" Fertility Procedure May Struggle to Have Babies
Study: When Does OCD Develop?
Giving Babies Eggs and Nuts Early May Avert Allergies
Study: Those With Heart Disease Less Sexually Active
Study: Sexual Health Among Women Impacted During Infertility Treatments
Is This the Future of Drug Pricing?
Study: Majority of Fertility Apps and Websites Miss Window of Opportunity
Study: Spouse's Drinking Habits Impact Marriage Satisfaction
Learning To Feel: In Sickness and In Health
Marriage Quality Effects Diabetes Risks Differently for Men and Women
Study: Married Cancer Patients Have Better Survival Odds Than Singles
New Strongman Rules Pump Up New Mothers
Study: Dearth of Doctors with Well-Educated Spouses in Rural Areas
Sleep to Win! 7 Ways to Gain the Competitive Edge
Study: Parents Catch a Lot of Errors in Hospitals
Can Caffeinated Drinks for Men Increase Miscarriage?
Study: Heart Disease Rates Dropping
Study: Women Live Longer, But More Disabled Than Men
Study: Sex, Brains and Longevity
Lack of Fitness in 40s Linked to Brain Shrinkage
Finally, A Scientific Excuse to Sleep More on the Weekend
Study: Heart Attack Symptoms Differ in Men And Women
In Vitro Fertilization: Overcoming Relationship Challenges on the Path to Motherhood
Study: U.S. Women Having Babies Later Than Ever
How Long Should Couples Wait To Try Again After Miscarriage?
Study: Heart Health Improved When Following the 'Simple 7' Checklist
Swim, Bike, Run: Train for Your First Triathlon Together
Warning Labels Might Stop Parents From Buying Sugary Drinks
Why You Should Start a Morning Routine
Study: Men Underestimate Sexual Dysfunction Risks Of Prostate Surgery
Weight Gain: 5 Ways to Recover from a Setback
Study: Patients With Advanced Cancer Still Want To Work
How to Care for Two Parents Without Going Broke
6 Reasons We Should All Cry
Study: Marrieds Less Likely to Die After Heart Surgery
3 Thanksgiving Dog Health Hazards
The Power of Holistic Healing for Ultimate Happiness
More Evidence Marriage Influences Your Waistline
Why We Need to Expand Our Language of the Breast
7 Ways to Get More Sleep
Considerations for Picking a Health Plan for the Kids
5 Ways a Healthy Lifestyle is Good for Your Wallet
Spouses of Stroke Survivors Face Lingering Health Issues
6 Things You Need to Know to Survive the Autism Diagnosis
FDA Approves 'Female Viagra' With Strong Warning
Study: Parents On Medicaid Make More Incorrect Assumptions About Antibiotics
Putting Off Parenthood Might Be Good For Your Children
9 Brain-Aging Sins That Kill Your Competitive Edge
5 In-Office Exercises to Build Stress-Resilience and Improve Posture
Healthy New Favorites: 5 Food Substitutions You'll Love
The Best Tool for Tracking Weight Loss Progress
Health Insurance Options for Newlyweds
Did Our Microbiome Choose Our Spouse?
The Family and Medical Leave Act: Protecting Your Rights
6 Reasons Why You Are Still Smoking Today
Gym Etiquette 101
12 Steps to Forgive, Love and Find Your Inner Balance
The Most Woeful Time of the Year: Understanding Tough Holidays and How to Get Through?
8 Reasons It's So Hard to Climb Out of the Darkness of Depression
6 Tips to Release Stress to Live a Happy Life
6 Furry Good Reasons Why Animals Can Help Fight Depression
How to Talk to a Depressed Person
Breast Milk Storage Tips
Simple Tips For Mothers Preparing to Breastfeed
How Do High-Profile Suicides Impact Others… And What To Do?
How to Reset Your Diet After a Setback
Survey of Over 4,000 People Reveals Top 10 Depression Treatments
15 Practical Tips to Lose Weight and Get in Shape This Summer
Why Men Struggle with Mental Health Issues: 7 Ways You Can Encourage Them to Seek Help
How to Choose a Health Program When Married
Anxiety, Depression and Your Marriage
How to Reduce Your Salt Intake
What's Your Functional Age? Tips to Get Younger
How Body Language Can Lower Stress
Women, Sugar and Addiction
Paving A Path to Happiness and Peace of Mind
Overcome These 5 Fears of Aging
Mother of 3 Explains How Her Six-Pack Abs Are Attainable
The Importance of Having a Personal Health Record
The 2 Obstacles that are Keeping You from Your Fitness Dreams
Top 5 Massage Tips for Couples
How to Manage Stress and Lose Weight
Finding a Nursing Home: What You Need to Know
9 Steps to Your Intuitive Life Makeover
Curing Insomnia: 7 Steps to a Great Night's Sleep
What is Enlightenment?
Understanding the Nature of the Enabler
3 Big Secrets to Feeling Young Again
What a Good Marriage Means to Your Health
Helping Your Wife Lose Weight
5 Ways To Make Quiet Time, Your Time
Need to Know: High Blood Pressure in Children
Through Spine Surgery, Wife Learns Husband Has Her Back
Is Your Teen Not Sleeping Enough?
8 Springtime Strategies to Look and Feel Great
Turning Negative Traits Into Strengths
7 Ways to Use Nature to Boost Your Moods
6 Gym-Free Ways to Lose Weight
8 Tips to Halt Winter Weight Gain
ADHD & Your Marriage: Easing ADHD-Related Marriage Issues
ADHD & Your Marriage: Understanding and Combating the Symptoms
6 Ways to Have Toned Arms and Legs at Any Age
Extreme Personality Shifts: Does Your Spouse Need Help?
How To Protect Your Medical Information
5 Behaviors That Make You Fat
How to Get Anxiety Under Control
How to Avoid Shaking Hands
The Health Benefits of Singing
5 Easy Ways to Get Your Kids Fit
3 Tips to Get Your Husband to See a Doctor
Challenge: Exercise Just 10 Minutes Per Day
How Your Marriage Can Slow Disease
Tips To Reduce Stress and Lose Weight
7 Reasons To Go for a Hike With Your Spouse
Improve Your Marriage with Flower Power
Exercise: 4 Reasons to Start Today
Spring Awakening
The Hidden Benefits of Spring Cleaning
Release Your Stress Tonight
Resolutions for Yourself
Make Your Holiday Season Enjoyable With Exercise
How to Avoid Holiday Weight Gain
6 Ways Exercise Leads to a Happier Marriage
Ethnic Cuisine: A Healthy Way to Eat Out
Shape Up for Spring
Life Adjustment Quiz For Two
8 Ways to Help Your Spouse Lose Weight
Flu Season Fixes
Starting Fresh
9 Ways to Make Healthy Eating a Habit