Top 5 Massage Tips for Couples

A certified expert in massage explains the winning formula for giving your spouse the perfect rubdown!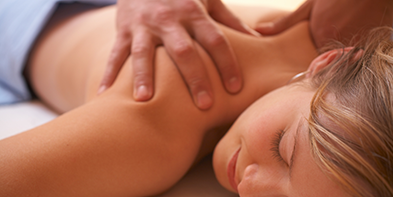 Treating your sweetie to a pampering massage is a wonderful way to show love and appreciation. Experts also agree that massage between partners fosters deep intimacy, builds trust and helps couples connect emotionally. It can be as nurturing or as sensual as you want to make it.

But the biggest problem with massage is that if you donít know how to do it, you donít last longer than five minutes. Your thumbs hurt, your hands hurt, you donít know if youíre doing it right, you get bored.
---
MORE ARTICLES
How to Manage Stress and Lose Weight

Here are 3 benefits to better health, rejuvenation and weight loss when dealing with stress.
Finding a Nursing Home: What You Need to Know

Donít know where to start when looking for a nursing home for a loved one? Here are some great tips on educating, finding, and choosing the best care possible.
9 Steps to Your Intuitive Life Makeover

Unlock your intuition and live life to the fullest with these 9 tips.
Curing Insomnia: 7 Steps to a Great Nightís Sleep

Stop the clock-watching, tossing and turning all night and start getting the rest you need with these seven tips.
What is Enlightenment?
Understanding the Nature of the Enabler
3 Big Secrets to Feeling Young Again
What a Good Marriage Means to Your Health
Helping Your Wife Lose Weight
5 Ways To Make Quiet Time, Your Time
Need to Know: High Blood Pressure in Children
Through Spine Surgery, Wife Learns Husband Has Her Back
Is Your Teen Not Sleeping Enough?
8 Springtime Strategies to Look and Feel Great
Turning Negative Traits Into Strengths
7 Ways to Use Nature to Boost Your Moods
6 Gym-Free Ways to Lose Weight
8 Tips to Halt Winter Weight Gain
ADHD & Your Marriage: Easing ADHD-Related Marriage Issues
ADHD & Your Marriage: Understanding and Combating the Symptoms
6 Ways to Have Toned Arms and Legs at Any Age
Extreme Personality Shifts: Does Your Spouse Need Help?
How To Protect Your Medical Information
5 Behaviors That Make You Fat
How to Get Anxiety Under Control
How to Avoid Shaking Hands
The Health Benefits of Singing
5 Easy Ways to Get Your Kids Fit
3 Tips to Get Your Husband to See a Doctor
Challenge: Exercise Just 10 Minutes Per Day
How Your Marriage Can Slow Disease
Tips To Reduce Stress and Lose Weight
7 Reasons To Go for a Hike With Your Spouse
Improve Your Marriage with Flower Power
Exercise: 4 Reasons to Start Today
Spring Awakening
The Hidden Benefits of Spring Cleaning
Release Your Stress Tonight
Resolutions for Yourself
Make Your Holiday Season Enjoyable With Exercise
How to Avoid Holiday Weight Gain
6 Ways Exercise Leads to a Happier Marriage
Ethnic Cuisine: A Healthy Way to Eat Out
Shape Up for Spring
Life Adjustment Quiz For Two
8 Ways to Help Your Spouse Lose Weight
Flu Season Fixes
Starting Fresh
9 Ways to Make Healthy Eating a Habit