Let's Read About Sex

Books, books and more books. We get a lot of books in the mail. Here are a few to help boost some business in the bedroom.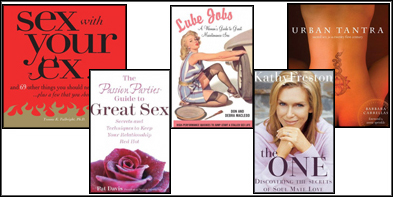 Here at hitchedmag.com we receive many books and other fine products from various public relations agencies and media outlet sources; what's funny is about 90 percent of these fine products have to do with sex. Now, some of our experts would attest that having great sex isn't the only thing that will make a marriage happy and strong
---
MORE ARTICLES
Married With HIV

Marriage vows are to be taken to the fullest extent of their meanings. Meet a couple that looked in the face of a potential killer and said "I do".
Premarital Promiscuity

A new study says that premarital sex is nearly universal among Americans, and has been for decades; is the American government funding the right project?
Fruit & Fertility

A new study finds that fruits and vegetables may be key to male fertility.
Not So Puritans

They aren't the people you think they were—especially if you paid attention to your history books in elementary school. Yes, the puritans got down… and more than you think.
Online Porn Addiction
Sex Drive
Lube Of The Sea
Good Sleep, Better Sex
His Choice
Migraine Remedy
Did Rescue Me Go Overboard?
Good Sex, Good Marriage?