Let's Read About Sex
Books, books and more books. We get a lot of books in the mail. Here are a few to help boost some business in the bedroom.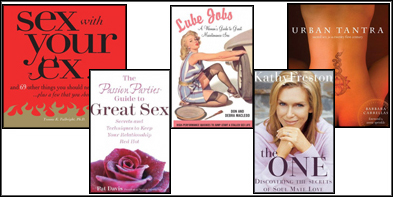 ---
Here at hitchedmag.com we receive many books and other fine products from various public relations agencies and media outlet sources; what's funny is about 90 percent of these fine products have to do with sex. Now, some of our experts would attest that having great sex isn't the only thing that will make a marriage happy and strong, and we agree but we all know it doesn't hurt.

So, with that being said, I decided to gather some of our better titles and give you a little taste of what flows through the hitchedmag.com mailroom. Whether it be finding your inner tantric, giving your sex life a tune-up, or throwing a "passion party," these books will definitely help get the lead out of the bed.



First up, we have a not so hitchedmag.com title. But nevertheless, it does have an indirect relationship to marriage. In "Sex With Your Ex… and 69 other things you should never do again… plus a few that you should," Dr. Yvonne K. Fulbright gives you the rundown on the 70 most regrettable things a woman can do or say in regards to sex and relationships. A lot of them don't pertain to married couples and some of the advice we may not agree with, but it is a fun read. Things the author suggests are:
Never have sex with your best friend's ex (or your ex's best friend).
Never send e-mail to a coworker that includes details of your latest sexual exploits.
Never assume you are not on speakerphone.
Never tell your best friend you don't like her fiancé.
Fulbright, a popular sexologist, author, relationship expert, and columnist, provides her unique expertise on sexuality with witty anecdotes. This title will have you shocked as to how many women have gone to such great lengths for the opposite sex. It will also make you laugh knowing you're not the only one who's said or done at least one of the 'Nevers' (if not all of them!).



Next up is a book titled "The One: Discovering The Secrets of Soul Mate Love," by Kathy Freston. Available in paperback edition, this 224 pager will dig deep into relationship issues with the goal of getting in contact with your spiritual side and finding out about who "you" are and where you stand with love. A quick excerpt from the book reads:

"Love can play itself out in so many scenarios (warm and excited conversations, great sex, screaming fights, tumultuous breakups, to name just a few), that it's not always easy to see its underlying message. I believe it is this: You are not successful in love just because you find a partner and stick with them for a lifetime; you are successful in love when it provides you with a way to keep learning about yourself and the world around you, becoming more connected with the Oneness of all of life, so that each experience you have—glorious, sad, or frustrating— becomes a strand in the web of your evolution. How you navigate the ins and outs of love is what gives purpose to your time on earth."

As you can see this isn't the light harlequin read you may be used to, but Freston will guide and teach you to work through anxieties and help you see love as a romantic gateway, allowing you to right relationships into your life.



Time to shift into fifth gear with "Urban Tantra: Sacred Sex For The Twenty-First Century." This how-to will have you and your spouse engaging in mind-blowing, nail biting, climbing-up-the-wall sex with the ancient practice of techniques and rituals including meditative and sexual practices. "Urban Tantra," is written by acclaimed sex educator Barbara Carrellas who has radically updated the ancient Tantric sex practices for modern sexual explorers seeking ecstasy that lingers longer than the orgasm. With informative and instructive pictures and diagrams Carrellas's colorful descriptions of unusual concepts like "rainbow rubs" and "the mushy puss" will have both you and your spouse finding a pleasure-centered spiritual wisdom that will guide the two of you through a repertoire of easy-to-grasp techniques and positions for solo and partner play. Tantric virgins and curious sex positivists alike will discover a world of sensual delights and learn how to take pleasure to new levels of intimacy and spiritual fulfillment.



Ever hear of a Passion Party? Well, if you're a man… probably not. But they are gaining popularity and if you are a man who's reading this, it might just be what will make you and your spouse rekindle all the magic that you had when you first met. "The Passion Parties: Guide To Great Sex Secrets and Techniques To Keep Your Relationship Red Hot," by Pat Davis is a Tupperware party for the 21st century. Sharing a delicious variety of tantalizing moves, tricks and sensual enhancements from the mild to the wild, "Passion Parties guide To Great Sex" is a tastefully explicit, step-by-step, how-to for steamy foreplay, intercourse, and more. This ultimate pleasure handbook offers innovative sex positions, tips for sweetening oral sex, and the keys to stronger, longer, more frequent orgasms. It also invites you to explore the world of Passion Party products—from lotions and potions, to safe and sexy toys that will bring further bedroom bliss.


The last book in our mailbox to make our roundup is "Lube Jobs: A Woman's Guide to Great Maintenance Sex." This straight-talking women's guide will have you seeing fireworks again in the bedroom. According to the authors Don and Debra Macleod, maintenance sex saved their marriage, and Lube Jobs is inspired by their journey from the sexual stalemate that followed the premature birth of their son, back to amorous intimacy. Don and Debra reveal that maintenance sex can be an exciting and loving way to jump-start a stalled sex life. And if it's done right, it can be fun for both parties. Just as the sleekest luxury car requires routine tune-ups for smooth performance, a long-term relationship requires regular lube jobs for a friction-free love life.


---