Ethnic Cuisine: A Healthy Way to Eat Out
Dr. Ro gives you some tips to stay healthy when you canít eat at home.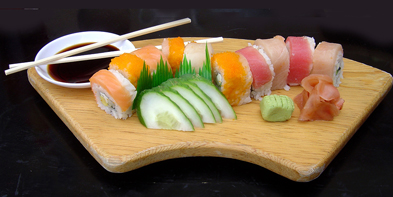 ---
Is it really possible to eat out healthfully? When youíre on the road or just working crazy hours and donít have the time to cook at home, you may actually dread going out to eat. Eating out means having to contend with unruly portion sizes, not knowing the caloric content and ingredients in the food or having to order a dry salad and a grilled breast of chicken to stay on track. Boring!

Take heart. No matter where you are, you should be able to find ethnic restaurants that offer great, healthy choices. Here are some of my favorites.

Caribbean: Choose the jerk chicken (spices are great for your digestion), grilled snapper, or steamed fish dishes (fish is a high-energy protein that has little fat). Have a curried fruit salad or crunchy vegetable salad. Raw foods ramp up your metabolism.

Mexican: Before you begin the meal, skip the chips. (A typical basket is worth 645 calories and 34 grams of fat.) Beware of rice and beans, which are usually loaded with saturated fat. Spicy or grilled chicken dishes make good choices. Also, anything prepared in the Veracruz style, which in Mexican cuisine means a sauce made with tomatoes, onions and chilies. Youíll get a vitamin wallop with little fat.

Chinese: Itís easy to eat healthy in Chinese restaurants. Simply order steamed vegetables and grilled salmon or steamed chicken with sauce in the side. You can dip your fork in the yummy garlic sauce or lightly drizzle it over the top. Chinese cooks really know how to steam vegetables to retain their crunch, which means theyíre still loaded with beneficial enzymes, and youíll get a heaping helping of vitamins and minerals.

Italian: If it hasnít been "Americanized," authentic Italian cooking is mighty healthfulóthatís what the Mediterranean diet is all about. Order grilled vegetables and green salads. For meats and protein, choose veal, chicken or fish prepared with garlic and olive oil. Choose sun-dried or crushed tomato dishes (tomato sauces in restaurants often have hidden butter and fat) and grilled meat or fish. Youíll get a lot of "good" fat (olive oil), lots of garlic (which is an antiviral) and plenty of vitamins and minerals.

Indian: Choose Tandoori-style dishesóthese are highly spiced meats that are grilled at high temperatures in charcoal ovens. Indian spices offer trace minerals and nutrients that are great for warding off illness. Ask your server to suggest a vegetable dish made with little or no added fat or coconut milk. Indian food can be very caloric, but depending on the restaurant, there will always be vegetarian choices that are satisfying and low fat.

Japanese: This is a dieterís or travelerís dream cuisine. All sushi and sashimi is low calorie and high-quality protein thatís packed with omega 3ógreat brain food! Steamed edamame (steamed soy beans in the pod) will give you green energy. If youíre not a fan of raw fish, try chicken teriyaki, but ask for the sauce on the side.

Dr. Ro is currently Nutrition Contributor to NPR and Nutrition Advisor to "The Today Show." Named by "More" magazine as one of this countryís top five nutritionists, Dr. Ro is a leading African American health expert and author of the best-selling "Dr. Roís Ten Secrets to Liviní Healthy" (Bantam). Learn more about her at www.everythingRo.com.


---
---
---
Leave a Comment