Dad vs. Superdad
What happens to a family when a stepdad becomes more of a father figure than dad?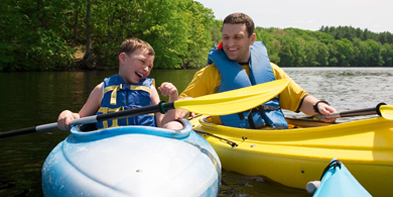 ---
We've all seen Mrs. Doubtfire, right? Robin Williams is so enamored with his children and so desperate to be around them after losing custody that he dresses up in drag, puts on a fake accent and lives an utterly ridiculous double life just to be near them. Sure, it was funny—and even touching at times—but it isn't exactly reality.

There are plenty of dads who love their children, want to be near them and want to care for them—those are the ones who typically seek and win joint custody. But what happens when a blended family is faced with one super-dad and one less hands-on father figure?

Debbie*'s story starts about eight years ago when she remarried and created a blended family, which included her two sons (ages 13 and 16) and the son and daughter (ages 13 and 10) of her new husband Marty. He's going for father of year, says Debbie. "He's such an active parent in every sense of the word—he took the kids on the weekend, he cooked for them, he even had tea parties with his daughter. He threw himself into being the best dad that he could."

When dealing with Marty's kids, Debbie quickly developed a good rapport with Marty's ex-wife and her new husband—it was an ideal situation. "It's imperative that women work together and learn to co-mother," says Susan Shapiro Barash, professor of gender studies and author of Women of Divorce and Second Wives.

Unfortunately, you can't always work with the other woman. Debbie's relationship with her ex-husband's new wife was non-existent and her ex was less than an active parent. "I wanted him to make more of a home for the boys, but he never really did," she says.

This created issues for Debbie's boys, and made them feel rejected by their father. The situation also made Debbie and her children jealous of Marty's relationship with his first family. But while they were jealous, they weren't resentful and Marty and the boys quickly developed strong relationships.

Still, Debbie felt like her sons were being cheated—and they felt that way too. Not to mention, Debbie's ex began getting jealous of the boys' relationship with their stepdad. Eventually, relationships with their father did improve as they grew up and become more independent.

Now why doesn't Debbie look back on raising kids in a blended family as a stressful time? It's not that it wasn't stressful, it's because Debbie and her new blended family had established solid boundaries.

The idea of boundaries and knowing your place sounds well and good, but it's still sort of nebulous. To spell it out, Barash offers these tips for keeping the peace in your marriage, between the two parenting households and with the kids when there's some form of joint custody:
Custody needs to be upheld. You made an agreement, now stick to it. It's ok to be somewhat flexible, since you never know what life will throw at you, but life will be a lot happier when you have clear boundaries in place.
Don't talk about the other home. That's only asking for trouble by opening the door for you to criticize, compare and undermine the other household, which can upset the kids, your spouse and the other set of parents—if they find out.
Don't disparage the stepparent or parent in front of the kids. Putting one person down won't raise your position in anyone's eyes. Plus, it'll make kids feel more divided internally, and though you should be open with your spouse behind closed doors, your spouse won't appreciate you putting extra stress on the little ones.
Be sensitive to your present spouse's needs while still fulfilling your obligation to your first family. You need to communicate openly with your new family and find a balance that works for everyone involved.
*Last name has been omitted to protect the person's privacy
---
---
---
Leave a Comment