6 Tips for Sharing Financial Info With Your Spouse

Don't let financial surprises derail your happy union. Follow these six tips.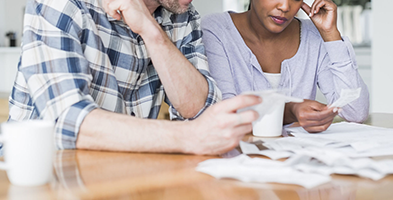 Are you and you spouse aware of one another's finances? Surveys show it is a big issue for couples. Itís important for couples to discuss finances at the earliest possible time in their relationship and to communicate frequently. Couples should also make sure they agree when it comes to financial practices such as budgeting and how to utilize credit throughout the marriage. Individually, each partner should make sure to be engaged with the household finances so they can protect themselves and their assets if nothing else can be done and the relationship ends.

---
MORE ARTICLES
4 Things You Didn't Know About Your Social Security Check

Social Security is just as important as other retirement assets and you should understand the benefits and ways to maximize your returns.
3 Strategies to Increase the Value of Your Financial Legacy

What will happen with the financial gains you've acquired over your lifetime after you pass? Here are a few things to consider.
5 Tips for Fostering Financial Harmony in Marriage

A little financial preparation and conversation can go a long way toward marital happiness.
4 Reasons a Life Insurance Policy Could Be Your Retirement Salvation

Life insurance can also provide an extra safety net for retirement with a lot of benefits.
3 Monumental Financial Mistakes People Make Before They Turn 50
Plan for Retirement by Understanding the 4 Basics of Money
Are You Leaving Your Beneficiaries A Tax Time Bomb?
4 Ways to Escape the Rental Trap
Are Wives Prepared for Life Alone As They Age?
3 Tips to Match Current Savings to Your Retirement Needs
5 Considerations Before Buying Your First Home
New Baby: Making the Proper Financial Preparations
If Lower Taxes Arrive Consider Converting to a Roth IRA
Quick Roadmap for Financial Compatibility
Couples Save By Celebrating Belated Valentineís Day
Why Itís Never Too Late To Have The Financial Conversation
Why Women Need Their Own Financial Identity†
5 Ways to Troubleshoot the Holidays
Are You A Financial Match?
Chore Distribution Affects Young Girls and Boys Differently
Saving For College? Why Bank Accounts Arenít Smart
The Secret to Being Filthy Rich
Solve This Buddhist Riddle for Financial Happiness
Save Money for Kid's College By Locking Up the Funds
College Savings Accounts: Understanding What You Can Do With a 529 Plan
How to Easily Save for Family Fun
Are You Saving Too Much For Your Kidsí College
Your Money: Shop Your Closets Before Hitting Back-to-School Sales
4 Practical Tips to Build a Usable Emergency Fund
How to Choose Auto Insurance
Simple Tips to Avoid Mortgage Fraud
5 Tips to Marry Financial Plans
Love and Marriage? What about Credit and Marriage?
3 Ways to Budget For Fun in Retirement
Are You Setting Realistic Retirement Plans?
3 Reasons Bad Credit Can Bungle Even the Best Relationships
Last Chance Tax Deductions for 2015
The Secret to Long Term Success
Want True Love? Prepare to Get Messy!
Study: How Does Parental Debt Effect a Child's Well-Being?
3 Ways Couples Should Talk About Their Finances
10 Bad Habits That Are Killing Your Finances
4 Ways To Get a Jump On Tax Season
Life Insurance is a Tough Sell For Millennials
5 Tips to Tame Financial Stress
5 Retirement Savings Tips For Millennials
Which of These 8 Money Styles Are You and Your Spouse?
5 Simple Ways to Limit Financial Conflict in Marriage
A Quick Credit Score Guide for Millennials
How Couples Can Stop Fighting About Money
Coupling Your Money: 3 Financial Tips for a Happy Union
5 Winter Shop & Saving Tips for Couples
10 Ways to Cut Costs While Having a Jolly Holiday Season
Why We Overspend During the Holidays (and How to Stop)
11 Tips for Black Friday Shoppers
New Money: How Newlyweds Should Combine Their Finances
An Understanding of How to Spend Your Money
Negotiating Can Change Your Life: Techniques to Help You Negotiate Anything
10 Things You Think You Need, But Really Donít
Consumerism: Why Trying to Keep Up Is Actually Keeping You Down
The 7 Financial Tips to Tell Your Kids Before They Leave for College
What We Buy and Why: The Product or the Brand
5 Tips On Purchasing Your First Home
3 Unique Ways to Spring Clean Your Finances
Assessing the Inequality of the American Banking System
4 Steps to Avoid Fighting Over Finances
3 Easy Financial Resolutions Couples Can Make for the New Year
10 Ways To Avoid Post-Holiday Regrets by Managing Your Finances
Take the Financial Pressures Off Your Marriage
6 Tips for Newlywed Couples Combining Finances
Taking Stock: 7 Positive Indications That the Stock Market Boom Is Here to Stay
3 Tips to Avoid Having Money Decisions Ruin a Good Marriage
10 Tips to Pay Less Taxes
The Tax Man Cometh: How to Avoid an Audit 101
Buying Your First Home
How Couples Can Save in Todayís Economy
7 Mistakes to Avoid on Your 2012 Tax Return
The Heart of Money: Breaking Free of the Money Taboo
Stress-Free Money Savings Tips for the Holidays
The Etiquette of Traveling With Your Boss
Are You and Your Spouse Financially Compatible?
Simple Tips to Save for Your Future
Financial Planning Part 3: Sizing Up Your Portfolio
Protecting Your Assets and Heirs in a Blended Family
Financial Planning Part 2: Retirement Planning
How to Protect Assets When Your Spouse Loses Their Mental Well-Being
Financial Planning Part 1: Donít Be Afraid to Ask
The Telltale Signs of Financial Infidelity
Dying Husband Wants to Give Everything to Children of First Marriage
How to Avoid Common Mistakes When Starting a Business
Saving a Financially Wounded Marriage: The New Trend
5 Easy Tips to Protect Your Privacy Online
Etiquette & Shopping Tips for Black Friday
Common Misconceptions with Homeownerís Insurance
How to Protect Your Parents & In-Laws from ID Theft
Planning for a Blissful Financial Future
What To Do If Your Spouse Becomes Unemployed
7 Ways College Students Can Protect Themselves from ID Theft
Your Credit Report: A Complete Guide
Being Financially Prepared for the Unexpected
Protecting The Identity Of Those Who Have Passed
Nest Egg 101: Invest Now, Benefit Later
Why Couples With Assets Should Bundle Their Insurance
Easy Ways to Build a Nest Egg
How to Discover and Recover from Identity Theft
13 Workplace Resolutions for 2010
Affair-Proof Your Marriage
Practice Behavior Promoting What You Value
7 Ways To Handle A Job Loss
Consider Your Assets
New Retirement Investing Trend: SPIA
Simple Steps to Create a Household Budget
7 Tips To Communicate Effectively
5 Ways to Start Off On the Right Financial Foot
How To Choose The Right Mortgage
4 Ways To Retire Without Worry
How To Freeze Your Credit
Discovering Your Money Memory
Take 5 Financial Steps to a Closer Marriage
Become Financially Independent from Parents
Tips to Get Your Spouse Back into the Workforce
Building Wealth in a Recession
Avoid Money Fights in Troubled Times
3 Things Couple Can Do Right Now to Protect Assets
Tools to Get Through a Bad Economy
Family, Finances and Fears
Buying Your First Home
Should You Pull Your 401(k) for a Home?
Tips on Protecting Your ID
Economic Survival 101: Smart Shopping
3 Tips For Picking The Right Rental Car Insurance
Relieve Your Debt In A Few Short Steps
Money Guidelines for 2009
Panic Time: Problems that Spell Real Financial Trouble
Curing the Financial Meltdown of 2008
Entertaining for the Holidays: In Style and on a Budget
What To Do If You or Your Spouse Lose Their Job?
Mutual Funds: The Confidence Game
Surviving the Economic Crisis Together
Home Insurance Basics
How to Raise Your Spirit in a Falling Market
Facing the Economic Panic of 2008
The "Unbirthday" Gift Guide
How To Throw A Proper Garage Sale
Insuring Your New Life
A Womanís World of Money
5 Ways Couples Can Cope During Troubled Financial Times
Retirement Planning Strategies
Tell Your Spouse How You Really Feel
Marriage Tax Penalty
Tax Time Checklist: A - Z
Tax Time for Newlyweds
Recession-Proofing Your Marriage
Get Your Financial House In Order
Holy Financial Matrimony: Retirement Edition
2 Financial Myths Dispelled
Newly Married Financial Checklist: Part 2
Simple Financial Happiness
Newly Married Financial Checklist
Financial Disclosure
Lendingís New Look
Getting Money to Start a Business
Saving for Juniorís College
Engage Your Banker
Your Changing LifeóInsurance
Newlywed Money 101
Renting From a Higher Bracket
Remodeling: Moneymaker or Money Pit?
Improve Your Fiscal Fitness
How to Pick A Financial Planner
Blending Finances
At Home Security
Mr. Sub-Prime!
IRA Or Roth IRA
Financial Priority
Estate Botching
Finances! Young Grasshopper
The "Shoebox Heir"
How Do I Invest In Stocks?
Bring On í07
Saving in '07
Holiday Spending
Lost Job
Educated Investment
Consolidating 401(k)
Discussing Dreams
Emergency Funds
Pampering Is Pricey
Refinance Dilemma
Unbalanced Checking