3 Easy Financial Resolutions Couples Can Make for the New Year

The new year is right around the corner, and it's time to get your financial house in order. Here are some great tips on where to start!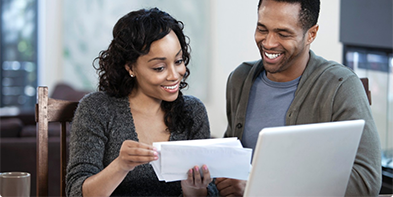 It's easier to commit to a New Year's resolution if you have company—and who better to team up with than your spouse? Like many couples, you may resolve to work together to improve your financial wellness. Just as you'll have better luck shedding a few pounds if you have support eliminating sugar from your diet, adopting healthier financial habits can be easier if you both commit to the goal.

Getting your financial house in order generally involves these three steps: save more, pay off your debt and plan for the future. The trouble is, many people simply articulate these goals. While listing these resolutions is terrific, it's just a first step. You need a plan to make each happen. So, how can you become more proactive to ensure your success?
---
MORE ARTICLES
10 Ways To Avoid Post-Holiday Regrets by Managing Your Finances

The holidays are filled with temptation to go overboard with spending. Here's how to manage your holiday spending.
Take the Financial Pressures Off Your Marriage

Financial problems can be tough, but don't let them define or destroy your marriage. Use these tips to build momentum and tackle your finances together.
6 Tips for Newlywed Couples Combining Finances

Discussing finances can often lead to arguments. Use these tips to pave the way for better communication.
Taking Stock: 7 Positive Indications That the Stock Market Boom Is Here to Stay

With the stock market hitting new highs, many people are asking if it's time to get back in? Yes! Here's seven reasons why.
3 Tips to Avoid Having Money Decisions Ruin a Good Marriage
10 Tips to Pay Less Taxes
The Tax Man Cometh: How to Avoid an Audit 101
Buying Your First Home
How Couples Can Save in Today's Economy
7 Mistakes to Avoid on Your 2012 Tax Return
The Heart of Money: Breaking Free of the Money Taboo
Stress-Free Money Savings Tips for the Holidays
The Etiquette of Traveling With Your Boss
Are You and Your Spouse Financially Compatible?
Simple Tips to Save for Your Future
Financial Planning Part 3: Sizing Up Your Portfolio
Protecting Your Assets and Heirs in a Blended Family
Financial Planning Part 2: Retirement Planning
How to Protect Assets When Your Spouse Loses Their Mental Well-Being
Financial Planning Part 1: Don't Be Afraid to Ask
The Telltale Signs of Financial Infidelity
Dying Husband Wants to Give Everything to Children of First Marriage
How to Avoid Common Mistakes When Starting a Business
Saving a Financially Wounded Marriage: The New Trend
5 Easy Tips to Protect Your Privacy Online
Etiquette & Shopping Tips for Black Friday
Common Misconceptions with Homeowner's Insurance
How to Protect Your Parents & In-Laws from ID Theft
Planning for a Blissful Financial Future
What To Do If Your Spouse Becomes Unemployed
7 Ways College Students Can Protect Themselves from ID Theft
Your Credit Report: A Complete Guide
Being Financially Prepared for the Unexpected
Protecting The Identity Of Those Who Have Passed
Nest Egg 101: Invest Now, Benefit Later
Why Couples With Assets Should Bundle Their Insurance
Easy Ways to Build a Nest Egg
How to Discover and Recover from Identity Theft
13 Workplace Resolutions for 2010
Affair-Proof Your Marriage
Practice Behavior Promoting What You Value
7 Ways To Handle A Job Loss
Consider Your Assets
New Retirement Investing Trend: SPIA
Simple Steps to Create a Household Budget
7 Tips To Communicate Effectively
5 Ways to Start Off On the Right Financial Foot
How To Choose The Right Mortgage
4 Ways To Retire Without Worry
How To Freeze Your Credit
Discovering Your Money Memory
Take 5 Financial Steps to a Closer Marriage
Become Financially Independent from Parents
Tips to Get Your Spouse Back into the Workforce
Building Wealth in a Recession
Avoid Money Fights in Troubled Times
3 Things Couple Can Do Right Now to Protect Assets
Tools to Get Through a Bad Economy
Family, Finances and Fears
Buying Your First Home
Should You Pull Your 401(k) for a Home?
Tips on Protecting Your ID
Economic Survival 101: Smart Shopping
3 Tips For Picking The Right Rental Car Insurance
Relieve Your Debt In A Few Short Steps
Money Guidelines for 2009
Panic Time: Problems that Spell Real Financial Trouble
Curing the Financial Meltdown of 2008
Entertaining for the Holidays: In Style and on a Budget
What To Do If You or Your Spouse Lose Their Job?
Mutual Funds: The Confidence Game
Surviving the Economic Crisis Together
Home Insurance Basics
How to Raise Your Spirit in a Falling Market
Facing the Economic Panic of 2008
The "Unbirthday" Gift Guide
How To Throw A Proper Garage Sale
Insuring Your New Life
A Woman's World of Money
5 Ways Couples Can Cope During Troubled Financial Times
Retirement Planning Strategies
Tell Your Spouse How You Really Feel
Marriage Tax Penalty
Tax Time Checklist: A - Z
Tax Time for Newlyweds
Recession-Proofing Your Marriage
Get Your Financial House In Order
Holy Financial Matrimony: Retirement Edition
2 Financial Myths Dispelled
Newly Married Financial Checklist: Part 2
Simple Financial Happiness
Newly Married Financial Checklist
Financial Disclosure
Lending's New Look
Getting Money to Start a Business
Saving for Junior's College
Engage Your Banker
Your Changing Life—Insurance
Newlywed Money 101
Renting From a Higher Bracket
Remodeling: Moneymaker or Money Pit?
Improve Your Fiscal Fitness
How to Pick A Financial Planner
Blending Finances
At Home Security
Mr. Sub-Prime!
IRA Or Roth IRA
Financial Priority
Estate Botching
Finances! Young Grasshopper
The "Shoebox Heir"
How Do I Invest In Stocks?
Bring On '07
Saving in '07
Holiday Spending
Lost Job
Educated Investment
Consolidating 401(k)
Discussing Dreams
Emergency Funds
Pampering Is Pricey
Refinance Dilemma
Unbalanced Checking