How to Get Through the Holidays Without Losing Your Mind

Take control of your life this holiday season and help maintain a peaceful environment with these simple tips.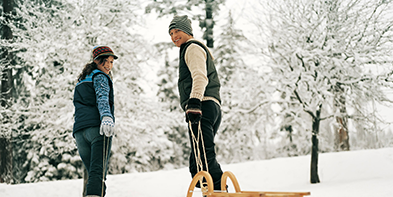 Here come the holidays. Do you find yourself getting frazzled on the hunt for a parking space or that new must-have doll? Are you and your soul mate at each other throats over where, when and with whom to celebrate the yuletide? Do the usual shenanigans of your ex feel so much more cutting when family time must be split?

Itís not your fault: Blame Amy!

Thatís right, take a breath, relax, and understand that you can put the blame squarely on Amy this year. Tell your spouse that she is to blame when your shrills remove the paint from the ceiling. You can also forgive that person who just pushed past you in a panic, it wasnít them at the mental wheel, it was Amy.
---
MORE ARTICLES
5 Tips to Help Moms Avoid the Holiday Blues

Donít let the holidays become overwhelming. Use these tips to stay on top and ahead of the game.
Stop Falling: Learn How To Live In Love

When falling in love you'll eventually hit the ground, whereas living in love can last a lifetime. Here are 5 tips to show you how.
How to Avoid Conflict with These 5 Traditional Holiday Grinches

Whether it's arguments about politics or you're asked, again, when you're having kids; use the following tips to defuse fights and enjoy the holiday season.
A Holiday Season After the Loss of a Loved One

The death of a loved one can be a powerful impetus to change the dynamics of your marriage, but also the driving force for creating family connection and new holiday traditions.
When Too Much of a Good Thing Sours a Marriage
6 Simple Ways to Develop Courage
Using Negativity as a Positive Reinforcement
The Laws of Feeling Happy
How to Create Great Communication with Your Spouse
What Keeps Marriages Together? It Depends on Your Gender!
What Is a Solution-Focused Marriage?
How To Turn A 'Need' Into Something More
Enlightened Self-Consciousness: A Warm Homecoming
Holiday Obligations: Decide When Enough is Enough, Say 'No' This Year
4 Practical Solutions to Make Your Second Marriage Fabulous
3 Questions to Awaken Your Capacity For Life
The Remarriage Blueprint
5 Ways to Turn Marriage Problems into Marriage Solutions
How To Be Happily Married
9 Ways to Beat the Post-Labor Day Blues
You Don't Have to Live Your Spouse's Dream
7 Ways to Accept Your Spouse Just As They Are
Uncovering the Unknown
5 Ingredients to Maintain a Great Marriage
Why Isnít All This Good Advice Working For You?
What To Do If Your Spouse Tunes You Out?
Marriage: Remember the Good Times to Get Through the Bad
Understanding Your Anger: Are You Reacting or Choosing?
Miscommunication: When What You Say Isnít What You Mean
How to Handle Loss as a Couple
3 Dangerous Tactics That Could Destroy Your Marriage
The Benefits of Conflict in Marriage
Making Your Marriage and Life, Meaningful
11 Ways to Say 'Thank You' This Father's Day
What Dads Really Want For Fatherís Day
5 Common Obstacles Newlyweds Face
10 Positive Opportunities to Come From Self-Doubt
Affairs: Beating Flame Addiction
Affairs: The Flame Addiction
Affairs: The Relationship Between Infidelity & Addiction
Moving Forward From A Painful Past
8 Ways to Make Your Marriage Juicy!
The Danger of Micromanaging Your Spouse
Learn to Stay in Control Instead of Jumping to Conclusions
Weeding the Relationship Garden
Don't Be a Marriage Martyr, Act With Loving Intent
5 Ways to Become Your Spouseís Best Friend
How To Stop Expecting the Worst
Gardening Your Marriage
Saying 'No' to Self Rejection
Take Back Your Power, Don't Apologize!
Making Your Marriage Easy
The Importance of Valentineís Day
Learning to Deal With Difficult Emotions on Valentine's
5 Ways to Deal with Your Valentine's Annoying Behavior
New Valentineís Day Tradition: Strengthen Your Love
The Way To Your Heart's Desire
Adding Value to Your Marriage
Changing Your Husband's Bad Habits
The 6 C's That Make Marriage Easy
The Day After Christmas: 5 Ways to Handle the Biggest Downer of the Year
Unwrapping the Perfect Holiday G.I.F.T.
Playful, Creative Solutions to Beat Family Dysfunction During the Holidays!
Christmas Traditions: Should You Break the Yearly Tie?
Improve Your Marriage By Letting Go of Fear and Pain
The Best Ways to Compliment Your Husband and Wife
Can Dirt Be Good For Your Marriage?
Declaring a Truce at the Holiday Dinner Table
The Importance of Keeping a Healthy Balancing Act
Lessons on Forgiveness
Rid Your Marriage from Childhood Ghosts
Surviving Football Season, Together
Can Positive Thinking Be Harmful?
How To Develop Character
How to Avoid Boredom in Your Marriage
Making It Through Troubled Times, Together!
Marriage Exercise: 10 Things I Love About You
The Power of Letting Go
Taking Your Marriage Back to the Future
The Power of Resilience In Your Marriage
3 Steps to Help Your Husband Build Integrity
Wanting More Than Just an OK Marriage
The ABCs of Good Communication with Your Spouse
6 Ways to Build Trust in Your Marriage
5 Qualities Your Husband Finds Irresistible
Simple Facebook Etiquette Everyone Should Know
Letting Go Of Control
10 Secrets That Destroy Marriages
Overcoming the Ineffectiveness of Multitasking
The Secret Meaning of Anger in a Marriage
'I'm Sorry:' Expressing Regret the Right Way
The 5 Best Things to Say to Your Husband or Wife
7 Secrets to Make True Romance Last
Making Change Begins With You
Investing in Your True SelfÖ If Not Now, When?
Marriage at a Crossroads? Take 5 Steps to Reconnect
5 Marriage Myths Exposed
Trusting Yourself in Marriage
How to Tell if Your Friend is a Seducer
The Number One Cause of Relationship Ruin
You Really Are What You Eat
Don't Let Shame Subvert Your Marriage
5 Must-Do Secrets for a Healthy Marriage
What Happy Couples Do Differently
Fighting Fair: The Rules of Engagement for Love and War
Common Symptoms of Communication Breakdowns in Marriage
A Marriage-Saving Tip on Making Decisions
Lessons Learned from Challenged Marriages
Balancing Nice and Assertive Personalities in Marriage
New Year's Resolution Tips that Really Work
13 Ways to Add Fun and Adventure to the New Year
Curing Holiday Loneliness
How to be Happy When the Holidays Are Over
Downsize: Let Love Blossom by Letting Things Go
4 Male Myths Debunked
7 Ways to Release Anger Out of Your Body
12 High School Reunion Etiquette Tips
How to Focus On The Positive
Struggling for the Perfect Anniversary Gift
Marriage Boot Camp - Week 3: The Strength in Real Communication
Get Enthusiastic About Your Marriage
Marriage Boot Camp - Week 2: Flexibility and Stretching Your Boundaries
Marriage Boot Camp - Week 1: Revitalizing Your Thinking
Worried Wife is Home Pregnant, Husband Gone Fishing
How to Motivate Your Spouse
8 Things to Keep From Your Husband
The Dark Side of Divorce
Enabling Versus Helping Your Spouse
Saying "No" To Selflessness
How To Get Where You Want To Go
Are You Compatible with Your Spouse?
Train Your Brain To Be a Better Spouse
What to Say to a Military Spouse
How Active Listening Can Deepen Your Marriage
Why Women Are More Prone to Depression Than Men
The Difference Between Approval and Love
Why Genders Differ on Household Chores
Creating Your Own Rules for Marriage
The Fear of Love
Can Married People Have Opposite Sex Friends?
6 Research-Proven Habits for Happy Marriages
Stop Giving Advice!
Mentally Prepare to Improve Communication with Your Spouse
Understanding and Resolving Conflicting Goals in Marriage
Avoiding 6 Common Reasons for Having an Affair
Maintain a Solid Marriage by Being Silly
Chipping Away to Reveal Love in Marriage
Patching Holes in Your Marriage
How to Handle Argumentative Couples
30-Second Love Tips
4 Ways to Add Spontaneity to Your Marriage
Breaking the Same Argument Cycle in Marriage
How to Handle a Friend's Divorce
How to Talk Less to Get What You Want
Tips to Becoming a Great Communicator in Your Marriage
How to Respond Proactively to Negative Situations
Answering Valentineís Day Questions
Taking Control of Expectations
Listening To Your Intuition
16 Courtesies That Say "I Love You" Without Saying a Word
Why Crying is a Turnoff to Your Husband
Break Free from Self-Pity!
Setting the Tone for the First Year of Marriage
7 Tips for Creating a Harmonious New Year
How to Create the Holidays You Want
6 Steps to A Happier Holiday Together
Fixing Communication Issues in Your Marriage
How Positive Language Affects Marriage
How to Stop Pointing the Finger
How to Say "No" During the Holidays
The Importance of Gratitude in Your Marriage
Living Your Own Life
Why Empathy Really Matters
Finding An Emotional Connection With Your Spouse
Considerations if Deciding to Stay or Leave Your Marriage
4 Ways to Change Your Perspective on Negative Events
Teach Your Children: 2. How to Discuss Difficult SubjectsóSpecifically Money
Why Your Marriage Needs Energy To Grow
How to Create Positives from Negatives in Marriage
Is Technology (Especially Texting) Ruining Your Marriage?
Spark Your Marriage with Teenage Love
Simple Steps to "Decorate" Your Marriage in Your Style
Avoiding Clashes With the In-Laws
5 Ways to Fix an Unaffectionate Spouse
The Myth of the Perfect Marriage
How To Communicate What You Are Saying
5 Relationship Skills to Teach Your Children: 1. Behavioral Changes
How to Change Your Husband Back into the Man You Married
7 Signs of a Failing Marriage
View Your Marriage From All Angles
How to Preserve Love and Passion in Your Marriage
How Marriage Counseling Can Help, Now!
How to Predict a Cheating Spouse
5 Happiness and Health Lessons for Couples
Overcome the Curse of Your Spouseís Perfectionism
Building A Compassionate Marriage
Making The Right Decisions in Marriage
Releasing the Negative from Your Marriage
Are You a Controlling Wife?
3 Things to Consider Before Divorce: 3. The Emotional Toll
Overcome Jealousy in Your Marriage
The Rules of Unconditional Love
5 Tips to Increase the Fun in Your Marriage
6 Ways to Create a Strong and Healthy Marriage
Overcoming Personal Fears in Marriage
How to Mend the Gap in a Disconnected Marriage
Building a Strong Marital Foundation for Life
5 Signs You Donít Fight Fair in Your Marriage
Successful Marriages Start With Relationship Mentors
Make This Year's Valentineís Day Experience Unique
Dealing With Husbands Who Forget Valentineís Day
5 Ways to Beat Valentineís Day Stress
Perfect Valentine's Gift: Listening with Your Heart
Understanding Your Spouseís Needs and Wants
Cleaning Up Your Marriage
3 Common Marriage Myths Busted
3 Steps to Make Resolutions Stick
6 Ways to Cheat-Proof Your Marriage
3 Things to Consider Before Divorce: 1. The Financial Picture
The Importance of Apology in Marriage
New Year's Resolutions for Your Marriage
9 Ways Couples Must Agree
Holiday Thank You Note Etiquette
Working Together with your Spouse
3 Things to Consider Before Divorce: An Overview
Use Monologing to Save Your Holidays
A Sure Cure for Holiday Stress
Creating a Spouse from Scratch
Should You Give Your Spouse an Ultimatum?
Dealing With Tragedy
Marriage Etiquette 101
Stopping Fights Before the Holidays
Communicate More Effectively with Proper Body Language
The Importance of Adult Play
Ditching the Negativity In Your Marriage
Understanding Your Spouse's Point of View
5 Ways To Regain Love In Your Marriage
How To Solve Your Marital Problems
Don't Talk Trash About Your Spouse
How To Avoid the Post-Wedding Blues
Why Marriages Need Support After A Spouse Comes Out of Rehab for Alcoholism
Getting Your Husband to Take Responsibility
Building A Strong Family Bond
How To Make Your Spouse Feel Loved
Knowing the Truth About Yourself
5 Warning Signs Of E-Infidelity
Avoid Infidelity by Sharing Everything with Your Spouse
Taking Worry Out of Your Marriage
7 Tips For Dealing With An Affair
The 10 Commandments of Marriage: 10. Make Special Time for Yourself
Get Your Spouse to Appreciate You
How to Protect Your Marriage from Gossip
How To Get Your Spouse To See A Therapist
Is Your Marriage in a Recession?
7 Simple Tips to Communicate Effectively with Your Spouse
Coping With an Out-of-Work Husband
Avoid Panic In Your Marriage
How to Increase Emotional Attachments in Your Marriage
7 Powerful Ways to Make Your Marriage Last
Commandment 9. Develop Mutual Interests
Connect With Your Spouse Through Empathy
Reaching Compromises on In-Law Issues
Building Emotional Connections in Your Marriage
A Quick Guide To Happiness
Don't Be a Party Pooper In Your Marriage
Staying Committed and Keeping That Spark Alive!
Commandment 8. Resolve Arguments One Issue at a Time
5 Tips For After-Wedding Obligations
8 Tips to Spring Clean Your Marriage
7 Tips to Finding the Right Marriage Counselor
Putting Your Spouse Before Your Parents
Tips To Resuscitate Your Marriage
Is Going to Bed Angry Bad for You?
5 Steps for Letting Go of Hurt in Your Marriage
Is The Honeymoon Over?
Being Independent and Together
Movie Madness
The 10 Commandments of Marriage: 7. Praise Your Spouse
Commitment and Your Spouse
Making Your Marriage Last
Attachment Isnít Really Bad
Free Gifts for Valentine's Day
Donít Let Stress Steal Your Heart Away
What Really Matters On Valentineís Day
Taking Action With Love
5 Ways to Beat Valentine's Day Stress
A True Valentineís Day Gift
Writing Your Own Love Story
Directions for Men on Valentineís Day
How to Brighten the Winter Blahs
The 10 Commandments Of Marriage: 6. Leave The Baggage At The Door
Fast, Simple Ways To Improve Your Marriage
Getting Along With The In-laws
The Most Important Argument Youíll Ever Have in Your Marriage
Keeping Intimacy In Your Marriage
5 Ways to Make Your Marriage Stronger
Enhance Your Relationship Through Rituals
The Pressure of Resolutions
The 10 Commandments of Marriage: 5. Donít Expect Your Spouse To Be a Mind Reader
Starting Fresh: A New Year for Your Marriage
20 Tips for the New Year
How to Replace Holiday Fighting with Loving
Commonly Asked Holiday Gift Giving Questions
Spreading Holiday Cheer
How to Guard Against Resentment-Buildup with Your Spouse
5 Tips for Being a Great Spouse During The Holidays
Fending Off Family Feuds During the Festivities
Holiday Party Guide
Tips For A Stress-Free Thanksgiving
6 Tips for Resolving Your Thanksgiving Hassles
Use Your Differences as Relationship-Builders
The 10 Commandments Of Marriage: 4. Argue Constructively
Argue with Your Spouse the Right Way
Rejuvenate Your Marriage by Renewing Your Vows
The Pull of the Familiar
How Strangers Can Improve Your Marriage
Commandment 3: Make Dates With Your Spouse
Intuition and Infidelity
How To Say ďI Love YouĒ Without Uttering a Word
Improving on Yourself
Helpful Phrases for Political Arguments in Your Relationship
How to Grow the Love in Your Marriage
3 Tips for Making Marriage Last Forever
Save Your Marriage By Taking Time For Yourself
8 Ways to Keep It Fresh
The 10 Commandments of Marriage: 2. Communicate With Your Spouse
How To Be a Happier Person
How to Complain with Grace
A Woman's Intuition: 8 Ways to Open the Door
Brick Walls Stop Intimacy
What To Do When The Honeymoon Is Over
The 10 Commandments of Marriage: 1. Prioritize Your Partner Over Everything
Friendship First, Lovers Second
13 Ways to Keep Your Husband Happy
Living a Life on "Autopilot"
7 Warning Signs of a Troubled Relationship
Fixing A Wrecked Relationship: Itís Easier Than You Think!
Write Letters to Work Out Arguments
Coffee Shop Class
Open the Door to Your Differences
Control Battles In Your Relationship
Clearing the Air
Chivalry At The Pump
14 Ways To Keep Your Wife Happy
Do You Know Your Spouseís Dreams?
Salvaging A Broken Relationship
Wired to Connect
Let Out the Anger
The Fallacy of Control
Reconcilable Differences
Mind of a Married Man
Itís Not Too Late for a "March Madness" Party
Creating An Easter Basket for Your Spouse
All You Have To Do Is Ask
How Well Do You Really Know Your Spouse?
Strengthen Your Marriage
The Power of Communicating
The 5 Percent Resolution
Take Charge of Your Own Happiness
The Gift of Presence