Product Review: Male Masturbation Toys
An oft kept secret among men these devices are not only popular, but a must-have item for the bedroom.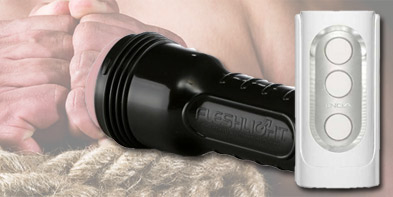 Illustration by Gabriel Lefrancois
---
It's no secret what every man's favorite toy is... his dick! Experts report that about 94% of adult men masturbate regularly. So why not do it with an amazing masturbation sleeve or device? There are toys on the market that will produce some extremely powerful orgasms. Toys in this area range from simple sleeves to pocket pussies to Fleshlights to the new Tenga Flip. The Fleshlight is the top selling male sex toy in the world. However, the Tenga Flip (and the various other male masturbation tools in the Tenga line) are extremely popular in Japan and sure to be a favorite for men in North America.

These tools can also be enhanced with the use of some lubes, but that's for another column. Saying as much, many male masturbation tools come with some lubes to get you started. Here are a look at two of the most popular toys being sold today.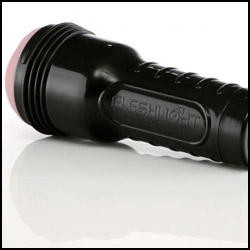 Fleshlight


You could already figure out that this toy is personal, but you can also personalize it. You are able to select the case color, the orifice and texture. There are also models for stamina building and another that provides a vibrating sensation.



Positives:


* Comes in many models including; vulva, butt, & mouth with numerous textures
* Can be used with or without the plastic case for different sensations



Negatives:


* Hard to clean
* Too big and bulky and guys still need to 'stroke' their penis

Overall Rating: 3/5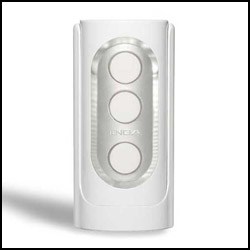 Tenga Flip


What happens when an automobile engineer with specialty in valves and suction is asked to create a male masturbation product? He produces the amazing Tenga Flip. It has three buttons that provide three different suction stimulations when pushed, which means you don't have to stroke this product to feel the benefits.



Positives:



* State-of-the-art suction technology that sucks with barely any arm motion
* Completely opens up so it is easy to clean and features a built-in drying rack



Negatives:


* About 7-inches deep, so if a guy has an above average penis size he may hit the end
* The three lubes it comes with dry out too quickly (I recommend using Gun Oil H20)

Overall Rating: 5/5

Dr. Brian Parker is a sexologist and sex educator and the creator of two sexual intimacy board games "Embrace" and "Pillow Talk". The games are available on his website, www.foreverpleasure.com which features original erotic art, high-end sensual products and adult sex education.


---