6 Steps to A Happier Holiday Together
How you and your spouse can make your first holiday season merry and bright.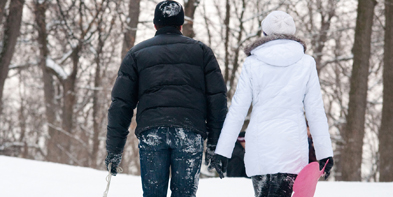 ---
"
Itís your first Christmas together and it may be tempting to go all out, but set a tradition of living within your means."
The holidays are a time of rituals and traditions. As a newly married couple, itís a time to examine your own expectations and attitudes about the holidays and begin to establish your own ways to celebrate.

Since each of you comes to the relationship with your own ideas about what the holidays mean and the "right" way to mark them, itís an opportunity to merge traditions and create new ones of your own. Here are six steps to a merrier holiday season:



1. Communication.

Before the mad rush of the holidays gets underway and the first invitations start to trickle in, talk with each other about whatís most important to each of you during the season. Is it seeing family (or maybe avoiding them)? What office parties or other important functions are on the horizon? Is it absolutely crucial to spend one night with cookies and hot cocoa watching Ralphie in "A Christmas Story?"



2. Compromise.

Growing up, your family has always opened gifts on Christmas Eve; your spouse insists that Christmas morning is the time to open gifts. In an effort to preserve the peace and harmony that the holidays signify, come up with a solution that works for both of you. Maybe open a couple of presents the night before and open presents from Santa in the morning.



3. Flexibility.

You may have things that are "musts" during the holidays, and your spouse may too. Be prepared for some give and take as you experience the holidays as a couple. Youíre forging your own traditions; make sure fighting over where youíre going for Christmas dinner isnít one of them.



4. Budget.

Itís your first Christmas together and it may be tempting to go all out, but set a tradition of living within your means. Discuss how much you can spend as a couple on gifts, entertainment, party clothes, etc. so you are both on the same page and there are no unpleasant surprises when credit card bills roll around in January.



5. Celebrate!

Congratulationsóitís your first holiday as a married couple! Enjoy the season together in simple yet meaningful ways. For instance, put some new special keepsake ornaments on the tree, put up the holiday decorations together, take an evening walk through the neighborhood to look at the holiday lights, maybe pop open a bottle of champagne on a chilly December evening and cuddle by a fire.



6. Remember.

The holidays are full of fun, expectation and excitement; itís easy to get carried away by it all. But above all, make each other a priority. When you focus on the happiness of your spouse, you can create holiday magic that lasts all year.

Diane Gottsman, a nationally recognized etiquette expert, is the owner of The Protocol School of Texas, a company specializing in etiquette training for corporations, universities and individuals, striving to polish their interpersonal skills. You can reach Diane at 877-490-1077 or www.protocolschooloftexas.com. You can also follow her on Twitter @: www.twitter.com/DianeGottsman.


---
---
---
Leave a Comment