Haunting Good Dates
Carving pumpkins not your bag? Here's a handful of unique ideas for you hitched Halloweeners.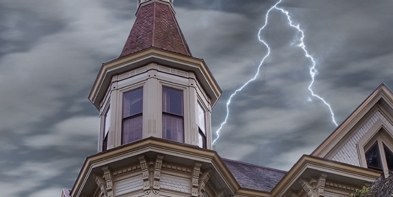 ---
October 31st can mean more than passing out candies to your neighborhood kids. Nowadays, Halloween has become just as much of a pastime for adults as it is children, and what better way to celebrate the holiday than with your best treat of all—if you were just thinking of that king size Snickers bar the rich neighbors always pass out, shame on you. We're talking about your scream supreme partner in crime, life and bed; your spouse. Sure there's the costume parties and theme parks turned booseville, but this spooky occasion is also an opportune time to try a little something different. And we don't just mean the scantily clad Halloween costumes for women that are so de rigeur nowadays, though they could spice up the night!



A Real Haunted Mansion


If you're down for a little getaway during the Halloween season, Rosario Resort & Spa on Orcas Island has their "Halloween at the Mansion" package for the month of October. Apparently the mansion, built in 1909 and listed on the National Register of Historical Places, is haunted. Donald Rheem and his wife were the mansion's second owners, but the Mrs. must've loved it more, because her ghost still lingers. "Staff and guests of Rosario have documented several ghost sightings over the years," says Rosario Resort general manager Jim Bankson of the friendly ghost. Guests of the hotel will get an "up-close and personal tour of the haunted hotel, but if you're apparition appetite is especially monstrous, from October 28 through November 4 guests can go on another special tour hosted by real life ghost busters, the Freelance Supernatural Investigations (FSI). You probably won't get slimed, but you will get to see research, results and equipment used to detect paranormal activity at Rosario, because FSI will be overnight guests that week too!



Shark Attack


The theme park gone Halloween is usually pretty standard, but Adventure Aquarium isn't your average theme park. The Camden, New Jersey, aquarium calls their event "Creep in the Deep," and it comes decked out in Halloween décor and personnel outfitted accordingly. What's cool is that you can go inside their 550,000-gallon Shark Realm to swim and feed sand tiger, sandbar, nurse and barracuda sharks. Definitely beats bobbing for apples! You can also head over to Stingray Lagoon to cavort and feed dozens of stingrays, these have gotten scarier amid recent events. If you're a scaredy cat about getting wet, you can stand on a catwalk above Shark Realm in a harness and dangle fish on a six foot pole.



Murder Mystery


Another twist on something familiar is Five Crowns' new Halloween Murder Mystery Dinner. This fine dining establishment in Corona del Mar, California, is loved for its decadent meals, Old English-style décor, including the servers dress. The entertainment might include "odd behavior," a visit by Five Crowns' resident ghost and is said to be interactive. But no matter what, how many dinner theaters can you say you've been to that includes a four-course dinner boasting porcini mushroom raviolis, roasted prime rib and a strawberry English trifle?



Virtual Grave Digging


Combine the past with present by using your PDA to satisfy your morbid curiosity. Earthcomber's GPS-enabled guide to famous graves called Find a Grave lets you do a little "grave digging" by looking for nearby graves, potentially housing famous people, and learning some interesting things about those already six feet under.



Wine & Candy


Now if all this outdoor madness is a bit much for you homebodies, don't worry because there's still fun to be had in your very own abode. Let's face it, one of the best parts of Halloween is the abundance of sweets and the National Confectioners Association (NCA) isn't just looking out for kids. If you're still a kid at heart with a valid ID to legally booze, consider a happy medium of taste and class with one of NCA's suggestion—candy and wine pairing. (If liquor isn't your thing, visit NCA's www.candyusa.org to find recipes on all kinds of candy related goodies to make or bake.) Whether you head to the grocery store or a winery, you can find wines that will do justice and more to your favorite sweets. NCA's rep says to "Match the sweet vanilla of candy corn with a classic Chardonnay or Champagne. Sip Shiraz to bring out the flavor of your favorite milk chocolate candy bar. Hard candy and gummies; enjoy with a dry white!" Hey, I'll drink to that! Happy Halloween, whatever you and your significant other decide to do!




---