Product Review: G-Spot Vibrators
Yes, the G-spot is real! And these toys were built to get you there.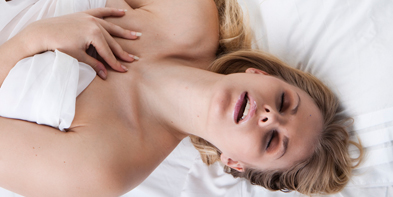 DepositPhotos; Cal Exotics; Lelo
---
G-spot vibes are curved at the tip to stimulate the G-spot. The G-spot or Grafenberg Spot is about an inch and a half to two inches inside the vaginal wall. You can find the G-spot by inserting a finger, vibe, or dildo into the vaginal canal. Gently bend your finger or toy straight up towards the urethra in a 'come hither' motion and search for a bean-shaped gland. The G-spot will be raised.

It is easier to find a woman's G-spot when she is aroused and clitoral stimulation is the best way to achieve this. You can use your G-spot vibrator to stimulate the clitoris beforehand. During arousal, the vaginal canal expands in length to about 6 inches. During this time, the G-spot swells with fluid and is more sensitive to touch.

Many women find this area extremely pleasurable when touched and the G-spot area responds best to firm pressure with a mild vibration. A silicone vibe designed for G-spot stimulation works best to pleasure this area. Today, I'll look at two G-spot vibes.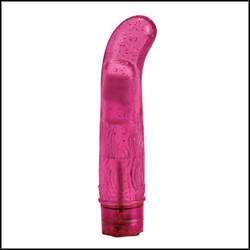 Hot Pinks G-Spot Vibe


This glittery soft jelly vibrator by Cal Exotics buzzes with 10 speed variations and is ready to be taken into the shower. However, the jelly isn't very firm and the material contains pthalates (chemicals you don't want in your sex toys). This vibe has an EZ on/off button, but the buzz this G-spot vibe provides is a little weak.



Positives:


* Has 10 vibrational patterns
* Completely waterproof (can be submerged in water)



Negatives:


* Soft jelly isn't firm enough and contains pthalates
* Two AA batteries doesn't give this vibe enough power

Overall Rating: 1/5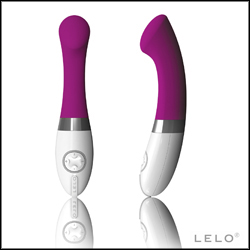 LELO Gigi


Rechargeable, durable and body-safe silicone. The LELO Gigi vibe is phalate-free and offers up to four hours of pleasure on a single charge. Hide it in a drawer for up to 90 days in standby mode without needing to recharge it. The Gigi also comes in a satin pouch inside of a gift box for a little added privacy upon transportation. However, this vide isn't water proof, just water resistant. The stiffer silicone body also provides the firm touch to his all the right buttons.



Positives:


* Quiet, yet powerful (and rechargeable) motor with five vibrational patterns
* Firm medical grade silicone with a perfectly shaped G-Spot tip


Negatives:


* More expensive than many of the cheaply made G-Spot vibes
* Not completely waterproof, just water-resistant

Overall Rating: 4.5/5

Dr. Brian Parker is a sexologist and sex educator and the creator of two sexual intimacy board games "Embrace" and "Pillow Talk". The games are available on his website, www.foreverpleasure.com which features original erotic art, high-end sensual products and adult sex education.


---