Sherry Braised Chicken Thighs with Meyer Lemons & Olives
A healthy weekday chicken dish that is easy to throw together and is delicious.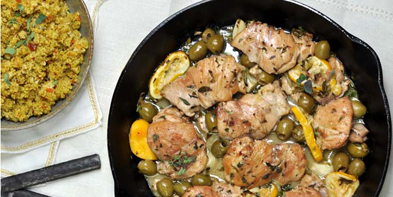 ---
"
ÖCloves left in big chunks get surprisingly mellow when cooked in the braising liquid."
One of the questions people frequently ask me is "do you cook every night?" The short answer is "no," but what I really want to say is "define cook." We certainly donít eat out every night and even when I donít cook a full meal, thereís almost always something to forage from the refrigerator rather than eat fast food. Sometimes dinner is a mixture of home cooked and store bought. And speaking of fast food, while I havenít eaten anything from a large chain fast food place in over two years, we often go to our local Vietnamese, Thai and Mexican places, which dish up a pretty darn fast bun cha, tom kha gai, or burrito mojado. Thatís my idea of fast food now.

When I do cook dinner at home, itís often something quick because, like many people, I work a full-time job with a long commute. The last thing I want to do when I get home is make a multi-course meal that takes hours to complete. This dish fits into my "Easy Weeknight Meals" tag, because start to table it takes about 30-40 minutes. Thereís not a lot of prep work and while the chicken is cooking you can make the sides (cous cous is one of the fastest side dishes ever!) and a vegetable to go with it. In addition, the dish is pretty forgiving in that if you need to hold it for a late dinner arrival, you can keep it in a warm oven, covered (just add a little extra chicken stock so that all the sauce does not reduce away).

I recently made this dish for my husband who loved it and said, "it just tastes healthy." I think itís the sweetness of the sherry and the Meyer lemons plus the freshness of the herbs he was talking about. Plus he loves garlic, and the cloves left in big chunks get surprisingly mellow when cooked in the braising liquid. I served this over cous cous with quickly sauteed chard and beet greens from my garden.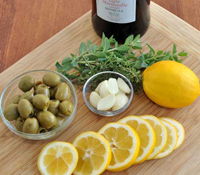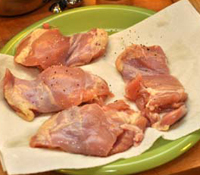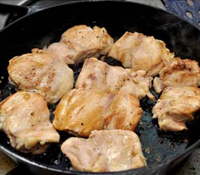 Ingredients:
1 tbsp. olive oil
1.5 - 2 lbs boneless, skinless, chicken thighs
2 each Meyer lemons, one juiced, one sliced in rounds
1/2 cup (2.75 oz wt.) green olives, pitted
5 garlic cloves, cut in half
1/3 cup sherry wine
1 cup chicken stock
fresh thyme and oregano (about .25 oz. total), chopped
salt and pepper to taste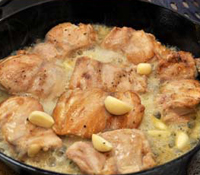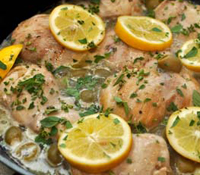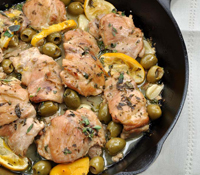 Directions:


1.

Preheat oven to 300 degrees (optional, see below).



2.

Put the chicken pieces on a plate and pat dry with a paper towel. Season with salt and black pepper.



3.

Heat a large cast iron frying pan until hot and then add the olive oil. A cast iron pan isnít necessary if you don't have one; a regular heavy bottomed frying pan will work fine.



4.

Place the chicken in the pan (on what would have been) skin-side-down and cook for about 2 minutes until browned on that side. Turn the pieces over and cook for another 2 minutes.



5.

Add the sherry and the garlic cloves and let the sherry reduce by about 50%. Add the chicken stock, lemon juice and green olives. Sprinkle half of the chopped herbs on top along with the lemon slices and then cover with a lid.



6.

At this point you can reduce the heat to low and cook on the stovetop or place the pan in the oven. I prefer the oven because it provides a more even temperature and cooking process. Cook covered for about 20 minutes until the chicken is cooked through and very tender.



7.

Remove the lid and if desired, cook for a few minutes more, allowing the sauce to slightly reduce.

Serves 4

Kristina Johnson's friends and family always introduce her saying, "This is Kristina, sheís a chef." Inevitably, the next question is "Really? Where do you work?" to which Kristina replies, "Well, Iím a former chef who still works in the restaurant businessÖ" It's complicated. Today, Kristina still loves to cook and share that passion with others and does so with her blog FormerChef (http://formerchef.com). Kristina is equally as passionate about travel and shares her experiences at www.wired2theworld.com. Kristina is equally as talented in photography and shoots all her own photos for both websites.


---
---
---
Leave a Comment