25 Marriage Tweeps You Should Follow
If you're on Twitter, these are the people and institutions who discuss marriage that you need to start following.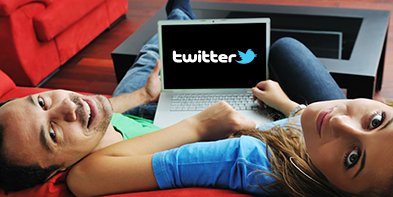 ---
"
Laura is an engaging resource for marriage information, offering tips, links, and commentary."
For those who follow us on Twitter (@hitchedmedia), you know how much we tweet. We recently surpassed 10,000 posts, which got us thinking, who do we look forward to tweeting with on a daily basis?

This list was difficult to put together since there are so many great marriage supporters on Twitter (stay tuned for a follow-up list in the future). To help narrow it down, we decided that only those who tweet very regularly would be considered. We also tried to include tweeps who don't just post, but also engage on Twitter. Here is our list (in alphabetical order) of must-follow marriage tweeps.



Esther Boykin


@estherbMFT
Esther Boykin is a marriage and family therapist and also the co-founder of Group Therapy Associates. Aside from marriage information, Esther also tweets a bit about parenting and teens. Moreover, Esther engages in a lot of conversations with other tweeps.



Denise J Charles


@speakwrite
Denise Charles is the executive director for the Better Blends Relationship Institute, author and sex expert. Denise regularly tweets great content and advice and is a regular contributor to Hitched.



Social Media Couple


@techlationships
This Twitter feed comes from married couple, Jason and Kelli Krafsky, authors of "Facebook and Your Marriage." As technology and relationships continue to cross paths, this is the feed to follow for the latest information and tips.



Michele Weiner-Davis


@DivorceBusting
Michele Weiner-Davis is the best selling author of "Divorce Busting" and "The Sex-Starved Marriage," in addition to being a marriage therapist and public speaker. Michele tweets great marriage tips, video clips, and much more. Among other things, Michele is a great person to follow if you're looking for regular bites of marriage information.



The Dating Divas


@DatingDivas
The Dating Divas are a group of really talented women who aim to strengthen marriages one date at a time. If you're looking for really creative date ideas, this is the feed to follow.



Lesli Doares


@LesliDoares
Lesli Doares is a North Carolina-based marriage and family therapist and a regular presence on Twitter. Lesli provides lots of feedback on the marriage information that flies around Twitter, adding great insight to the conversations.



Carin Goldstein


@BeTheSmartWife
Carin Goldstein is a marriage and family therapist and also the author of bethesmartwife.com. Carin regularly blogs and posts videos helping women to be smarter wives.



Diane Gottsman


@DianeGottsman
If you have an etiquette question, Diane is the go-to person on Twitter. Diane is also a corporate and university etiquette trainer, author and, of course, regular Hitched contributor.



Rebecca Jorgensen


@EFTdoc
Rebecca Jorgensen, PhD, is one of the most qualified therapists on Twitter. By her handle, you may have guessed that her specialty is Emotionally Focused Therapy (EFT), getting her training from Dr. Susan Johnson. Becca is a constant positive presence on Twitter providing great quotes, links, research, conversation and more.



Lisa Brookes Kift


@LisaKiftTherapy
Lisa Brookes Kift is a marriage and family therapist, the author of Therapy-At-Home Workbooks and the creator of The Toolbox (marriage-strengthening resources). Lisa tweets a lot, and has a ton of really great information and knowledge to share.



Good Clean Love


@goodcleanlove
Regular Hitched contributor Wendy Stragr is the founder of Good Clean Love, a company specializing in organic love products. This is the company feed and they regularly tweet great love advice for your mind, body, bedroom and soul.



Lori Lowe


@LoriLowe
Lori Lowe is an author and marriage researcher who shares advice from experts in the fields of psychology and relationships. Lori regularly tweets the latest research and marriage information.



Patty Newbold


@married
Aside from having a great Twitter handle, Patty Newbold is a marriage educator and author of the blog AssumeLove.com. Patty tweets and retweets lots of great marriage-related information and is someone who regularly engages in Twitter conversations.



Dr. Rich Nicastro


@RelationshipAid
Dr. Rich Nicastro is a psychologist specializing in marital and relationship issues. Rich creates and links to a lot of his own content, which is great by the way, and regularly shares a lot of tips and marriage advice from other worthy sources.



Dr. Terri Orbuch


@DrTerriLoveDr
Dr. Terri Orbuch's credentials couldn't fit in 140 characters, or multiple pages for that matter. Among other things, Terri is the author of, "5 Simple Steps to Take Your Marriage from Good to Great," based on her marriage research that stretches decades—the longest study of its kind. On Twitter, Terri is a great source of helpful marriage information.



Gina Parris


@GinaParris
Gina Parris is a performance coach who tweets a lot about sex and marriage. Gina is also the co-host of sexymarriageradio.com. Gina is one of the great conversationalists on Twitter that gives it a personal feel.



Chip & Cherry Pepper


@MarriedSpice
From married couple "Chip" and "Cherry," authors of the blog marriedspice.com, these two are terrific conversationalists on Twitter. They regularly provide feedback on tweets and offer their own great tips.



Barbara J Peters


@CouplesAuthor
Barbara Peters is a licensed relationship counselor and author of two relationship books. Barbara is another one of the great conversationalists on Twitter, in between her time sharing great marriage and relationship information.



Tara Parker-Pope


@taraparkerpope
Tara Parker-Pope is a health writer for the New York Times and is also the author of "For Better: The Science of a Good Marriage," a great book chock full of marriage research. Tara tweets about all the latest health and marriage research as reported through the NY Times and is a must-follow.



Dr. Trina Read


@DrTrinaRead
Dr. Trina Read, one of the original Hitched contributors, is perhaps our greatest source of sex information on Twitter. She tweets, news, videos, advice and much more. If you're interested in sex information, Trina is a must follow.



RelationshipsCA.org


@relationshipsca
This is the Twitter feed for Healthy Relationships California, a non-profit organization that provides skill-based relationship education programs, is the facilitator of public awareness campaigns and much more. In short, they tweet a lot and are an amazing resource for marriage tips and information.



Dr. Karen Sherman


@DrKarenSherman
Dr. Karen Sherman is a psychologist, author, and professor who focuses on helping others have empowered relationships while reaching their fullest potential. Karen posts lots of really great relationship information and is also one of the original Hitched contributors.



StrengthenMarriage


@LauraBrotherson
Laura Brotherson is a marriage and intimacy expert, founder of The Marital Intimacy Institute, best-selling author, and host of a weekly audiocast "The Marital Intimacy Show." Laura is an engaging resource for marriage information, offering tips, links, and commentary.



Newlywed Survival


@NewlywedSurvive
The Newlywed Survival Twitter feed comes from a relatively new website newlywedsurvival.com, which provides information for newlyweds. This feed is constantly getting updated with links and other great information for those who are just starting their married life together.



Elizabeth Weil


@lizweil
Elizabeth Weil is a contributing writer to The New York Times Magazine and author of "No Cheating, No Dying," a first-person quest to improve her already good marriage. Liz doesn't always tweet about marriage, but when she does you can bet it's worth reading—her non-marriage tweets are likewise RT worthy.


---
---
---
Leave a Comment