Holiday's Under the Influence
This week we review the new Bond movie, Jay-Z and holiday advice from Amy Sedaris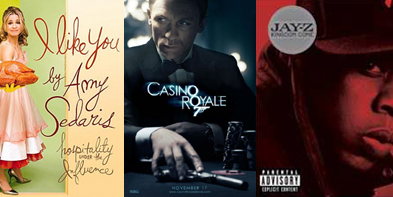 ---
READ
I Like You: Hospitality Under the Influence
By Amy Sedaris
www.amysedarisrocks.com/ilikeyou.htm

The holidays are here, and what better way to celebrate than to host a party thatís "charmingly old-fashioned, like courtship or back alley abortions." Actress and comedian Amy Sedaris, best known from her TV show Strangers With Candy, provides useful entertaining hints thatíll help you and your spouse throw the perfect holiday get-together. From freezing meatballs to getting your drunken guestís vomit stains out, Sedaris has you covered in this hilarious yet highly helpful book.

WATCH
Casino Royale
Daniel Craig, Judi Dench
www.sonypictures.com/movies/casinoroyale

It didnít seem like too long ago critics and viewers alike were blasting the choice of Daniel Craig as the new James Bond. Now those very same people who hung him out to dry are embracing him as one of the best James Bonds the franchise has ever seen. In Casino Royale, we find Bond at the beginning of his career receiving his very first mission, which is to stop a banker from winning a casino tournament and using the money to fund terrorists. Itís an action-packed, testosterone shot to the arm that lifts the Bond franchise higher than itís been in years and casting Craig as one of the best Bonds ever.

LISTEN
Kingdom Come
Jay-Z
www.rocafella.com

These days no one stays in retirement anymore. Just ask Michael Jordan, Cher and now Jay-Z, who enters the game again after only two short years in retirement with Kingdom Come. Jay-Zís newest album features heavy-hitting songs from some of hip-hopís biggest names, including Kanye West, Dr. Dre, the Neptunes and Beyonce. The big Hova delivers like he never put the mic down and reclaims his thrown as one of the biggest names in rap history.


---
---
---
Leave a Comment