Most New Luxury Cars Fail Small-Overlap Collision Testing
What you and your spouse should know about the IIHS's new "small-overlap" frontal crash test ratings.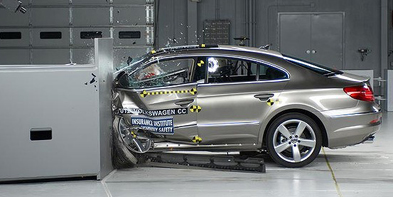 ---
"
The institute chose to begin the testing with luxury cars because these models tend to receive the most advanced safety technology first."
The 2012 Acura TL and Volvo S60 were the only two of 11 luxury vehicles tested that passed the Insurance Institute for Highway Safety's (IIHS) new "small-overlap" frontal crash test with a "good" rating. The Infiniti G-series sedan received an "acceptable" rating.

Small-overlap collisions are frontal crashes that impact either of the front corners of the vehicle. By releasing these results, the insurance group aims to increase the safety of future vehicles.

"Nearly every new car performs well in other frontal crash tests conducted by the institute and the federal government, but we still see more than 10,000 deaths in frontal crashes each year," institute president Adrian Lund says. "Small-overlap crashes are a major source of these fatalities. This new test program is based on years of analyzing real-world frontal crashes and then replicating them in our crash-test facility to determine how people are being seriously injured and how cars can be designed to protect them better. We think this is the next step in improving frontal crash protection."

In each small-overlap test scenario, the vehicle hits a stationary solid barrier at 40 mph. In the crash videos, in many cases, the front tire is pushed back into the driver's footwell, which could lead to serious injuries. You can also see the entire door being pulled off in the Volkswagen CC test and the crash-test dummy sliding in between the front and side airbags in the Lincoln MKZ.

According to a statement released by the IIHS, one-quarter of the 10,000 frontal crashes that caused fatalities or serious injuries in 2009 were the result of small-overlap collisions. These numbers have prompted the IIHS to research front-corner crashes further. With these initial results, the group hopes manufacturers will begin to engineer structural improvements for future generations of cars. While some manufacturers such as Volvo use small-overlap crash testing in-house, this type of crash testing has not been used by any governing body in the United States or Europe.

"These are severe crashes, and our new test reflects that," says Lund. "Most automakers design their vehicles to ace our moderate-overlap frontal test and [National Highway Traffic Safety Administration's] full-width frontal test, but the problem of small-overlap crashes hasn't been addressed. We hope our new rating program will change that."

The institute chose to begin the testing with luxury cars because these models tend to receive the most advanced safety technology first. The next round of small-overlap testing will involve less expensive midsize sedans such as the Ford Fusion, the Honda Accord and the Toyota Camry.

In the past, manufacturers have made changes in response to IIHS test results. We expect they will make adjustments to defend occupants against small-overlap collisions as well, but the changes will take time. According to the IIHS, the small-overlap test results will not make their way to standardized frontal-crash rating results for 2013 models, as many of them have already hit the market.

Sherrice Gilsbach is an associate online editor for shopautoweek.com, an authoritative online resource for anyone researching a new, used or certified pre-owned vehicle. Browse information on nearly 20,000 models here.


---
---
---
Leave a Comment