Video Games Are Killing My Marriage
Are video games ruining your marriage? Dr. Greco weighs in on one reader's quest to get her husband back.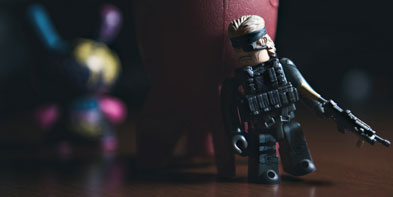 ---
"
Unfortunately, the 'feel good escape' into the powerful world of gaming is only temporary; reality waits once the device is turned off."
My husband has come to spend more time with his Xbox than he does with me. When we were dating, he seemed to play it on and off, but now it is a central focus of his attention after his day at work. I come home from work, ready to talk and have time together, but I can't pull him away except to eat dinner. We used to spend our weekends together— getting our new home ready, taking drives to the ocean, shopping at flea markets together—but all of that has been increasingly replaced by the Xbox. I'm not a jealous person, but now I feel like I'm competing with the Xbox! Any suggestions on how I can get my husband back?

Your question is an increasingly common one! While that not make you feel much better, it might help you to know that you are not alone.

Many behaviors—from eating and drinking to playing video games—can turn into addictions if not monitored mindfully. Given the many stressors in society, an increasing number of adults seek reprieve in the world of gaming. Unfortunately, while the games often provide great short term stress relief, they do little to help fix the underlying problems that cause the stress in the first place.

Worse yet, like many patterns, video gaming tends to draw the player back again and again. The cycle gets stronger as the player finds a sense of relief, fun, challenge, and downtime from participating. Too, the games often provide the player with a sense of control and even superiority. This may feel really great to someone whose life might feel out of control in other areas, and this is the very reason the behavior is often repeated again and again!

It's the old pattern of reinforcement at work; we do what feels good—again and again and again. Unfortunately, the "feel good escape" into the powerful world of gaming is only temporary; reality waits once the device is turned off.

What can you do? Have a heart-to-heart talk with your husband. Let him know how much you miss his company. Negotiate a schedule that will suit you both—agree to a set number of hours after work so he can unwind (ideally, no more than an hour or two), and a set time for gaming on the weekends.

Work toward a loving agreement that will give you at least the same amount of time for play and adventure as a couple. You might even create a schedule that outlines various fun activities in your area over the next few months: hikes, outdoor markets, picnics, films, and music events. Your husband may have forgotten the relaxing pleasure of simple trips like visiting the ocean with you. Remember, the mind is powerful… help your husband remember the joy and fun he once found in activities that aren't connected to a little black box!

Dr. Carla Marie Greco has her Ph.D. in Clinical Psychology and a private practice in Santa Rosa, California. Dr. Greco specializes in the treatment of anxiety, trauma, depression, grief, and life transition issues. Her greatest goal is to offer services to those in need, offering select appointments on a "sliding scale" for those who have serious financial constraints. Pro bono services, including EMDR, are available for our veterans suffering from issues such as combat-related Post Traumatic Stress Disorder and Complex PTSD. Dr. Greco is a member of the American Psychological Association and the Redwood Psychological Association. For more, visit www.drcarlagreco.com.


---
---
---
Leave a Comment