Learning to Deal With Difficult Emotions on Valentine's
Mixed emotions on Valentine's Day? Why anger, resentment and even hatred can creep into your love.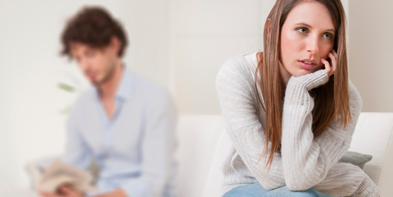 ---
"
It's important for couples to restrain from communicating with each other in destructive ways and instead learn how to use healthy forms of expression."
Many couples find it confusing and extremely disappointing when emotions like anger, resentment and even hatred seep into their loving relationship—especially around Valentine's Day when expectations for love and romance run high. But experiencing these more difficult emotions doesn't mean your marriage is bad or on the rocks. In fact, they all go hand-in-hand with long-term, loving relationships. Once the euphoria of love's initial, intoxicating phases wears off, they will inevitably set in. That's because in day-to-day life, there are plenty of opportunities for people to let each other down. The pain of disappointment triggers resentment and anger, which in turn can cause momentary feelings of hatred to flare.

Hollywood depictions of love make it all the harder for men and women to accept the reality of occasional anger in their relationships. Romantic comedies, in particular, give us a sanitized view of relationships: they routinely portray attractive characters who may have their quirks, who may occasionally get angry in amusing ways, but never give voice to their ugliest emotions. Conflict, misunderstandings and hurtful deeds are viewed as temporary obstacles on the way to happily-ever-after, rather than as an ongoing part of all relationships. Dramatic films show us people who feel hatred toward their partners, but for the most part, they come across as dysfunctional people (think Who's Afraid of Virginia Woolf? or War of the Roses).

In my experience as a therapist, hatred occasionally erupts in most relationships. When it persists, it usually leads to a break-up; but when the couple can tolerate, forgive, and regain a more loving attitude after a hateful exchange, they can survive the experience. They learn that occasional hatred is simply a part of intimacy, a common human reaction when we feel hurt, overlooked, or disrespected by someone who matters deeply to us. It's important to understand that these negative feelings are only temporary.

Rather than regard hatred as a "bad" emotion, couples can realize that it's okay to feel it, but that it's destructive within a relationship to repeatedly vent it in hurtful ways. Over time, if we can bear occasional hatred and the guilt that often follows it, we learn to inhibit the ways we express hateful feelings, mitigating the damage our impulsive remarks might cause. Couples can recognize that feelings of anger, resentment and hatred actually provide important information that partners need to share in a more constructive way.

Of course, holding onto our loving feelings in the heat of the moment is quite difficult to do, and almost impossible for many people. If we feel deeply hurt, ignored or rejected by our partners, we may want to retaliate and hurt them back with our words. It's important for couples to restrain from communicating with each other in destructive ways and instead learn how to use healthy forms of expression. Recovering from storms of hatred in a marriage means inhibiting the ways we express it, reducing the severity of our outbursts so that we may find it easier to apologize, receive forgiveness and offer forgiveness in turn.

Joseph Burgo, Ph.D., has practiced psychotherapy for more than 30 years and is the author of the new book, "Why Do I Do That? Psychological Defense Mechanisms and the Hidden Ways They Shape Our Lives". He's a regular blogger for Psychology Today and has been quoted extensively in the press, including in Glamour and USA Today and on Canada's CTV. Joe's blog, After Psychotherapy, draws more than 60,000 monthly visits.


---
---
---
Leave a Comment