Bridging Tradition
Wonder what the best way to combine the family traditions of you and your spouse? So are we. Dr. K. fills us all in on how to find agreement.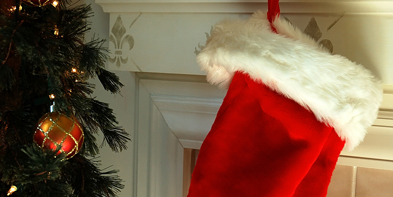 ---
This is my first holiday season together with my wife and her family. I have my own traditions and she has hers. I know it's not fair to not indulge in any of her traditions, but I don't want to abandon mine either.

Whether you're a new couple or have been hitched for some time now, the questions are bound to come up and it usually starts in November. Even if you're from the same ethnicity and the same religion and perhaps even the same neighborhood, agreeing on who's and what holiday traditions to follow is going to be an issue. Why? Because the two of you have been raised in different families and have had varying traditions. The trick in a good relationship is to be able to bridge between the two different styles.

As you begin to share your life together, it's understandable that you want to share your families' experiences with your partner—¬it's like opening up your past and having him or her be a part of it. Most of what we expect is based on what we've learned growing up. Our past provides a sense of comfort because it's so familiar. It just feels right.

So what starts out being a time of anticipated excitement and tradition has now become a source of disappointment and stress. Each of you wants to do what you've always done as you were growing up. Each of your respective families assumes you will follow the usual plans—if only it were that easy.

The thought of sitting around with her family for hours as each family member opens a present while everyone watches and comments feels like absolute torture. Or, the vision of his entire family quickly ripping through their presents so that they can sit around the rest of the day watching football is horrifying!

If it's your first official holiday together where you're brining your family traditions to the "table", it may be a bit awkward, but it's important because this is where you start your own traditions. The most important thing is to first have an open discussion about the topic. But it is vital that you each recognize there is no "right" or "wrong," only different styles.

Unlike other disputes, this one may have to give consideration to the extended family. Here are some points to consider as you decide what is appropriate for the two of you:
Be aware of your families and how important it is to each of you that their needs are considered. For instance, if your family expects that you always come over for the entire day, but your mate would rather not and you're okay with it, you need to straighten it out with your family. On the other hand, if you think your family will be really upset, you may need to negotiate between the two of you.
Based on where families live, you may have to give some thought to geographic locations as travel may have to occur. This may require sharing holidays between the two families.
Let each other know which aspects of each others' traditions you like and certainly make sure to continue those.
Discuss particular parts you find less appealing and explain what it is that makes you uncomfortable. This is the hard one. Make sure you are respectful and don't attack your partner, but raise it from your vantage point. Let your partner explain what about that behavior they like. Then see if the two of you can compromise.

For example, if your spouse watches football all day with his family, maybe he'd agree to take breaks in between to be with you and you'd agree to sit with him and watch for a bit—both of which would help to alleviate the feeling of not being together for hours.
Share your fantasies of what would make the holiday special for you and start your own traditions.
Most of all, remember that there is one tradition the holiday season offers to all of us—it is a time to take pause and remember to be grateful for what we have and to let those we love know it. Showing your love to your partner is the greatest gift of all!

Karen Sherman, Ph.D., (www.drkarensherman.com) is a practicing psychologist in relationships and lifestyle issues for over 20 years. She offers teleseminars and is co-author of Marriage Magic! Find It! Make It Last.


---
---
---
Leave a Comment