Enjoy the Surf & Turf of Pismo Beach
From surfing to hiking to biking to wine tasting and much more, Pismo offers a classic California experience.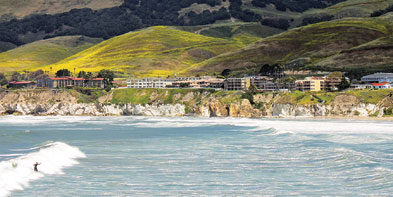 Photos courtesy of Touring & Tasting
---
"
You have to take a whirl on California's only drivable beach, the Oceano Dunes State Vehicular Recreation Area… It's the most extensive set of coastal dunes in California."
The words "California dreaming" create an idyllic scene. We picture a strong, sturdy pier jutting out from a white pristine beach, inviting, surfable waves, graceful pelicans soaring above, and happy people enjoying it all. Even Californians are known to "California dream" because this classic California way of life isn't as common as one might think. But there is a place where Classic California is alive. In fact, it's thriving in Pismo Beach.

This friendly, laid-back town covers seven miles of clean, white sand on California' s Central Coast. It is located halfway between Los Angeles and San Francisco along scenic Pacific Coast Highway 1 and Highway 101, making it easy to get to, yet not so easy to leave.

Pismo Beach is nostalgic and real. At its center stands a stunning historic pier, which serves as a gathering point for visitors and locals alike, who come to surf, fish, stroll, eat, wine taste, and simply take in the town's genuine vibe. What's more, Pismo Beach is family- and budget-friendly.

California dreaming is nice, but living and tasting the dream is much nicer. It's time to discover Pismo Beach.



Pismo Beach Pier


This diamond-shaped, 1,200-foot-long pier is the largest in San Luis Obispo County. It's a mecca for fishermen and families out for a casual stroll. Walk all the way to the end to watch the surfers and look in every direction to fully enjoy the beauty of this beachside town.



Water Sports


Surf's up, and if you're up for it, you can rent the gear. Whether you want to go surfing, jet skiing, kiteboarding, stand-up paddle boarding, or kayaking, you'll find what you need in the rental and dive shops adjacent to the pier. There are some great spots to surf along Pismo Beach, plus great rocks, cliffs, and coves for kayaks.



Land Sports


You don't need to get wet to enjoy the beach. Rent a bike surrey or motorized scooter and cover the waterfront or more, if you like. Play golf at Pismo Beach Golf Course, and there are two additional, world-class golf courses within 10 miles of town. You can also ride horseback along private trails and on the beach.



Tours & Rides


There's so much to see in the hills and valleys surrounding Pismo Beach. See it all from the sky in an open cockpit biplane, leap from a plane on a skydiving tour, or hop on a cushy van to visit Hearst Castle or Edna Valley wine country.



Pismo State Beach


Located just south of town, Pismo State Beach has hiking trails, the ocean for swimming and surf fishing, and plenty of sand for castle building. If you're there between October and February, be sure to visit its eucalyptus grove with the largest populated grove of Monarch butterflies in the Western United States. The count has averaged 25,000 over the past five years.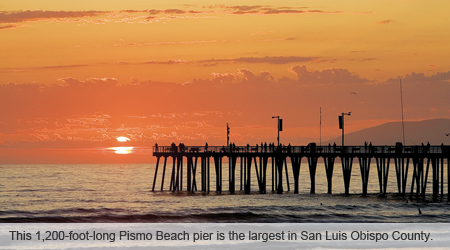 Oceano Dunes


You have to take a whirl on California' s only drivable beach, the Oceano Dunes State Vehicular Recreation Area. Rent an ATV or take a Hummer ride on this amazing stretch of sand. It's the most extensive set of coastal dunes in California. You can arrange to picnic, hike, take a guided nature walk, and even camp here, too.



Farm To Table


Inspired by a year-round bounty of fresh produce from neighboring gardens and farms along with a bounty of seafood brought ashore each day, Pismo Beach chefs create amazing menus. Often, using the aromas and flavors of local wines as their muse, they invent dishes that pair perfectly with their extensive wine lists. Whether you're dining at a luxury resort, beachside hotel, or on the terrace of a local café, breakfast, lunch, and dinner is savored in a casual California style.



Festivals & Events


Throughout the year, the Pismo Beach calendar is filled with a variety of unique events and festivals. From the classic Pismo Beach Clam Festival, to the Taste of Pismo wine and culinary expo, to the four-day Wine, Waves & Beyond fundraiser event, you can plan on having a great time with friendly, laid-back people.



Wine & Waves


From wine to waves, Pismo Beach has all the makings of a great vacation. The interactive website, ClassicCalifornia.com, is a great resource for planning all aspects of your trip. You can even book lodging on the site and get acquainted with the wineries of Edna Valley wine country.



Places To Stay


There's an impressive variety of places to stay, from luxurious oceanfront hotel rooms to vacation rentals, to fully equipped RV parks and campgrounds, so you're sure to find the right place for you and plenty that welcome pooches, too! Plus, they have all kinds of "stay packages" designed to suit your needs even more.



Tasting the Dream


Another wonderful thing to discover about Pismo Beach is its unrivaled proximity to wine country. Edna Valley (currently planted to about 23,000 vineyard acres) can be found just 10 minutes from the Pismo Beach Pier.

Winegrapes love Edna Valley. The marine influence of the nearby Pacific Ocean provides a mild summer and warm fall, resulting in an unusually long growing season. Combined with the region's rocky volcanic soils, these growing conditions produce fruit with intense varietal character and complex flavors for which the wines of Edna Valley—and all of San Luis Obispo County—have become known. And the winemakers and wine growers are also very content. Many have come from other wine regions, attracted by the quality of the premium grapes and the low-key lifestyle. In fact, you may see some of them surfing down by the pier.

Downtown Pismo Beach wineries (Sans Liege and Pismo Beach Winery), or wine bars (Vino Versato and Tastes of the Valleys) are great places to start. Taste of the Valleys Owners Lissa and Ash Mehta, along with their staff, are extremely knowledgeable about the wines of the Edna Valley, San Luis Obispo County, and far beyond. Their inventory exceeds 700 different wines and they offer nearly every one by the glass.

"At least half of our customers ask what nearby wineries we recommend they visit, and they really can't go wrong," Ash says. "Edna Valley is beautiful and each winery offers a different view and portfolio of wines. Plus, it's a stone's throw from Pismo Beach."

"What is so intriguing to me about Edna Valley is the long, temperate growing season and diversity of coastal soils that shape the complexity of the wines from this region," says San Luis Obispo Vintners Association Executive Director Heather Muran. "Edna Valley is renowned for its Burgundian varietals and producing some of California' s finest Pinot Noirs and Chardonnays, with many of the vineyards sustainably farmed. Besides world-class wines, the vintners and growers who have cultivated this area are continuing to push the envelope by planting new and interesting varietals from across the globe. Spanish, German, and Austrian varietals, as well as Rhône, are gaining great accolades as many are finding this area to be a balanced, temperate growing region."

The Edna Valley wine trail is easy to get to (from the pier to the first winery, it's 14 minutes flat) and easy to follow. Just shake the sand from your hair, grab a wine trail map and a camera, and hit the road. Tour, taste, and savor the scenery. When you head back to the beach, be sure to bring a bottle of your favorite find to enjoy as you watch the sunset and settle in for another dreamy Classic California evening in Pismo Beach.

Touring & Tasting is a media company that produces a wine and travel magazine and is also partner in the Hitched Wine Club.


---
---
---
Leave a Comment