Lake County Wine Region Flexes Strength In Youth
In just a few decades the rich soils of this Northern California region are producing award-winning wines.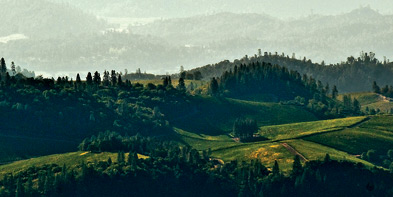 Photos courtesy of Lake County
---
"
Since most of the vineyards were planted or re-planted in the past 15 or so years, their basic infrastructure is the product of the latest viticultural knowledge and state-of-the-art practices.
A new rush is on in California's Northern Mayacamas Mountains, and it has nothing to do with gold.

In just a matter of years, Lake County has gone from a coveted resource for exceptional wine grapes to a full partner in the winemaking industry, standing shoulder-to-shoulder with neighbors Napa Valley, Sonoma County, and Mendocino County. "Ten years ago, we could put maybe a dozen world-class wines on the table," says Peter Molnar, chair of the Lake County Winegrape Commission and partner and general manager for Obsidian Ridge. "Suddenly, we have 30 to 40 bottles of remarkable character and quality."

Although wine grapes have been planted in Lake County soils since the mid-1850s, the San Francisco earthquake, Prohibition, and other factors took their toll through the years. By the mid-1960s, vineyards had shrunk to less than 100 acres. But then a few visionary farmers decided to pull out their pear and walnut orchards and plant vines. In the 1970s, the focus was on planting. In the 80s and 90s, the emphasis shifted to supplying the quality grapes to large brands, many of them out of county. Lake County grapes had gained an enviable identity and were in high demand.

Enter the 21st century. As viticultural practices became more sophisticated and vintners refined their techniques, they planted more vineyards in the area's further reaches, including the county's Red Hills and High Valley. Several respected growers and winemakers from neighboring regions—intrigued by Lake County's diverse terroir and potential as a wine region—moved there to start new vineyards and wineries. In the past decade, vineyard acreage has grown exponentially to 8,500 acres and is expected to double over the next few years.

"It's momentum," Peter says. "It's not happening step-by-step. Several things are happening at once to spur this exciting growth."

The first factor is terroir. Lake County soils are well-drained, possessing volcanic or gravelly river course components. Nearly all of the vineyards sit at an elevation of 1,000 feet or higher (most between 1,300 and 3,000 feet). This elevation provides a level of ultraviolet light that, coupled with cool autumn evenings, has a profound impact on the grapes' balance and character. These qualities naturally attract a high caliber of vintners and winemakers who want to pursue Lake County's potential.

With these professionals comes an extremely high standard for vineyard operation and management. Since most of the vineyards were planted or re-planted in the past 15 or so years, their basic infrastructure is the product of the latest viticultural knowledge and state-of-the-art practices like row orientation and spacing, plant material, and irrigation techniques. As the vintners share knowledge and work together to achieve what they're looking for in the vineyard, they get more from that vineyard.

"Actually, it's a very complex chain of events that have to take place," says Mark Burch, winemaker for Chacewater Winery. "I personally have enjoyed working with high-end viticulture practices which have definitely helped our winery succeed." Chacewater has garnered many awards since it was founded in 2008. In fact, it was the first Lake County winery to be awarded the coveted California State Fair's Golden Winery of the Year, just 10 months after its label was launched. "This type of recognition attracts more educated, highly experienced winemakers to carry out the task of making great Lake County wines," Mark says.

The Red Hills AVA, established in 2004, is one particular sweet spot these days. Set on the southwestern shores of Clear Lake, it is already touted as a great producer of Cabernet Sauvignon, but this is only the beginning. "Both Malbec and Petite Sirah are thriving well in the Red Hills," Mark says. Food & Wine recently named the Red Hills of Lake County AVA a new region to know after star Bordeaux winemaker Stéphane Derenoncourt chose to make one of his first California wines with Red Hills grapes. And E.J. Gallo Winery recently purchased the 900-acre Snow's Lake Vineyard.

At the northeastern corner of Clear Lake, the terrain makes a sharp rise to another remarkable growing region: the High Valley AVA. The vineyards planted along steep mountain ridges and elevated valley floors are yielding more incredible grapes, including Zinfandel, Pinot Grigio, and Sauvignon Blanc.

"Sauvignon Blanc is an excellent variety for the region," Mark says. "It's about allowing the vine to express its inherent propensities and then using viticulture practices to express the desired results. If you're looking for a flavor profile that represents all of Lake County, you cannot define it dimensionally. One of this region's greatest qualities is versatility. No matter what direction I choose, I know I can create a wine with both balance and intensity."

Lake County has moved past the "potential" stage. Today, there are wines in the bottle that prove what this region can do. According to Peter Molnar, "We're a region of dedicated, longterm thinking winemakers and vintners who have a vision for Lake County, their vineyards, and the brands they'd like to build. These are folks who understand what it takes to make very good wine, maintain quality, and to build the reputation of a region. Their professionalism and dedication will continue to put exceptional wines on the table."

Touring & Tasting is a media company that produces a wine and travel magazine and is also partner in the Hitched Wine Club.


---
---
---
Leave a Comment