Located in the eastern part of the acclaimed Yakima Valley AVA, in Prosser, Washington, Kestrel Vintners has built a solid reputation by fully anticipating its customers' desires. Like its excellent wines, the winery's success story begins in the vineyard. Kestrel View Estate Vineyard is home to the oldest continually producing Chardonnay block in the state of Washington, as well as Cabernet Sauvignon and Merlot plantings dating back to 1972, and many more varieties.

From these vibrant and aromatic grapes, Kestrel's outstanding winemaking team, headed by Winemaker Flint Nelson, has built a very strong four-tier wine program that delights the requirements of a wide range of palates and wallets. Recently both The Wine Advocate and Wine Spectator awarded five current Kestrel releases 90 points or more.

Today, the winery's focus is on food. With the conviction that food and wine enhance each other, Kestrel Vintners is introducing a dynamic culinary program which began with the hiring of its own in-house chef, Jessica Smith. While many chefs shop local farmers' markets for their produce, Chef Jessica actually plans and plants her own seeds in Kestrel's garden and greenhouse. "We're lucky to be located in the beautiful Yakima Valley where organic local produce is readily available, but I want purple snap peas and 18-inch Chinese Red Noodle Beans," Chef Jessica says. The fruits (and vegetables) of her labor are enjoyed by guests in the Prosser tasting room, and those who attend winemaker dinners and other imaginative culinary events.

Kestrel has three tasting rooms located in Prosser, Leavenworth, and Woodinville, providing visitors in almost every part of the state proximity to a complete tasting room experience—Kestrel style. This means they can sample all four tiers of Kestrel wines along with delectable food offerings, depending upon the day of the week and tasting room location. The hospitable staff is dedicated to treating each guest to a memorable experience with outstanding food and wine.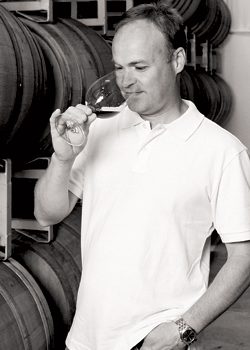 An Interview with Winemaker Flint Nelson




T&T:

During your nine years at Kestrel, what accomplishments make you the most proud?


FN:

I never sacrifice my own personal beliefs and methodologies when it comes to winemaking. Therefore, I craft wines that I am proud of and most importantly show the best wines Kestrel Estate Vineyard is capable of. Today Kestrel wines are gaining well deserved recognition and accolades by the press—and most importantly—the consumer.



T&T:

What have you learned about the estate vineyard during this time? Has it taught you any valuable lessons?


FN:

I've developed a close relationship with Kestrel Vineyard and I've learned first and foremost that I work with some of the best fruit coming out of Washington State. Over the years I have worked with numerous great vineyards in Washington. It's an honor to really get to know our vineyard and how important and intricate farming is to crafting world-class wines.



T&T:

As winemaker, what is your next goal for Kestrel?


FN:

As I've experimented and learned more, I've grown more confident. My goal every year is to make the best wine to represent that vintage. Going forward, I only see great wines getting better and the best is yet to come.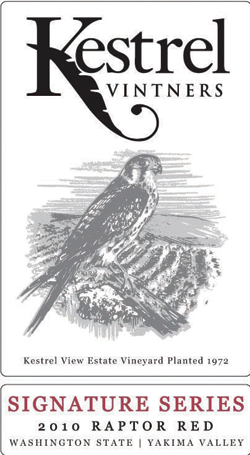 WHAT TO BUY




'12 Sauvignon Blanc - $17


Crisp citrus, gooseberry, minerality



'09 Cabernet Franc - $40


Cherry, blackberry, red currant, tea, anise, sage



'09 Raptor Red - $60


Sweet cherries, cranberries, herbs, tea, vanilla, cocoa, cedar



CONTACT


kestrelwines.com



TASTING


Prosser
509-786-2675
Tasting Room Open Daily 12–5
2890 Lee Rd.
Prosser, WA 99350

Leavenworth
509-548-7348
Tasting Room Open Daily 11–5
843 B Front St.
Leavenworth, WA 98826

Woodinville
425-398-1199
Tasting Room Open Thu–Mon 12–5
19501 144th Ave. NE C-900
Woodinville, WA 98072



SPECIAL NOTES


Wine dinners, private tastings, vineyard and winery tours, catering, farm-to-table philosophy

Touring & Tasting is a media company that produces a wine and travel magazine and is also partner in the Hitched Wine Club.