Dundee Hills: Boutique, World-Class Wines Just Outside Portland
A small area of densely populated vineyards makes Dundee Hills a breathtaking and delicious Oregon destination.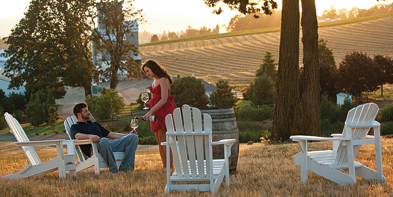 Photos courtesy of Dundee Hills Winegrowers Association
---
"
Here, chefs work daily with local farmers and food purveyors to find the best and freshest ingredients. As seasons change, so do the menus in this bountiful part of the world."
Less than 30 miles southwest of Portland, Oregon the spectacular Dundee Hills appellation is no longer a secret: it's a destination.

Since the mid-1960s, the red clay loam Jory soils of the Dundee Hills have become known as an exceptional place to grow new world Pinot Noir. Today, discerning wine lovers from around the globe travel to Dundee to sample world-class wines from boutique to domain wineries, experience meals from the region that has made food a fetish, and become one with the non-stop, stunning scenery, including the distant snowcapped tips of Mount Hood and Mount Jefferson. Beyond wine and food, wonderful accommodations await—everything from charming bed and breakfasts and small, quaint inns, to the height of chic.

Whether you're visiting a winery, inn, or restaurant you'll often be greeted by owners ready to share a story: interesting people dedicated to perfecting their product and fulfilling a lifelong dream. So take notes, take pictures, and take your time. Affectionately known as "the heart and soil of Oregon wines," the Dundee Hills will embrace you with flavors and experiences so wonderful, you'll cherish them forever.



Inside Scoop:

This year, Dundee Hills is celebrating the 30th anniversary of one of the region's oldest and most loved traditions, Wine Country Thanksgiving. Enjoy special tastings and tours, live music and food pairings. See the website for details!



The Lay of the Land:

Besides rolling country roads and vistas, you'll make many discoveries here. For the avid runner, each July the Dundee Hills hosts the Fueled by Fine Wine Half Marathon, named one of the top half marathons in the U.S. by Runner's World Magazine. Beyond wine, Dundee Hills is also home to the Oregon Olive Mill and an award-winning artisan cheese producer. During the summer, the area is a lively place with a selection of interesting museums, art shows, trendy cafés,and frequent festivals including Willamette Shakespeare in August.



LOCAL WINES


Although the Dundee Hills AVA is relatively small (approximately 6,500 acres/2,000 acres planted), it is the most densely planted wine area in the entire Willamette Valley. Pinot Noir grapes thrive here, but so do many others including Pinot Gris, Riesling, Chardonnay, and Pinot Blanc. Ranging from floral to mineral, to raspberry, to black cherry, to earth and spice, Dundee Hills wines are known for their clarity, complexity, and overall elegance. With more than 30 wineries, including many of the pioneers who put the region on the map as a producer of world-class Pinot Noir and rising stars who are raising the bar to the next level, you're bound to uncover many wonderful treasures.



RECENT ACCLAIM


"A spectacular place to taste Pinot Noir," San Francisco Chronicle; "Of all the soil types in the northern Willamette Valley, those in the Dundee Hills produce wine that is among the most distinctive," Wine Press Northwest.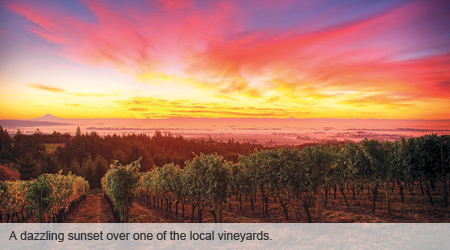 LOCAL CUISINE


There's an abundance of exciting restaurants serving innovative dishes inspired by locally sourced, seasonal foods. Here, chefs work daily with local farmers and food purveyors to find the best and freshest ingredients. As seasons change, so do the menus in this bountiful part of the world.



LOCAL DESTINATIONS


From boutique inns, to bed and breakfasts, to private retreats, there are many enchanting spots to stay, all offering intimate and luxurious surroundings. For a great list of some of your best options plus more ideas about where to eat, play, and stay, visit the Dundee Hills Winegrowers Association website.

Touring & Tasting is a media company that produces a wine and travel magazine and is also partner in the Hitched Wine Club.


---
---
---
Leave a Comment