Timber Cove Inn: An Unspoiled Hideaway Overlooking the Sea
Located in the Fort Ross-Seaview AVA, Timber Cove Inn is a cozy hideaway during a Sonoma wine tasting excursion.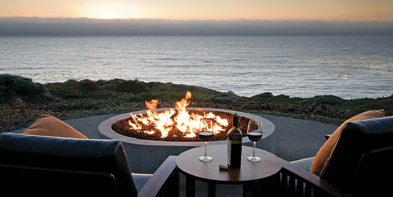 Photos courtesy of Timber Cover Inn
---
"
Timber Cove Inn is known for its unspoiled, peaceful location and rustic rooms that celebrate a view of the ocean, cove, or forest."
Guests can sense they're about to make a wonderful Sonoma Coast wine country discovery even before they arrive at Timber Cove Inn. They follow a picturesque, winding route filled with redwood groves and jaw-dropping ocean views to a beautiful hillside bluff overlooking the crashing waves of the Pacific Ocean. Here they find the inn, perched on a cliff overlooking one of California's most beautiful coastlines.

Timber Cove Inn is known for its unspoiled, peaceful location and rustic rooms that celebrate a view of the ocean, cove, or forest. Originally designed in the early 1960s by architect Richard Clements who was influenced by Frank Lloyd Wright, the inn modernized its 50 guest rooms in 2008 without sacrificing their original charm. Each room now offers a flat screen TV and complimentary Wi-Fi—and many feature fireplaces and spa tubs.

This cozy coastal hideaway also offers a well-appointed meeting room, abundant space for weddings and events, and the intimate dining room and bar, Alexander's. When Executive Chef Benjamin St. Clair came to Timber Cove Inn in 2012, he introduced a popular menu format featuring tasting plates from sea, land, and soil, ideal for sharing and experiencing Sonoma coastal cuisine. Alexander's is welcoming and cozy, with indoor and outdoor ocean view seating, and a circular fire pit offering sunset views.

While natural beauty commands center stage on this 25-acre property complete with hiking trails, the inn is also home to the world-renowned artist Benny Bufano's 93-foot obelisk, The Expanding Universe.

Although it may seem difficult to venture away from such a sublime spot, wine lovers can't ignore the fact that Timber Cove Inn is located in the Fort Ross-Seaview AVA, established in January 2012. More than a dozen commercial wineries are located just a short—and beautiful—drive away. Guests slip out to sample exceptional Pinot Noir and Chardonnay and then return for another enchanting evening in their unspoiled hideaway overlooking the sea.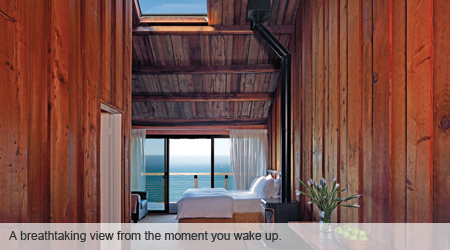 CONTACT


Reservations: 800-987-8319
reservations@timbercoveinn.com
timbercoveinn.com
21780 North Coast
Highway 1
Jenner, CA 95450
$152 and up



SPECIAL NOTES


Romantic getaway, restaurant, weddings, culinary events, meetings

Touring & Tasting is a media company that produces a wine and travel magazine and is also partner in the Hitched Wine Club.


---
---
---
Leave a Comment