Dear John
Read a new Dear John, watch some Dream Girls and listen to It's Not Too Late.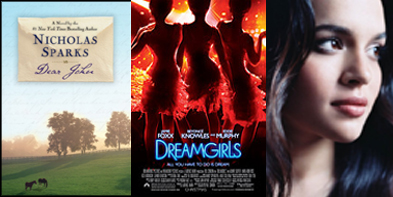 ---
READ
Dear John
By Nicholas Sparks
http://nicholassparks.com/Novels/DearJohn/Index.html

John Tyree doesn't know what to do with his life: he's 20 years old, has no job, no attachments and no real family to turn to. John enlists in the army angry and without a purpose to his life—until he meets Savanah. The two quickly fall in love and life finally begins to make sense for John. Then 9/11 happens. John re-enlists out of a sense of duty and the long separation leads Savannah to fall in love with someone else and send the inevitable letter that rips John's world apart. When John returns home, he's forced to make sense of his life without Savannah, now married, who he still believes is his one true love.

WATCH
Dreamgirls
Jamie Foxx, Beyonce Knowels, Eddie Murphy
www.dreamgirlsmovie.com

Adapted from the award-winning Broadway musical, loosely based on the Motown hit group The Supremes, Dreamgirls is about the rise to fame of three girlfriends who form a musical trio that hits the big time in the early 1960's. Unlike recent Broadway adaptations that flopped on the silver screen, Dreamgirls successfully captures the stunning costumes, sets and moving performances and translates them into a movie experience that even non-musical lovers will appreciate. Keep an eye on Jennifer Hudson, whose breakout performance steals the show.

LISTEN
Not Too Late
Norah Jones
www.norahjones.com

Norah Jones has one of those rare, timeless voices that sinks into your bones and warms you from the inside out. With her third studio album, Not Too Late, Jones delivers the type of soulful songs that make you yearn for a rainy day, a fireplace, and warm cup of coffee. Her approach to the new album is much more confident than with her sophomore album, Feels Like Home, and is sure to respark the love affair she started with her fans when she first debuted.


---
---
---
Leave a Comment