8 Top Tips for De-Stressing During the Holidays
The holidays are about celebrating, not being run down with heavy burdens. Use these tips to make sure you and your spouse and family keep with the spirit and joy this season.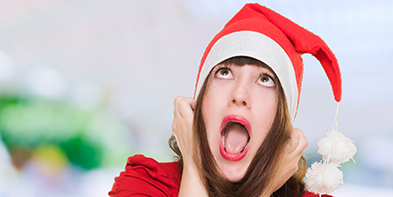 ---
"
No matter how busy your schedule, try to tuck in a walk around the block, a trip to the gym, or a cheek-to-cheek dance with your sweetie. Pull on a warm coat and take a delicious stroll."
T

he treasured holiday season can easily become overrun by an abundance of preparations, shopping lists, parties, and guests. With text messages binging, cell phones ringing, and the doorbell buzzing, it can feel as though there is no reprieve from the chaos. Before you know it, your patience has worn thin and your stress level is at max. Not to worry! With a few simple tips tucked in your holiday bag, your festivities can be merry and stress-free!



1. Pesky Perfection:

You can make yourself crazy by trying to create the perfect holiday. Incredible standards are set for the "ideal celebration" by household names like Martha Stewart. It's all too easy to forget that Martha has full-time crew at her beck and call. The pressure to create picture-perfect holiday décor and meals can wear you out! If you're stressed out and overwhelmed, it won't matter if the holiday dinner is absolute perfection. What will matter is a holiday that is remembered as a time of joy and family warmth. So, lower your expectations at least a bit! Put your amazing efforts into creating comforting, delicious food and a warm, loving environment. Set aside the ideal of perfection and turn your attention to allowing yourself to thoroughly enjoy a simple—and simply wonderful—holiday season.



2. Pare Down the List:

If you find your to-do list growing too long and complicated, take a step back. As if you are your own life coach, analyze the list objectively. Determine what gifts, tasks, and shopping items you can readily remove. When trying to please everyone, stress increases as lists become unwieldy and burdensome. Try to let go of the unnecessary items that you feel you should do, and try to retain those that you want to do. Give yourself the freedom to breathe by remembering that the holidays are not about how much you accomplish or how much you buy. As you cross those extra items off your list, watch your tension level fall.



3. Laugh and Giggle:

The holiday whirlwind can create mounting pressure and strain. The extra stress often brings headaches, tension, and tears. Humor and laughter can disappear all too quickly amidst the holiday frenzy. The benefits of laughter are well-documented in the field of neurobiology, but you don't need research to tell you that laughing feels terrific! Laughter relaxes tense muscles and even lowers blood pressure. When we laugh, endogenous opioids are released in the body, and feelings of calm and pleasure naturally result! The stress-relief benefits of laughter are all the more important during the holidays! Without much effort you can create opportunities for humor-filled times! Whether you pop in a holiday DVD comedy, play charades, or bring out Pictionary, laughter will soon fill the air. Create as many opportunities as you can for loving, laughter-filled moments to relieve stress and promote joy!



4. Gifts Galore:

If gift list (and the bills they create) leave you riddled with anxiety, you and your family will suffer. Shopping malls, driving, and holiday chaos also increase stress levels! This might be the year to downsize a focus on the material items and upsize the focus of family and friends. Consider adopting a realistic "not to exceed" amount for gifts. Making homemade gifts—including handmade items and heavenly baked treats—can cut down on expenses and add to time spent with family as you create the gifts together. Think of new ways to make this holiday season your most creative, fun-filled time ever!



5. Just Say No:

If saying "yes" too frequently is wearing you down and increasing your stress level, learn to say "No!" It's good self-care to know when to decline requests and invitations in a polite, yet firm manner. If you are always the volunteer "doer," the spot you leave open might be gobbled up by someone who might not have otherwise stepped forward. As well, if your list of holiday events is growing too long, it's more than okay to beg off from a few. It's a good idea to check in with yourself and your loved ones before committing to additional events as schedules and stress levels can become seriously overloaded. Especially during the holidays, it is important to remember that more is not necessarily better! By learning to keep healthy limits, you'll feel less tense and harried. Too, your family and friends will enjoy sharing time with you more when you're not exhausted and stressed. By saying "No!" to excess, you are saying a big "Yes!" to relaxing, cheerful times with those who matter most.



6. Get Fresh:

Research shows that an increased consumption of sugar and processed foods contributes to stress. Unfortunately, the holidays tempt us with tables laden with sweets and treats galore! However, unhealthy holiday eating doesn't need to consume you! Remember to eat a healthy snack and drink lots of water before parties. You'll be less tempted to taste every eye-catching dish or sweet when your stomach is already satisfied. It's only natural to want to indulge during the holidays, but limiting your intake of sweets and processed foods will go a long way to keeping you in good shape emotionally and physically. When possible, load up your holiday plate with extra fresh veggies, fresh fruit, and a handful of nuts! You might be pleasantly surprised at how inviting a medley of fresh food looks and taste amidst the mountains of holiday excess!



7. Cuddle Up:

Ongoing stress wreaks havoc on the immune system. At a time when colds and flus are at their peak, it's extra important to avoid stress. Winter is the best time to enjoy simple pleasures like hot bubble baths, cozy fires, and snuggle time beneath warm blankets. Stress seems to melt away when time is made to relax in the soothing comforts of home. Simply enjoying a cup of hot chocolate with your sweetie and kids can do wonders for the spirit. Pull on your pajamas, wrap up in a comfy robe, and let yourself unwind. It's easy to get pulled into doing one more item on the to-do list, but most tasks can wait. And don't forget that intimate time with your darling can trigger a wealth of stress-reducing hormones, so let that healthy passion flow! Strive to create plenty of opportunities this season to call "time outs" and enjoy the art of blissful relaxation.



8. Run, Dance, and Play:

Exercise is an easy and affordable way to de-stress! Did you know that just 10 minutes of walking can boost your mood for up to two hours? If you can get that much benefit from a simple walk, can you imagine the advantages of dancing or frolicking in the snow? No matter how busy your schedule, try to tuck in a walk around the block, a trip to the gym, or a cheek-to-cheek dance with your sweetie. Pull on a warm coat and take a delicious stroll. Consider pulling the kids away from the television or computer and let them enjoy the wonder of the outdoors. The holidays can take a toll, so scheduling in exercise time can help you de-stress naturally.

Among all the glitter and sparkle of this festive season, it's so important to remember to take care of yourself. A holiday filled with stress and tension becomes a burden rather than a joy. By putting you and your family at the top of the list, the less important tasks and events will naturally fall away. Every holiday is an opportunity to create lasting memories of love, connection, and delight. Make this year's celebrations peaceful, merry, and bright!

As a clinical psychologist in Sonoma County, California, Dr. Carla Marie Manly maintains a focus on helping clients transform their lives and their relationships. Using a body-mind-spirit approach that underscores the importance of overall wellness, Dr. Manly works with her clients on a highly individualized basis to uncover the core concerns that often manifest as psychological, behavioral, and somatic symptoms. Combining traditional depth psychotherapy with somatic therapy, Dr. Manly offers her clients a specialized approach to creating passionate, joy-filled lives. Working in both individual and group settings, she strives to promote change by increasing her clients' personal self-awareness and insight.  A devoted writer, speaker, and yoga instructor, Dr. Manly is dedicated to helping others create the lives of their dreams. California License: Psy25539. For more, visit www.drcarlagreco.com and follow her on Google+.


---
---
---
Leave a Comment