Golden Babel
Watch Babel fresh off its Golden Globe win and read VoiceMale, a book on relationships from a male's perspective.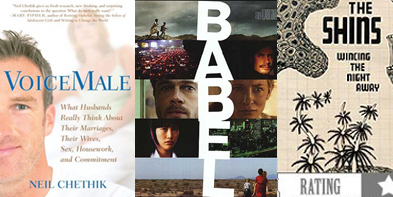 ---
READ
VoiceMale: What Husbands Really Think About Their Marriages, Their Wives, Sex, Housework and Commitment
By Neil Chethik

www.neilchethik.com

Author and journalist Neil Chethik reveals the little-known truths and surprising discoveries of married men in VoiceMail, a refreshing look at relationships from a male's perspective. Based on a national scientific survey of 350 men, Chethik breaks down some of the "so called" male given stereotypes revealing that more than 90 percent of husbands would marry the same woman if given the chance to start over again. VoiceMale finally gives a new voice to the modern husband and shows that both men and women ultimately want the same thing: a committed partner to share the rest of their life with.

WATCH
Babel
Brad Pitt, Cate Blanchett, Gael Garcia Bernal
www.paramountvantage.com/babel

Fresh off its recent success at the Golden Globe's for best motion picture-drama, Babel reclaims the silver screen and touches new audiences with an intense, beautifully directed story of how everyone can be separated by mere degrees. In the remote sands of the Moroccan desert, tragedy strikes a married couple (Pitt and Blanchett) while vacationing causing a ripple effect that affects the lives of strangers on three different continents, exposing the universally shared qualities of both evil and compassion that resides in each human being.

LISTEN
Wincing the Night Away
The Shins
www.theshins.com

From the moment Natalie Portman's character in Garden State declares, "You gotta hear this one song, it'll change your life," the Shins have slowly emerged from indie-rock obscurity to bonafide mainstream rock stars. Wincing the Night Away introduces a new, more grown up sound that manages to emote the heartbreakingly raw, poignant emotions they're known and loved for. The extremely smart album seamlessly blends folk, rock, pop and even a little bit of hip hop into one beautifully executed masterpiece.


---
---
---
Leave a Comment