Explore the Sights, Sounds & Tastes of Tri-Valley
Just 30 miles from San Francisco are three stunning valleys that expand on the great and scenic food and art culture.
Photos courtesy of Tri-Valley
---
"
Intriguing restaurants wait to be discovered in every town in the region."
Sometimes, it's ok to leave your heart in San Francisco: especially when you're following your senses eastward. There, just about 30 miles as the crow flies, three stunning valleys (Amador, Livermore, and San Ramon) converge to form what has come to be known as Tri-Valley, California. This picturesque region cradles the cities of Dublin, Livermore, Pleasanton, and San Ramon, the town of Danville, and the vineyards of Livermore Valley wine country. It has also become a hotbed for all kinds of sensory exploration.

Dana Klebes lived in San Francisco and the Bay Area for nearly 20 years before she moved to the Tri-Valley three years ago. Not long after, she opened Artistic Edge, an utterly engaging artisan boutique located in downtown Livermore's Blacksmith Square. The shop features the unique creations of many Tri-Valley artists and has become a friendly source of information for weekend visitors. "San Francisco used to be a mecca for artists," Dana says. "But for a variety of reasons, many have relocated to the Tri-Valley. We're doing all we can to expand people's senses through painting, glass, metal, music, dance, culinary experiences, winemaking, wine label design, and much more," Dana says.



See and Hear

Start by stopping to take in the beauty of this region's natural landscape. Verdant hills roll along gently then suddenly rise to a peak and then drop almost unexpectedly into flattened terrain. The vista views are many and magical—just the kind of material that inspires an artist to sketch, sculpt, or paint. "Many artists tell me they are more inspired in the Tri-Valley," Dana says. Their muse is the landscape, the parks and recreation areas, the variety of events and things to do. "And the people," Dana adds. "They comment on how engaging and friendly the people are here." The work of these regional artists is proudly displayed in the area's distinctive art galleries, plus many art festivals are held throughout the year.

From the calls of water fowl and lapping water at Lake Del Valle to thunderous applause at a state-of-the-art theater, the Tri-Valley also has many wonderful ways to delight the ears. Nancy Mueller, director of marketing for Livermore Valley Performing Arts Center's Bankhead Theater, has lived in the region all her life. "Things have definitely changed," she reports. "It's not the place I grew up in. For example, Livermore was first known for our rodeo. Now the downtown is alive every day and night with families, couples, and singles. It is hopping," she says.

This change hasn't happened overnight. Several resident companies have been performing in the Tri-Valley for many years. The Livermore Amador Symphony just celebrated its 50th season and Del Valle Fine Arts its 33rd. Livermore Valley Opera has been performing for 20-plus years, Tri-Valley Repertory Theater for 27 years, Valley Dance Theatre has been performing the Nutcracker for more than 30 years. In the past few years, there has been a surge in live music performances in venues from downtown wine bars and restaurants to vineyard lawns and winery tasting rooms. Today, you can expect to find live music somewhere in the Tri-Valley on any night of the week. In Livermore, Bankhead Theater hosts rotating art exhibitions, plus a full calendar of music and theatrical performances. In Pleasanton, Firehouse Performing Arts Center encompasses a fine arts gallery and a theater with its own repertory troupe. In San Ramon, Dougherty Valley Performing Arts Center offers a new 600-seat theater; and in Danville Village Theatre and Art Gallery is a fun, 100-year-old venue with its own theatre company.



Smell and Taste


The fertile Tri-Valley is a wonderful resource for fresh produce and other foods, including local craft brewed beers and handcrafted wines. Intriguing restaurants wait to be discovered in every town in the region. Cheri Sprenger has lived in the area for 13 years and her business partner, Terri Terry, has lived here for 20. Both experienced restaurant operators, they dreamed of having their own wine bar. Recently, they were thrilled when they had the opportunity to reopen a closed wine bar in downtown Pleasanton.

"The Cellar Door is a comfortable gathering place with a really great selection of California (many Livermore Valley) wines, local craft beers, and small plates featuring artisan cheese and meats meant for sharing," Cheri says. "We also serve items created from ingredients found at the local Farmers Market, which change according to the season." It is Cheri and Terri's goal to offer guests the opportunity to experience the aromas and flavors of the region as well as other lesser-known California regions. "Over the years, we have seen a change in taste and palates," Cheri says. "Our guests are more knowledgeable about their food and beverage choices and really savor what they choose to eat today."

Livermore Bar Tatami serves innovative Pacific Rim cuisine. Uncle Yu's at the Vineyard offers excellent Chinese (Sichuan and Cantonese) cuisine. In Pleasanton, the new Cellar Door features 30 wines by the glass or bottle and small plates designed for sharing. In Dublin, Casa Orozco (also in Livermore) serves unique homemade Mexican dishes, salsas, and sauces; Pamir, named after the mountainous region in central Asia, features exquisite Mediterranean delicacies. In Danville, Amber Bistro features fresh seasonal ingredients in its cutting-edge dishes; Bridges offers incredible East meets West cuisine. And in San Ramon, Firehouse No. 37 is a great bar-and-grill restaurant and local gathering spot; Brass Door serves delectable prime rib in a historical setting.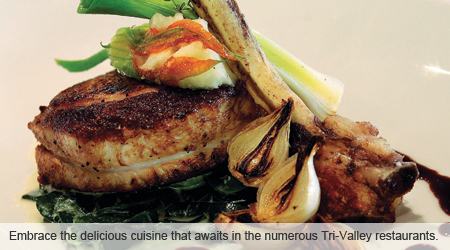 Touch


The Tri-Valley's rolling terrain invites outdoor enthusiasts to head for the hills, whether they're manicured championship golf course fairways, or the rolling hills that draw cyclists and hikers from around the world. When night falls, visitors can touch down pillows, or soft terry robes, or bubbly bath water in one of the Tri-Valley's hotels or inns, with price points and options for every budget.

Hilton Garden Inn Livermore is one wonderful place to end and start a wine touring day. Its spacious guest rooms and one room suites offer all the comforts of home including: Garden Sleep System beds, with patented, self–adjusting technology that conforms to the body; soft linens; and cozy duvets. "I have personally watched the area evolve into a destination for all ages," says Director of Sales Gyasi Edwards. "There's a great array of wineries and restaurants: enough to keep our guests busy for days!"

Those seeking a more central location have a nice assortment of properties to choose from, including Hawthorn Suites by Wyndham Livermore, where Catherine Cheda is general manager. "We offer our guests a prime location to explore wine country with all the comforts of home," Catherine says. "There's nothing quite like returning from a day of experiencing wine country to a welcoming property complete with a swimming pool, indoor whirlpool spa tub, and a well appointed room. We've also designed a series of special vacation packages to give visitors the perfect way to explore some of Livermore's best experiences. For example, the Shop, Taste & Stay lets them explore our new Premium Outlets, Double Barrel Wine Bar, and tasting at more than 40 Livermore Valley wineries."

No matter what style of accommodation you choose, you'll be glad you stayed over and woke up refreshed, in a wine country that delights all of the senses. In Livermore, The Hilton Garden Inn Livermore is a luxurious hotel with a front lawn overlooking vineyard covered hillsides; Hawthorn Suites by Wyndham Livermore provides an ideal proximity to downtown and wine country. In Pleasanton, Marriott Pleasanton meets the needs of both high-tech business guests and vacationers; Hilton Pleasanton at The Club provides an ideal business hub location and access to Northern California's largest fitness center. In Dublin, Hyatt Place Dublin/Pleasanton puts guests within minutes of many business offices, world-class shopping, and wine country. And in San Ramon, the San Ramon Marriott is an idyllic setting for business meetings, weddings, and retreats. Create your own tour for the senses at visittrivalley.com

Finally, here are just 12 of the more than 54 Tri-Valley tasting rooms.
Auburn James
Crooked Vine Winery
Fenestra Winery
Garré Vineyard
Las Positas Vineyards
Les Chenes Estate Vineyards
McGrail Vineyards and Winery
Nottingham Cellars
Rios-Lovell Estate Winery
Steven Kent & La Rochelle Winery
Wente Vineyards
3 Steves Winery

Touring & Tasting is a media company that produces a wine and travel magazine and is also partner in the Hitched Wine Club.


---
---
---
Leave a Comment