A Unique Valentine's Day Present: Patience
What better present could you give your beloved this Valentine's Day, than such loving patience? Used well, patience will serve you and your spouse magnificently.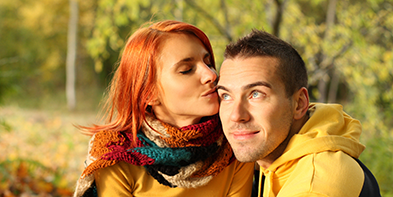 ---
"
Patience means you stop a moment and observe, trying to see deeper into your mate than the surface storm, and notice their underlying distress."
There's never enough time to do everything you want to do. It doesn't seem to matter how early you set your alarm, how many time-management seminars you attend, how artfully you delegate chores, there's never enough time.

So if someone comes along and says, "Hey, be patient!" their suggestion is greeted with zero enthusiasm. Patience in the 21st century has come to be defined as time you waste waiting while you'd rather (much!) be doing something else. Which is really unfortunate, because patience is a marvelous tool.

"Great," you say, "So now you're telling me not only do I have to waste all that time waiting, I also have to like it?" No. But as you come to a truer awareness of what patience really is, you'll come to appreciate its value, and then yes, you will like it.

You see, patience is the art of allowing understanding to come through the process of observation, of paying attention to detail. Because it takes time to observe thoroughly, patience is much underrated in our fast paced society, yet patience is a wonderful way to clarity and understanding—two of the most valuable skills to a happy and successful marriage.

For example, your mate comes home ranting and raving about the traffic, and, "What do you mean you forgot to pick up the cleaning?" and, "Oh, not meatloaf for dinner— again!"

Patience means you don't defensively start in with what a horrible day you had and your spouse is lucky you ever pick up the cleaning and what's wrong with meatloaf anyway? Patience means you stop a moment and observe, trying to see deeper into your mate than the surface storm, and notice their underlying distress. You set aside your feelings for the moment and say, "You had a really rough day." With that simple statement, made possible through patience, you open the door to a healing conversation for both of you.

Or, your heretofore-responsible spouse seems distracted, forgets to pay bills, misplaces keys and mobiles. You don't use "patience," sighing as you wait to see if your spouse is going to "snap out of it" or muttering under your breath about why do you have to be the responsible one.

Instead you use your new definition: you pay attention to what else is going on with your mate, you ask if anything unusual is going on at work, for instance. You find out that one of your spouse's co-workers has a parent recently diagnosed with terminal cancer, and that this has engendered worry and fear in your spouse about his/her parents.

Your "patience" paid off. You can support your spouse by visiting with his/her parents, spending more time with them, or whatever else would soothe the fear and worry. With that, your mate can become once more, his or her usual responsible self.

Noelle C. Nelson, Ph.D., is a relationship expert, popular speaker in the U.S. and abroad, and author of nine best-selling books, including "Your Man is Wonderful" and "Dangerous Relationships." Dr. Nelson focuses on how we can all enjoy happy, fulfilling lives while accomplishing great things in love, at home and at work, as we appreciate ourselves, our world and all others. For more, visit www.noellenelson.com and follow her on Twitter @DrNoelleNelson and Google+.


---
---
---
Leave a Comment