Tips On Taking Sexy Pictures
You've got 1Gb of space on that memory card, here's how to use it.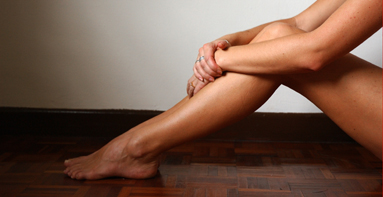 Tips On Taking Sexy Pictures
---
In almost every couple's relationship, a sexy photo or two will surface at one point or another. Whether it's innocently snapping a self-portrait of yourself giving the camera a sultry look or whipping out the camera mid-coital action, taking sexy pictures is one of the easiest and best ways to add a little heat to your relationship.

But unless you're schooled in Porn-Star 101, actually setting up a pre-planned photo shoot can be a little intimidating. What should you wear? How should you pose? Taking sexy photos at home is a snap, as long as you keep a few simple rules in mind. Freelance photographer Ken Shames, Studio City, California, offers the following tips:



Set the Mood


There's nothing sexy about posing naked if you're not comfortable or in the moment; if you don't feel sexy, your pictures won't look sexy. Set the mood depending on what type of photos you want to take. If you're going for an innocent, romantic feel, light some candles and play soft music. If you're looking for something a little hotter or kinkier, put in something faster that gets your blood pumping. Of course, a cocktail or two never hurts, either!



Set the Scene


Going for a theme? Costumes are usually a good choice because they allow you to start off slowly and get used to the camera before stripping everything away. They also allow you play around a bit, leading to other things. Also, try playing around with props. You can get fancy and purchase kinky items such as whips and paddles at a porn store, or play around with stuff at home; simply straddling your kitchen chair is sexier than you think. If you really want to get into it, you can purchase a paper background from a photography store or drape fabric that's rich in texture and color over your couch. Red and white are great colors to work with on film.



Lights


Good lighting makes all the difference in how your pictures turn out. Soft lighting is the most flattering, so try turning your camera's flash off. Position household lights so your pictures don't turn out too dark or start shooting before the sun goes down to take advantage of those last, dusky rays. Most professional photographers shoot their models either just after sunrise or just before sunset.



Camera


Digital cameras have tons of settings to make your pictures turn out just as good as the professionals. If you've never tried photography, stick to the automatic settings; but if you're familiar with your camera, try playing with the features and manipulating settings such as F-Stops and Iso, which control your shutter speed and how much light your camera lets in.



Action


Once you get over the initial nervousness of being photographed, have fun! Be yourself, and move however you feel that makes you comfortable and makes you feel sexy. Before you begin, check out an erotic website or magazine together to get an idea of what types of poses are most flattering and sexy. This is also a great way to set the mood.

And don't forget one very important tip: make sure your little secret stays your little secret. If you don't want to end up like Pamela and Tommy Lee, check out privacy software such as CoupleBox (search the web to find a copy), which keeps your sexy photos and video secure from prying eyes by creating a separate place on your hard drive to store your private files; also check out Hide Photos (http://hidephotos.com). And for you iPhone users, check out the My Eyes Only app (click here), which will encrypt and password protect your mobile snaps. Also, buy a digital-photo printer to print your racy photos at home. Not only will you have fun taking pictures together, you'll also have a collection of naughty snapshots to look at later to put yourselves in the mood.


---