Get A Grip
From addict to therapist, Dr. Douglas Weiss speaks from personal experience and professional expertise when telling couples how to take control of their life.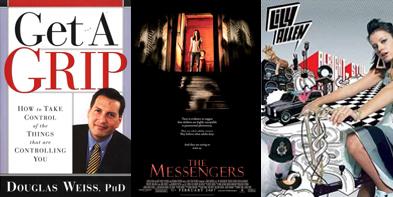 ---
READ
Get A GRIP: How to Take Control of the Things That Are Controlling You
By Dr. Douglas Weiss
www.amazon.com/Get-Grip-DouglasWeiss

Get a grip on your relationship this Valentineís day with help from Dr. Weiss, a therapist, relationship and behavioral expert and recovering addict who provides couples with the tips and strategies needed to recognize, understand and overcome negative behaviors that can threaten a marriage. According to a 2005 report by The Christian Science Monitor, as many as half of dating couples split up on or around February 14thómany, according to Dr. Weiss because a partnerís bad habit is too much for the other to take. As a recovered addict who has found resolution and dedicated his life to helping others "get a grip" in life and love, Dr. Weiss has a deep understanding of how negative behaviors and weaknesses can lead to failed relationships. His advice is based on real-life experience from his own past and that of his patients.

WATCH
The Messengers
John Corbett, Dylan McDermott, Penelope Ann Miller
www.sonypictures.com/movies/themessengers

Soon after the Solomon family moves into a run-down sunflower farm, they begin to notice strange and alarming changes in their fatherís behavior. Itís the familyís youngest son, however, who sees what the adults canít, and the family is thrown into a cat-and-mouse game of paranormal assault and murder. Although The Messengers is worth watching, nothing new is offered, and potentially truly scary scenes are lost in an unoriginal plot.

LISTEN
Alright, Still
Lily Allen
www.lilyallenmusic.com

Following her huge success across the pond, British songbird Lily Allen breaks into the notoriously difficult American music scene with a feisty pop sound we havenít seen since Avril Lavigne invaded our ears from Canada. Unfortunately, much like Lavigne, Allenís urban, quirky style makes her easy to fall in love with as an anti-pop princess, but scratch the surface and sheís still bubblegum and sugar. To her credit, her lyrics are soulful and witty and her voice is sweet and melodic, so thereís huge potential for her become the next best thing in America, too.


---
---
---
Leave a Comment