Sensual Massage
Whether it's using hot oil, hot wax or edible body paint, we've got the tips you need for the ultimate sensual massage.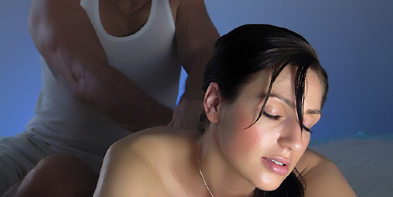 ---
The winter months may be drawing to a close, but there are still plenty of cold nights to leave you stuck at home with nothing to do. Take advantage of these last days of winter by planning a sensual massage by the fireplace. All it takes is a few candles, a blanket and your bare hands to rub some magic into a typical evening at home.

Getting Started
A sensual massage is very different from a normal massage, so leave the Jergens lotion under the sink and come prepared. Massage oil is essential and easy to find. For a triple whammy, choose one that's also safe to use as a lubricant and pleasing to the taste. KY's 2-in-1 Warming Body Massage and Lubricant is great for sensual massages. You can find other massage oils that are safe and yummy to eat at www.lovepotions.com.
Start off your massage by working the back and shoulders and moving your way down the back of the legs. Keep your strokes slow and sensual and feel free to use other parts of your body to relax your partner. If you're a woman, lightly dragging your nipples across his back can be incredibly arousing for both of you.
Once you have your partner relaxed, roll them over and work the front of their body using light, teasing strokes. Gently massage their chest and arms, paying special attention to the breasts and nipples. For guys, this probably goes against everything you instinctually have ingrained in you, but try to refrain from fondling her and diving right in. You want to build up both her trust and the sexual tension as you tease her body from head to toe.
As you start working your way down the torso and legs, lightly graze your hands over the genital area, and again as you work your way back up. Start this part of the massage slowly, gradually building up the sexual intensity. Begin by gently massaging the inner thighs and lower abdomen/groin area and working your way in. Read your partner's response and change your massage accordingly.
Kink it Up
If massage oil is too basic for you, try adding other things to spice up the massage.
Dripping or pouring hot wax on your partner is an incredible way to intensify things, as long as you do it safely. Avoid a midnight run to the emergency room and the embarrassment of explaining the third-degree burns on your nipples by testing the wax on the back of your hand or the inside of your elbow first. The skin here is thinner and will give you a better judge of temperature before you start dripping the hot wax on more sensitive areas.
Once you determine it's safe, start dropping the wax a couple feet above your partner and work your way closer. Starting on a less sensitive area like the thighs and working your way up will also help them get used to the heat. And remember—unless you want an impromptu bikini wax, make sure you avoid areas with lots of hair, or at least prepare them by rubbing lotion or oil over them for easy wax removal.
Another kinky option is applying edible body paint. After you've completed your sensual massage, keep the fun going and have the favor returned by asking them to paint your body and then lick it off. Most sex shops carry edible body paint and they can easily be found online at sites like www.nawtythings.com/lotions and RedEvelope.com.
There are lots of ideas out there for planning the perfect massage, so do a little hands-on research to find the product you like best. We gave you a roadmap, now it's time to let your fingers to do the talking. And seriously, put the Jergens down.


---